Eola Sapphire Plantain Lily
Hosta x 'Eola Sapphire'
Item #4147
USDA Hardiness Zone: 3 - 9
Plant Description
A special selection for the shade garden with striking, seersuckered metallic blue-green leaves. Larger than other selections, sure to attract attention. Resists slug damage. Herbaceous perennial.
Light Needs:
Full to partial shade
Watering Needs:
Needs wet or constantly moist soil.
Average Landscape Size:
Moderate grower 2 to 3 ft. tall, 4 ft. wide.
Key Feature:
Shade Loving
Blooms:
Summer
Landscape Uses:
Botanical Pronunciation:
HOS-tuh
Average landscape size:
Moderate grower 2 to 3 ft. tall, 4 ft. wide.
Design Ideas
There are many ways to use Hosta in shaded or partially shaded gardens. Try as a groundcover, tightly packed into a mosaic of green, blue-green and variegated foliage. Use as clumps among the acid-loving flowering shrubs and for contrast against the feathery fronds of Fern. They are excellent in shaded rock gardens, on slopes and embankments and low, moist pockets. Later in the season, enjoy the bright flower spikes that add interest and variety to the foliage.
Companion Plants
The blue-green of this Hosta plays a perfect cool background for yellow-variegated plants such as its cousin Eola Salad Bowl Plantain Lily (Hosta x 'Eola Salad Bowl'), Golden Japanese Forest Grass (Hakonechloa macra 'Aureola') and the yellow-flowering deciduous Golden Lights Azalea (Azalea 'Golden Lights'). Looks lovely massed beneath the white Chinese Dogwood (Cornus kousa chinensis).
Care Information
Follow a regular watering schedule during the first growing season to establish a deep, extensive root system. For a neat appearance, remove old foliage before new leaves emerge. Divide clumps every 2 to 3 years in early spring.
Light Needs:
Full to partial shade
Watering Needs:
Needs wet or constantly moist soil.
History:
This genus contains over 40 different species mostly native to China and Japan. H. plantaginea reached Europe in the 1780s, the species from which most modern hybrids descend. The blue color of this cultivar points to blood of H glauca and H. ventricosa, which originates from an oenormous range spanning Japan, China and Siberica. Due to the staggering humber of existing hybrids that have been crossed and recrossed, plus the advances in tissue culture, ancestry of this and most modern hybrids is murky at best.
Lore:
Hosta is also known as plantain lily and is related to a pernicious weed introduced to North America during colonial times. It naturalized so readily Native Americans ma,ed it "white man's foot", claiming it sprang up from every foot print left upon the soil by an immigrant.
Videos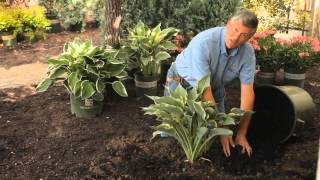 How to Mulch Hostas
(2:06)
Mulching hostas is something you'll have to do a couple of times a year. Find out how to properly mulch...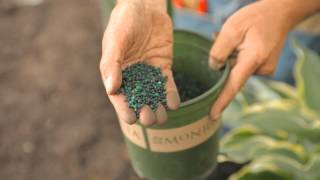 Reviving a Transplanted Hosta
(2:13)
Reviving a transplanted hosta is something you can do with the right type of nutrients and some water. Revive a...
More Videos >