Lemon Swirl® Bush Lantana
Lemon Swirl® Bush Lantana
Lantana camara 'Variegata'
Item #5687
USDA Hardiness Zone: 9 - 11
Plant Description
Profuse color year-round! Showy lemon yellow blooms contrast beautifully with chartreuse-edged foliage. Very useful as a colorful substitute to annuals in flower beds or pots. An excellent low hedge or accent shrub. Evergreen in frost-free areas; treat as an annual elsewhere.
Videos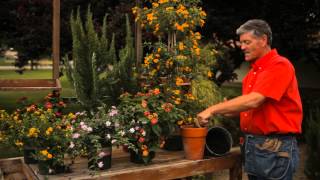 How to Fertilize Lantana
(2:04)
Fertilizing Lantana in the right way will keep them looking great all throughout the season. Find out how to fertilize...
More Videos >
Stories
More Blog Posts >