Purple Queen® Bougainvillea
Purple Queen® Bougainvillea
Bougainvillea 'Moneth'
Item #1305
USDA Hardiness Zone: 10 - 11
Plant Description
Rich, deep purple, petal-like bracts are displayed against handsome, deep green foliage. A wonderful compact, upright and spreading form that works well in planter boxes, and on fences and arbors. Evergreen in frost-free areas; use as a colorful annual in cooler northern zones.
Videos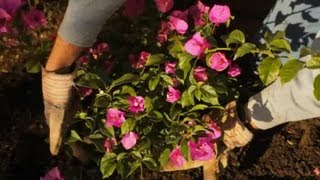 How Do I Plant Bougainvilleas?
(02:45)
Planting bougainvilleas is a lot easier than most people seem to assume. Find out how to plant bougainvilleas with help...
Golden Jackpot® Bougainvillea
(02:25)
Bright purple color from the new Golden Jackpot Bougainvillea. Its variegated foliage makes a stunning contrast. This is a sport...
More Videos >