Purple Queen® Bougainvillea
Purple Queen® Bougainvillea
Bougainvillea 'Moneth'
Item #1305
USDA Hardiness Zone: 10 - 11
Plant Description
Rich, deep purple blooms are displayed against handsome deep green foliage. Compact, upright and spreading form. Wonderful for planter boxes, fence or arbor. Drought tolerant when established. Evergreen in frost-free climates. Use as annual color in northern zones.
Videos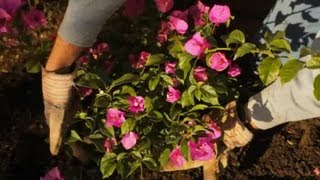 How Do I Plant Bougainvilleas?
(02:45)
Planting bougainvilleas is a lot easier than most people seem to assume. Find out how to plant bougainvilleas with help...
Golden Jackpot® Bougainvillea
(02:25)
Bright purple color from the new Golden Jackpot Bougainvillea. Its variegated foliage makes a stunning contrast. This is a sport...
More Videos >