Our Process
Monrovia is committed to growing the healthiest plants and making a positive impact on the environment. We achieve this through growing practices based primarily on natural processes. We are constantly reviewing and refining methods to ensure we are using the safest and most effective practices that align with nature.
We recycle 95% of our irrigation run-off at each of our four growing locations, which saves 2.5 billion gallons of water per year. We combat weed growth by hand and through organic mulches, reducing the amount of herbicides required. We have completely eliminated the use of neonicotinoid pesticides in 2019 using an integrated pest management system including beneficial insects and other cultural controls.
Monrovia Means Green
We seek to lead the industry in the reduction of pesticides by using beneficial insects, natural microorganisms and organic mulches. In addition to our water recycling efforts, we monitor underground water to prevent harmful intrusions and we promote conscientious water practices in home gardens through educational outreach and cooperative work with state agencies.
We are the proud recipient of the Environmental Protection Agency's prestigious EPA Evergreen Award, which recognizes outstanding pollution prevention efforts. By establishing innovative, environmentally endurable practices – from recycling water and organic waste, to using beneficial insects to manage pests – we are able to grow plants more responsibly.
Plant Health & Safety
Recently, as part of our continuous improvement process, we have reviewed our methods of pest management and have removed all use of neonicotinoids. We are concerned about the health of our planet's environment and take our commitment to stewardship seriously. We believe a healthy pollinator population is important to our environment, and grow thousands of plants to maintain habitats and food sources for pollinators.
We approach the use of any chemicals by balancing three very important goals:
Keeping humans safe
Enhancing the health of our plants
Reducing or eliminating any potential impact to non-harmful organisms, including bees, butterflies, and other pollinators
Over the years, Monrovia has reduced our overall pesticide use, and replaced certain dangerous pesticides as safer alternatives emerge. We utilize an integrated pest management system that includes the use of beneficial insects and other cultural controls. We strive to prevent pest infestations at our nurseries through vigilant scouting, and are leaders in the growth of natural, pest-resistant varieties. We currently use pesticides only as needed, or required by state or federal shipping regulations. Anytime we use them, we follow stringent and conservative guidelines, and continue to look for more ways to reduce our pesticide use.
We are constantly reviewing and refining methods to ensure we're using the safest and most effective practices and products. This ongoing review includes:
Monitoring research about the health of bees and other pollinators.
Increased sharing of IPM and beneficial insect techniques among our nurseries.
Tracking pesticide used per nursery, and making a commitment to overall reductions in their use.
Testing new, potentially safer pesticide products and methods as they become available.
Continued dialogue with our customers, consumers, and stakeholder organizations on this issue.
For your convenience we have included links to external articles and policies on the subject. We will update these often.
http://www.nytimes.com/2016/02/27/science/decline-of-species-that-pollinate-poses-a-threat-to-global-food-supply-report-warns.html
http://www.usnews.com/news/politics/articles/2016-01-06/apnewsbreak-epa-says-pesticide-harms-bees-in-some-cases
https://www.whitehouse.gov/sites/default/files/microsites/ostp/Pollinator%20Health%20Strategy%202015.pdf
http://www.sciencemag.org/content/347/6229/1255957.abstract
http://responsibility.lowes.com/2015/wp-content/uploads/Lowes_2014_SR.pdf
http://rspb.royalsocietypublishing.org/content/royprsb/281/1786/20140558.full.pdf
http://webiva-downton.s3.amazonaws.com/877/f6/6/5821/GrowingBeeFriendlyReport_web.pdf
For more information, please contact us by filling out this form.
Water Conservation
We were the first major nursery to recycle irrigation runoff in the late 1970s. This breakthrough drastically reduced our use of water and fertilizer and has now become a standard in the industry. By recycling more than 95% of irrigation water at our four growing locations, we save more than 2.5 billion gallons of water per year.
Irrigation automation is another way we conserve water. Hundreds of irrigation valves are computerized where site managers can monitor temperature and wind conditions in order to choose the most effective means of irrigating plants. Site managers are trained to know how much water to use for specific plants at different times of the year. Correct irrigation not only saves water, but also promotes healthy plant growth, reducing the need for corrective chemical applications.
We use micro-irrigation to cut water use and manage diseases on certain crops. Micro-irrigation prevents the wetting of the plant foliage, which reduces the incidence of diseases thereby reducing the need for chemicals.
We operate a constructed wetland at our Cairo, Georgia location – another first in the nursery industry. Excess rainwater can be diverted into the wetlands allowing plants and bacteria within the wetland to utilize any nutrients in the water. This wetland system is part of an extensive water and nutrient management plan in place at our Georgia nursery that allows water to be recycled whenever possible, reducing the amount of groundwater used.
Energy Efficiency
The objective of good energy management is to reveal energy losses and inefficiencies. The findings can lead to improvements that significantly reduce emissions that lead to greenhouse gasses.
At our Visalia nursery, our newly constructed greenhouses are state-of-the-art and energy efficient. High roofs with venting increase circulation naturally. The boilers used to heat the greenhouses are high efficiency, helping to reduce the amount of fuel needed to provide the optimum growing environment for our plants. The irrigation system was engineered to use the least amount of energy possible to water the plants.
Recycling
We are working to make our green Monrovia pots fully recyclable; presently about 70 percent of our pots can easily be recycled through municipal recycling services.
If you're not familiar with what can or cannot be recycled, simply turn the pot over and look for a number surrounded by a recycling symbol (known as a resin identification code). Our recyclable pots are made of high-density polyethylene (HDPE) and is designated #2 HDPE. Most recycling facilities accept these plant pots, as #2 HDPE is the most-often recycled plastic in the United States – the same plastic used to make milk and and dish-washing detergent bottles.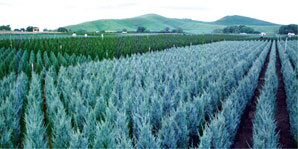 High-density polyethylene is commonly recycled into plastic lumber, tables, benches, truck cargo liners, trash receptacles, and other durable plastic products. Monrovia highly encourages recycling our plant containers and all household recyclables. To find out which plastics are accepted in your local area, contact your community's solid waste department.
Monrovia is a proud sponsor of the Missouri Botanical Gardens Pots to Planks initiative, a program that turns recycled garden containers into usable landscape lumber. In 2008, the program kept more than 158,000 pounds of plastic garden containers from entering the waste stream.
Shipping Efficiency
Our next challenge in efficiency comes when our plants are shipped. We lead the industry in loading practices that maximize the number of plants we ship per load, reducing our overall load count. Plants are efficiently stacked in the trucks, so that each trip carries a maximum load. In 2001 we added three East Coast nurseries, so by growing regionally, we were able to greatly reduce the distance our plants travel. For deliveries beyond a certain distance, the trucks do not return to the nursery, thus no empty trucks wasting fuel.
Greener Solutions
Our Plant Health Team weeds each of our 22 million plants by hand at our four growing locations, allowing us to reduce the amount of herbicides required. Hand weeding is a labor intensive process, but one that is safer for the environment.
Another way we combat weed growth is by using organic mulches, which block sunlight and the weeds' ability to flourish.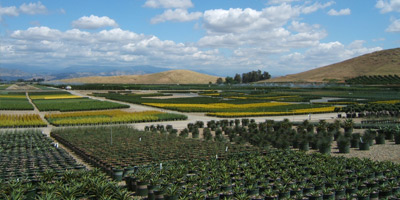 In the early 1990s, we began incorporating slow-release fertilizer into the soil, which reduced the amount of nitrogen fertilizer – a source of greenhouse emissions – by 75 percent.
We carefully track the nutritional status of our plants to avoid over-application of fertilizers, which is wasteful and harmful to the environment. By carefully monitoring fertility levels in the soil, we have been able to cut the amount of nitrogen fertilizer applied through the irrigation water by an additional 50%.
When pesticide applications are necessary, only the least harmful pesticides are used. Biorational products – pesticides of natural origin that have limited or no adverse effects on the environment or beneficial organisms – are used whenever possible.
Our Integrated Pest Management program relies on predatory insects to reduce pests, with weekly applications of various beneficial insects and bacteria, such as beneficial spider mites to treat pest spider mites and whitefly, beneficial nematodes for control of insects, beneficial fungi or bacteria for the control of various diseases and insects and beneficial wasps to control aphids and red scale.
One key focus of our new plant introductions is to find plants with a high degree of natural pest and disease resistance, thereby reducing the need for pesticide application both at our nursery and in the home landscape.
Mycorrhizae
We add mycorrhizae to all our plants. Mycorrhizae are a group of beneficial organisms that grow along the roots of host plants, enlarging the roots' naturally-occurring surface-absorbing capacity by as much as 100 times, making the plant much more efficient in the uptake of nutrients and water. Mycorrhizae help to reduce transplant shock, stress from drought, soil-borne diseases, water usage and the reliance on fertilizers.
Mycorrhizae are found in nature, but are very fragile. By disturbing the ground, we destroy the web of mycorrhizae that lies just beneath the surface. Basic building construction can destroy 20,000 to 40,000 years of soil development at one time. Fortunately, mycorrhizae can be reintroduced and begin to enhance the soil rather quickly. As Monrovia plants are added to the garden, the mycorrhizae in our soil will spread to other areas, benefiting your entire landscape.
Invasive Species
When non-native plants with a vigorous growth habit spread naturally to surrounding natural habitats, we call them invasive. Invasive plants can take over the natural environment. But an invasive plant in one state might be perfectly fine in another part of the country. That's what makes the threat of invasive plants so challenging. When people move to a new state, they may want to grow plants that they enjoyed in another part of the country – and don't think to check if that plant is invasive.
We are keenly aware of the problem of invasive plants and we do not sell plants in a region if they are considered invasive. Some varieties we have stopped growing entirely because they became invasive in more and more regions. And before we introduce a new plant variety, it is scrutinized for potential invasiveness.
Monrovia is working with other growers and horticulture professionals to adopt best practices to reduce the spread of invasive plants. What can you do? Before you plant, check your state's invasive plant list.