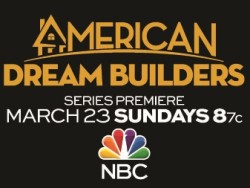 Tune in Sunday, March 23 for the Premiere of "American Dream Builders"
Renowned designer Nate Berkus hosts NBC's bold new one-hour reality competition series "American Dream Builders," premiering this Sunday, March 23rd at 8 p.m. ET.
In a competition unlike any seen before, American Dream Builders takes the most accomplished designers and home builders in the country and pits them against one another in a high-stakes competition designed to push everyone's creative reach, resulting in jaw-dropping transformations!
With each weekly episode, two teams will take on a brand new project and be asked to redesign and renovate the space from the inside out — all in a matter of days. Each week a new architectural style will be featured, as well as a fresh menu of Monrovia plants. In Sunday's episode, they'll be taking on two Tudor-style homes and will be tasked to create more space within the existing footprint. Sparks will fly as the contestants struggle to create one cohesive vision.
Joining Berkus on the show as judges are Eddie George and interior design expert Monica Pedersen.
George is a former Heisman Trophy winner (Ohio State University) and NFL all-pro (Tennessee Titans) who has now become a renowned landscape architect. Pedersen has appeared on several segments for "Today" as well as hosting shows on HGTV including their popular "Designed to Sell."
Berkus, George and Pedersen will review the finished work and determine which team achieved the best results. After facing the panel of judges, the losing team must send one member home. In the finale episode, the last two designers will take on renovations for two impressive Southern California homes, bringing their unique vision to life.
"American Dream Builders" is produced by Universal Television in association with Steele Mill Productions, Inc. Berkus serves as executive producer along with Tom Shelly ("Love in the Wild," "Survivor") and Jason Ehrlich ("The Bachelor").
* * * * *
Background on Monrovia:
Founded in 1926, Monrovia is the leading grower of premium ornamental and edible plants, with more than 3,600 varieties, including more than 214 exclusives. Monrovia works with the world's best breeders to bring improved plants to the gardens of America and Canada. Its Distinctively Better® plants are nurtured by hand to produce healthy plants that flourish in the landscape. Monrovia's five environmentally responsible nurseries are located in Visalia and Venice Hills, Calif., Dayton, Ore., Cairo, Ga., and Granby, Conn. Monrovia plants can be purchased in-store or online with delivery to independent garden centers, and through re-wholesalers nationwide. The company remains a family owned entity. www.monrovia.com www.shop.monrovia.com