What's New? Soft Structure.
As we reported in our 2017 trends report, there's a move toward a blend of structural form mixed with wilder, less restrained elements. This "I want to live here" garden (it belongs to Vogue editor Anna Wintour) with its mound of lightly clipped boxwoods that meet a meadow-like front lawn is just what we're talking about.
One of the easiest way to get this style is with hedges and masses of shrubs that look as impressive either left unsheared or lightly sheared as they do tightly clipped. You get all the benefits that hedges provide–height, scale, privacy, wildlife magnet–without the impact of formal, horizontal lines.
Here are a few shrubs that'll give you this kind of seductive soft structure.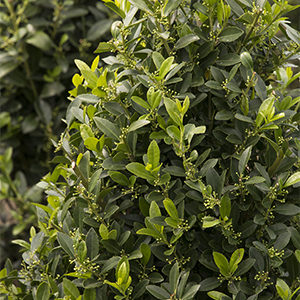 A handsome male evergreen holly with a natural pyramidal form creates a superb hedge, screen or windbreak when planted in mass. Reaches up 12 ft. tall and 8 ft. wide. Full sun. Zone: 7 – 9
Exceptionally handsome, shiny, deep green foliage has a tidy, clean appearance. Adapts well to occasional pruning to control size and form. Reaches up to 10 ft. tall and 8 ft. wide in 10 years. Partial to full sun. Zone: 7 -11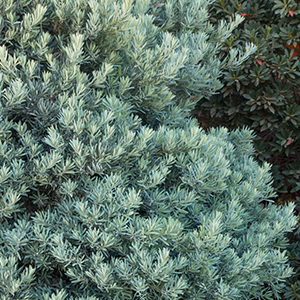 The first podocarpus tree with distinctive blue foliage! One of the most beautiful and decorative pyramidal conifers for the South. Excellent screen or hedge. Slow to 25 ft. tall and wide. Partial to full sun. Zone: 9 – 10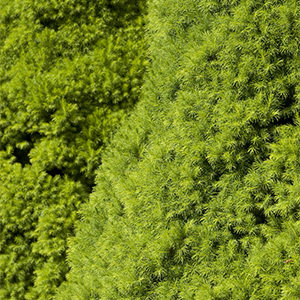 A perfect cone-shaped dwarf conifer displaying dense green needles which are soft to the touch. Plant a line of them for a sturdy, thick hedge. Reaches up to 8 ft. tall and 5 ft. wide in natural form. Partial to full sun. Zone: 2 – 8
Where boxwood is a bother, this is a perfect waterwise, fuss-free sub. Provides year-round beauty and natural rounded shape that seldom needs pruning. Reaches up to 4 ft. tall and wide. Partial to full sun. Zone: 6 – 8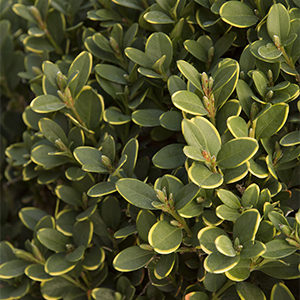 Upright, cone-shaped habit makes it an excellent candidate for mass planting to create a free-form or shaped hedge. Moderate grower, reaches 5 ft. tall, 3 ft. wide. Partial to full sun. Zone: 4 – 9