How to Use Our Online Shopping Option
Even the very best garden centers can't carry our entire assortment of plants (I mean, we grow more than 3K varieties!).  So, we created our online store, shop.monrovia.com in order for you to access more of what we grow, and help your local garden center deliver to you just what you want.
When you purchase a plant from our online store, we hold your order until the plant is ready to go into your garden according to your zone. When the time is right, a craftsman carefully hand selects your plant–we ship only full sized plants that are fully leafed out and often in bud and bloom. Your plants are trucked from our nurseries to the nearest participating garden center babied the whole way. Upon arrival, that garden center will contact you, and all you need to do is drive on over and pick it up.
Delivery is always free and we are proud that garden centers profit from these sales as they would the sale of any other Monrovia plant that they sell.
Here is a breakdown of how to order on shop.monovia. com. If you have any questions, please do leave them in the comments section. We are excited to hear your thoughts.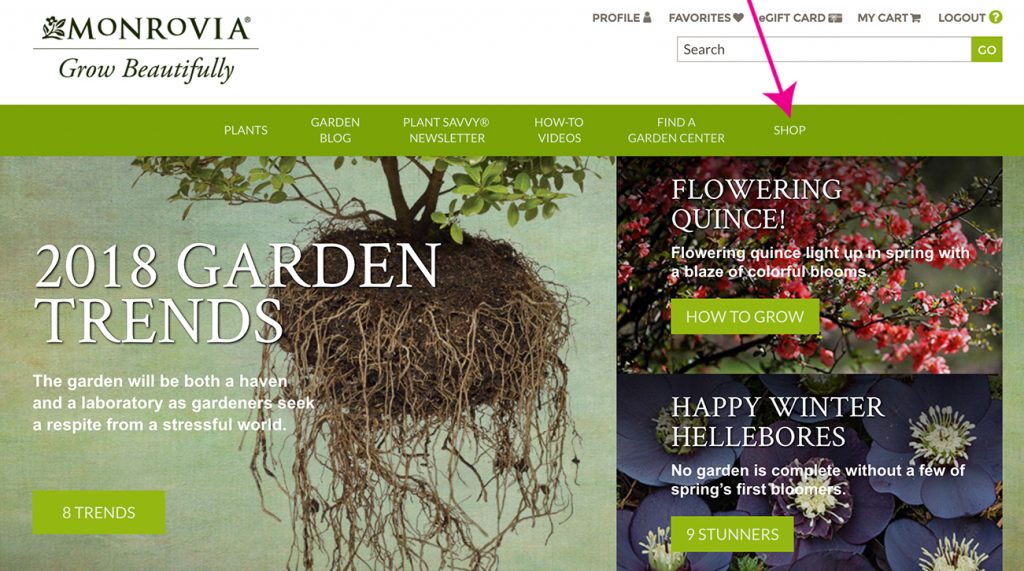 Step One: 
Go to homepage of Monrovia.com
Click on the "SHOP" icon found in the main navigation bar (dark green panel).
This will automatically direct you to Monrovia's online shopping portal.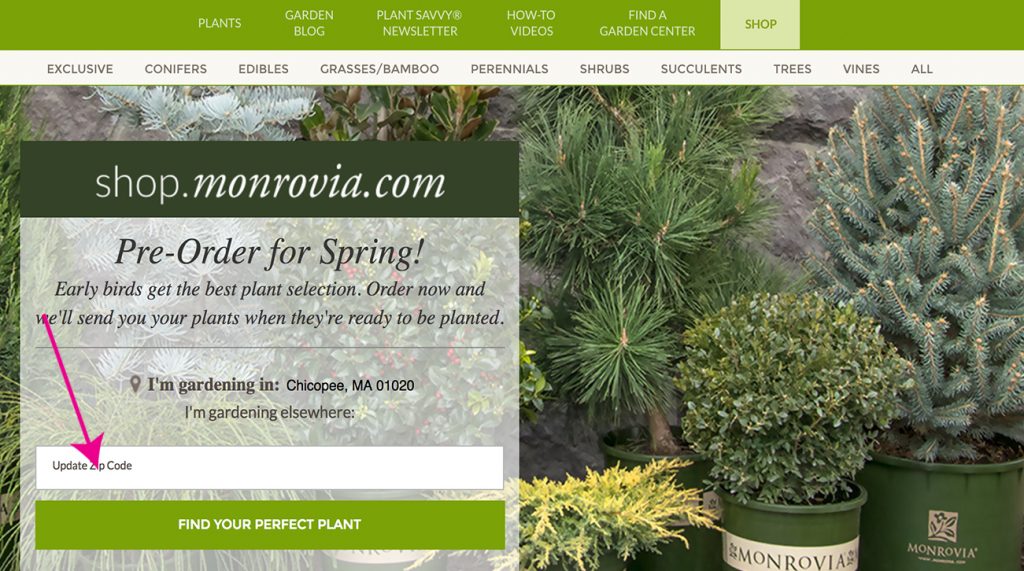 Step Two:
Once inside the shopping portal you will see this box.
Enter your zip code so the system can filter according to your specific zone.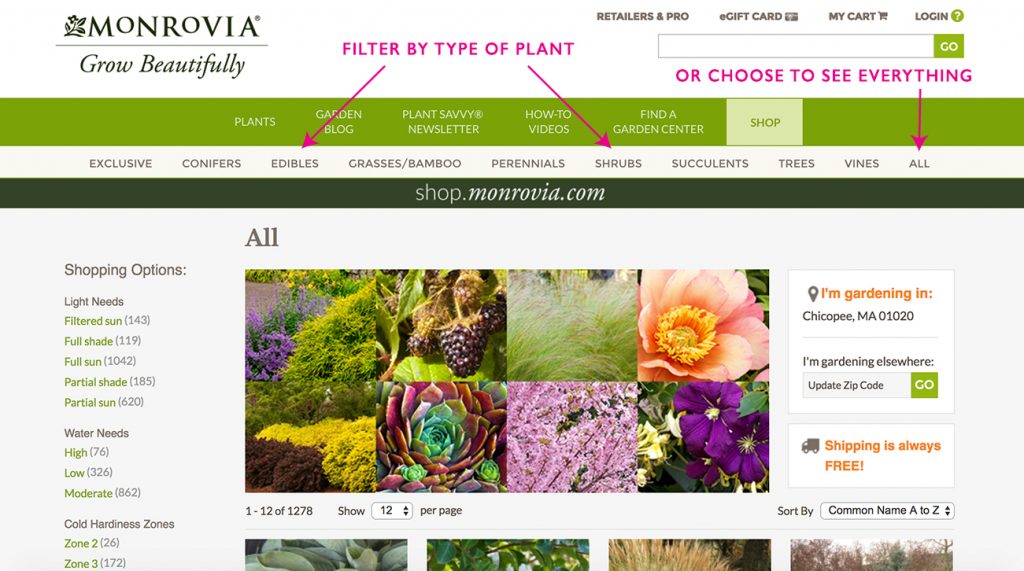 Step Three: 
With your zip code entered, up will come a page with just the plants that are exactly right for your zone (no guesswork needed!).
From here you can mouse over each of the types of plants and a dropdown menu with further sorting will appear. Or, you can just opt to see everything at once.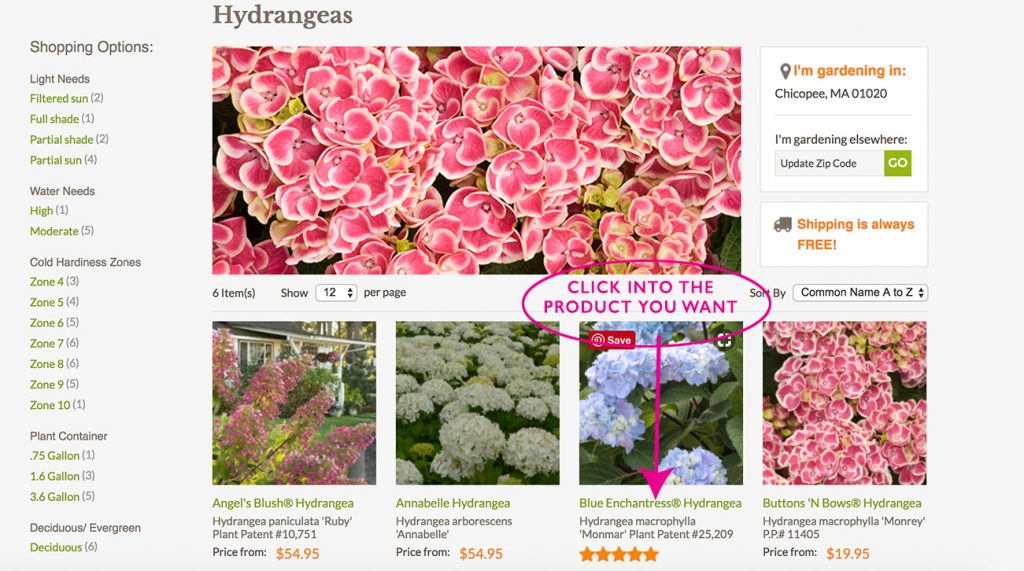 Step Four:
From the dropdown menu "shrubs" we chose "hydrangeas" which brought up all of this type of plant for your zone that we have available to ship to a local garden center.
We chose Blue Enchantress® Hydrangea.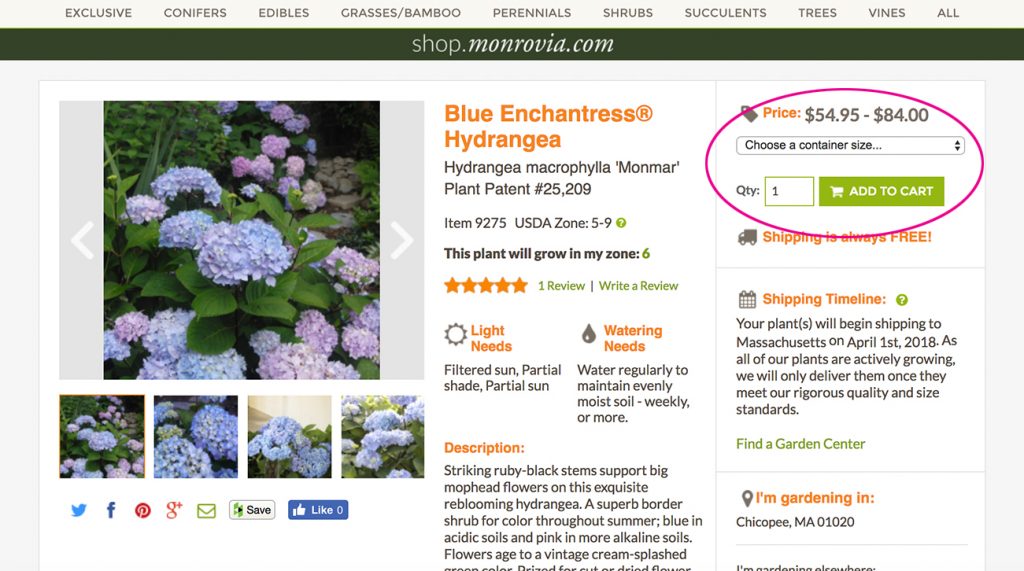 Step Five:
Click on the product and you will be taken to a new page with all the information for that particular plant.
From here you can choose the size you wish to purchase as well as the quantity.
After clicking "Add to Cart" you will be taken to checkout (works like every other checkout you use!)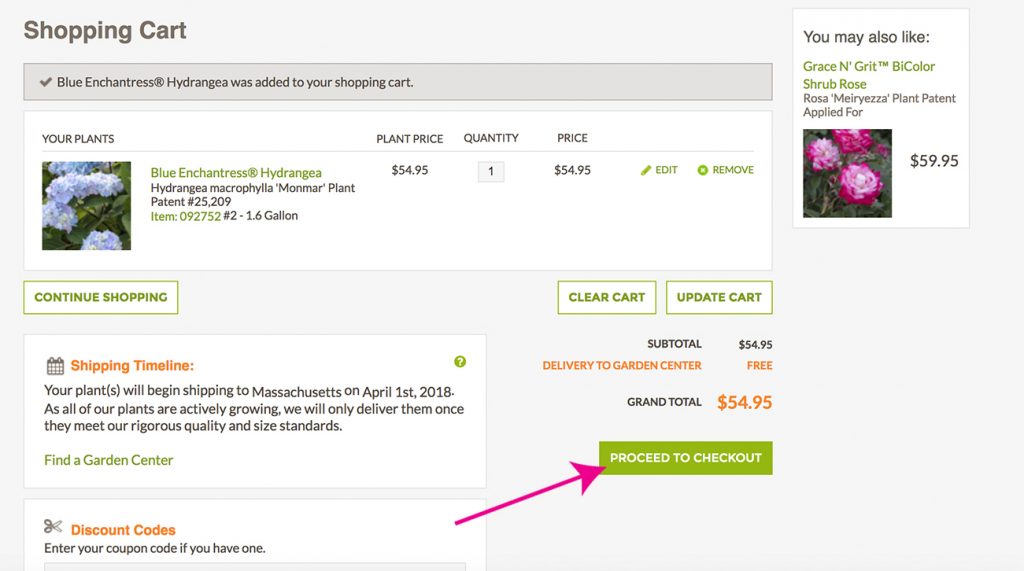 Step Six: 
Once you have finished checking out, you will be sent a confirmation email with information about what was ordered and which garden center was selected during checkout.
A shipment confirmation email will be sent to you from us when your plant is on the road and also to the selected garden center.
That's it! All there is to it.