When the heat cranks up and the sun is high, these full-sun container plants step up to bring the beauty. We've curated a long list of options for your full-sun containers here, including bright annuals, hardy perennials, versatile succulents, and bold tropical plants— all of which can stand up to the full sun and heat of a long summer day. The lists below include specific varieties that we love, but most varieties of these plants will perform well in full sun. 
In our opinion, these are some of the best plants for pots in full sun, but there are so many options! What did we miss? Share your favorites with us on social media @MonroviaPlants. 
Frost-Tender Perennials and Annuals for Full-Sun Containers
Whether you live in the warmest zones of the country or are looking for colorful annuals, these are some of our favorite options for containers in hot, sunny locations. They all have a bold look on their own or in combination planters, full-sun requirements, high heat tolerance, and a growth habit that is well suited for containers. We think you'll have great luck with any of these for your pots in full sun. 
The next time you're out at your local garden center, keep an eye out for these frost-tender perennials and annuals for your full-sun containers. 
Pictured right: SunBelievable® Brown Eyed Girl Helianthus, get more details about this full-sun beauty below.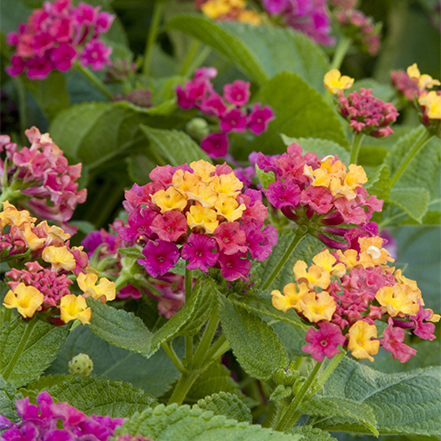 Whether grown as a perennial or an annual, you can count on lantana to look fabulous in sunny, hot conditions. This especially colorful variety is perfect for containers, thanks to its dense, compact growth habit and non-stop blooms. Up to 30" tall and wide. Zones 9-11 (grow as an annual in all zones).
A "Petchoa" is a hybrid that combines the best of petunias and calibrachoas. SuperCal blooms abundantly and continuously. Hummingbirds love the bright blooms (and so do we). Perfect for hanging baskets or combo container plantings in the sun. Up to 14" tall and 18" wide. Zones 10-11 (grow as an annual in all zones). 
Photo by Sakata
Bidens love a sunny container, and the Timeless series proves it by blooming all season long with bright, cheery flowers on an upright, compact habit. They brighten up window boxes and containers perfectly and look great in a bouquet. Up to 14" tall and wide. Zones 9-11 (grow as an annual in all zones). 
Photo by Danziger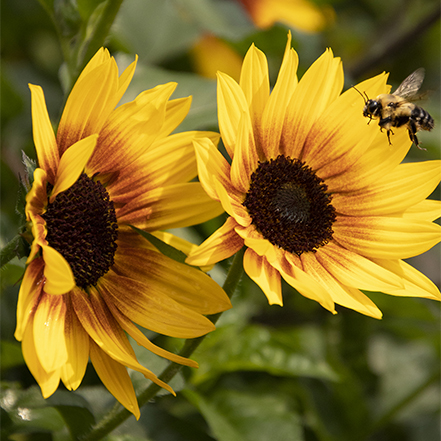 Give these seedless sunflowers a sunny location and they'll reward you with blooms, blooms, and more blooms from spring until frost. SunBelievable™ sunflowers love the heat; they even bloom best with a touch less water than most plants require in containers. Up to 32" tall and 40" wide. Grow as an annual in all zones. 
This dynamic, drought-tolerant plant has bright red blooms held on tall stalks that branch out of the clump of sword-like foliage. The compact size and upright flowers make it perfect for small and mixed containers in sunny locations. Foliage up to 20" tall and wide. Flower stems up to 24" tall. Zones 10-11 (grow as an annual in all zones).
Photo: Ramm Botanicals
A drought-tolerant grass with maroon blades and rosy plumes that look stunning in containers as a specimen or "thriller" in a mixed container planting. This spectacular grass looks great through the heat of the summer. Up to 4' tall and 3' wide. Zones 8-11 (grow as an annual in all zones). 
Full-Sun Perennials for Containers in Zones 4-9
Here's some good news for all of you cool-zone gardeners — you're not limited to annuals for your containers. There are many perennials that do well year after year in a full-sun location. The only catch? Keep them watered and protected in the winter.
If you'd like to keep your potted perennials through the winter and enjoy them the following spring and summer, try adding a layer of mulch and moving them to a protected area outdoors. Water them in dry, mild weather to keep them happy until warm, sunny days return. 
Pictured right: Little Night European Meadow Sage (featured below) with Old Man's Bones Stonecrop in a container that thrives in full sun and heat.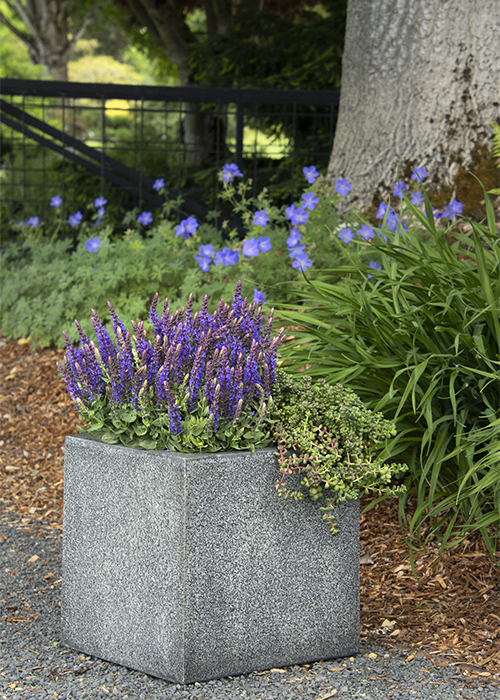 Yes, you can grow roses in containers! Nitty Gritty™ Roses live up to their name with a tough disposition and beautiful aesthetic. The abundant pink blooms are bright in hot summer weather and look great in large containers. Up to 3' tall and 4' wide. Zones 4-9.
The largest pincushion flowers around! 3" wide and honey-scented blooms are held aloft a compact mound of fine, fuzzy foliage on stiff, upright stems. The violet-blue flowers offer a cool touch to sunny containers. Up to 20" tall and 15" wide. Zones 4-9. 
Bright yellow pinwheel flowers cover the compact mound of foliage through the heat of summer and will continue until first frost if deadheaded. Blanket flower is an easy-care perennial that loves the sun and looks cheery in containers. Up to 22" tall and 16" wide. Zones 5-9.
A compact, tidy version of tough, heat-loving sage that's perfectly suited for mixed containers in sunny locations. Vibrant purple-violet flower spikes cover the mounded foliage in late spring and late summer. Up to 12" tall and 16" wide. Zones 4-9. 
Just wait until you see these bright-white flowers on a bright, sunny day They even reflect moonlight, making them perfect for outdoor entertaining spaces. The maroon center and fringed edges add an enchanting element to these dependable blooms. Up to 6" tall and 8" wide. Zones 4-9.
Stonecrop of all kinds are exceptional full-sun container plants, but we love Bronze Carpet because it has a unique bronze-red color, a ground-hugging habit that cascades over the side of containers, and dainty pink flowers that add a touch of whimsy. Up to 6" tall and 24" wide. Zones 3-9.
Herbs for Sunny Containers
Ready for more good news? It's easy to grow your own herb container garden, even though the heat of the summer.
While cool-season herbs like cilantro, chamomile, dill, and parsley tend to bolt or burn when the going gets hot, there are several aromatic and tasty options that love the intense summer sun.  Rosemary, thyme, and lavender shine during the hot summer months, and continue to produce the tasty leaves (or flowers) that we love for garnishing and flavoring our favorite dishes. 
Pictured right: Tuscan Blue Rosemary (featured below) stays compact when pruned and kept in a smaller container. 
With well-known heat tolerance, aromatic, needle-like foliage, and a profusion of tiny blue flowers, this is a great choice for herb container gardens in full sun. Planting in a container also gives you the ability to bring it indoors for winter and enjoy it year-round. Up to 6' tall and 4' wide; can be kept smaller in pots. Zones 8-11. 
Thyme is a lovely, easy-care herb that loves the sun, and Doone Valley has a graceful habit that will cascade over the side of containers, making it a perfect "filler" plant in container combos. The aromatic leaves are perfect for seasoning a variety of dishes. Up to 2" tall and 24" wide. Zones 4-8.
This compact lavender is aromatic and beautiful, with a profusion of violet-blue blooms that return up to three times a season (with pruning). This tidy, upright selection is a must-have for any sunny container garden. Up to 18" tall and 12" wide. Zones 5-9.
Succulents Perfect for Containers
Succulents have made a big name for themselves as houseplants, but we want to remind you that they are spectacular in sunny outdoor containers, too.
We think you'll love the bold and unique succulents in the list below. Whether they live a double life as houseplants and outdoor container specimens, you live in a warm enough climate to keep them outdoor all season long, or you're lucky enough to be surrounded by gorgeous succulents inside and out, these are all perfect for a sunny location. 
Right: Guido Aloe (featured below) and Campfire Crassula are perfect for both indoor and outdoor containers. Just add sun!
Thread-Leaf
Agave
This slow-growing agave looks stunning in a full-sun container, where its unique "threads" can catch the light and be admired up close. Just don't get too close, because each white hair has a sharp spine at the end! Mature plants produce a 10' tall flower spike. Up to 2' tall and 3' wide. Zones 8-11. 
This is a fabulous heat- and drought-tolerant succulent that can be enjoyed as a houseplant when the weather gets cool. The pale green rosette features creamy stippling and fringed edges, and bright red-orange flower spikes appear summer through fall. Slowly grows up to 8" tall and wide. Zones 9-11. 
Another unique specimen for your consideration; this Echeveria has intriguing ice-blue rosettes with thick, upward-curving leaves that add extraordinary texture and color to container plantings. A must-have addition to your indoor succulent collection, too! Up to 12" tall and wide. Zones 9-11.
Plants for Tropical Containers
There's nothing like the lush foliage, bold colors, and striking silhouettes of a tropical garden. Even better? Enjoying these extraordinary plants up-close and personal in patio or poolside containers. From cannas to cordylines, there are so many stunning options, but we managed to narrow it down to our three favorites for your full-sun tropical containers. 
We selected these based on their hardy, heat-tolerant nature as well as their star-quality good looks. Each one of the plants below has something unexpected about it, take a look and see what you think. 
Pictured right:Tropicanna® Canna (featured below) looks stunning in sunny poolside and tropical gardens.
Looking for something a little different? This selection adds a splash of color to that tried-and-true classic-cordyline structure that looks amazing in containers. The dark maroon leaves are edged in bright pink and look fabulous on their own or with companions in a container. Up to 4' tall and wide. Zones 9-10. 
A tropical container garden is not complete without a hibiscus. The Jazzy Jewel series will knock your socks off with prolific large, long-lasting, and richly hued flowers that pop against the deep green of the glossy foliage. Up to 5' tall and wide. Zones 9-11. 
A stunning tropical specimen with an exotic flair that looks great in a poolside or tropical setting. The large, bright-orange blooms and dramatic orange, burgundy, and green foliage is striking as a container specimen. Up to 5' tall and 4' wide. Zones 7-11.