There are as many ways to landscape around the pool as there are styles and shapes of pools possible. Do you want the pool to seamlessly integrate into the surrounding landscape as if it were a natural spring? Or do you favor a more formal style that shows off the pool as part of your home's architecture? Whatever your style, you'll want to choose plantings that are low-maintenance. Ones that don't drop leaves or debris into the pool. Pay close attention to plant height (both now and future) when selecting trees and shrubs.
We chose the pool landscapes featured here to inspire your own poolside design. Each of them offers a different approach to plantings and style.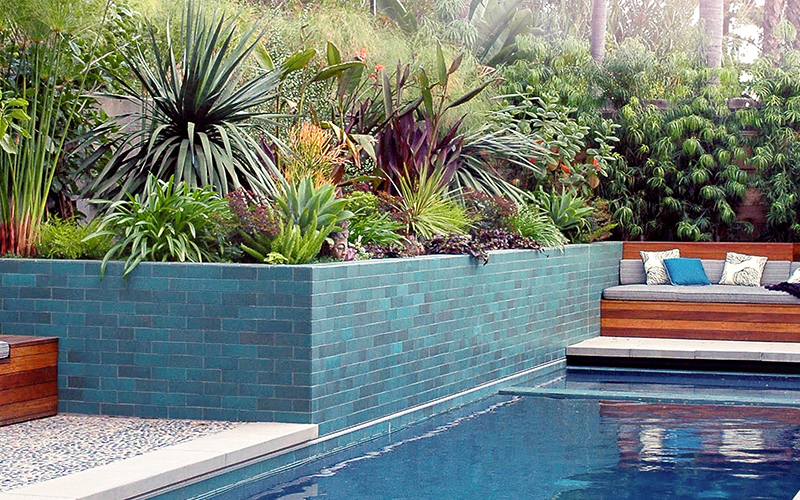 What started as an eyesore became a focal point in this ingenious hillside makeover by Judy Kameon.  The owners hated the existing gray concrete wall that completely wrapped around the pool area. Solution: Kameon designed a raised planter from the wall to the pool's edge. Then wrapped it with luminous Heath tile in blue hues to make it feel like part of the pool. It's now a glamorous planting bed filled with a garden that looks like it could grow underwater. 
She chose strappy plants in vivid blue-greens and purples, punctuated by dracaena, canna, agaves, and asparagus fern. The back wall above a built-in is a soothing jungle of podocarpus soft enough to look like a living cushion. "I love that the plantings carry your eye up the hill and blend in with the lighter chapparal there," says Kameon.
Design by Judy Kameon of Elysian Landscapes
Photo by Erik Otsea
Get the Look with These Plants
A plant with tropical style and exotic flair that looks great in a poolside setting. Large, bright-orange blooms and dramatic orange, burgundy, and green foliage. Up to 5' tall and 4' wide. Zones 7-11. 
This dramatic palm-like dracaena has rich, dark foliage and an upright habit. Easy care and great in coastal climates. Full to partial sun. Up to 5' trunk with a 3–5' wide crown of foliage. Zones 9–11. 
The best way to conjure the breezy elegance of a natural spring is by keeping the surrounding landscape loose. Nancy King of Seventy Acres Landscape Architecture & Design succeeded in creating an oasis. One that feels natural when she refreshed an existing swimming pool at this Connecticut farmhouse property.
Here, her plantings of grasses combine with perennials among an artful cropping of rocks that just shoulder the pool area. There's even a flat-surfaced boulder strategically placed near the pool as a natural springboard. This bouldered landscape helps bridge the expansive lawn to the mature trees and woods just beyond. It changes with seasonal color.
Photo and Design by Nancy King of Seventy Acres Landscape Architecture & Design
Get the Look with These Plants
A cold-hardy, native grass with flag-like, golden flowers and blue-green foliage. Tolerant of drought and many soil types. Up to 3' tall and wide. Zones 4-9.
Compact form of maiden grass that flowers at an early age with silvery white blooms in summer. Foliage turns golden bronze in fall. Up to 4' tall and 3' wide. Zones 5-9.
If You Have a View, Stop Talking
This poolside setting is actually a series of terraces. They're meant to celebrate the large native oak trees and agrarian hillside with its panoramic views just beyond. The hushed colors of soft grasses and perennials around the pool were chosen by Gretchen Whittier of Arterra Landscape Architects. This creates a contemplative landscape that's both drought-tolerant and low-maintenance.
Lavender, salvia, and penstemon echo the blue of the pool. Plus they provide other places for the eye to rest alongside flax and erigeron. By using muted colors and a limited palette, the design draws the eye outward toward other vistas.
Design by Gretchen Whittier of Arterra Landscape Architects
Photograph by Michele Lee Willson, courtesy of Arterra Landscape Architects 
Get the Look with These Plants
This long-blooming, compact beardtongue features abundant spikes of large purple flowers that attract bees, butterflies, and hummingbirds. Up to 22" tall and 16" wide. Zones 5-9.
Fragrant purple-blue flower spikes bloom on this heat- and humidity-tolerant, disease-resistant, and cold-hardy variety. Up to 3' tall and wide. Zones 5-8.
A drought-tolerant grass with maroon blades and rosy plumes. This spectacular grass looks great through the heat of the summer. Up to 4' tall and 3' wide. Zones 8-11 (grow as an annual in all zones). 
Who says you can't turn your pool area into an edible landscape? Christian Douglas integrates edibles into his stylish landscapes, like the one shown here. The secret to creating an edible poolside is to use edible perennials. This is so the plants need less maintenance and provide greenery during off-seasons. Christian recommends growing seasonal vegetables in raised beds. Place them far enough away from the pool to avoid splashes and rogue pool toys. He also says he "wouldn't put anything that drops fruit too near a pool." This is to avoid yellow jackets, and fruit dropping on walkways and the pool. In this poolside design, he balances fruit trees (espaliered apple or fig for example), with shrubs like blueberry and artichoke. Then adds strawberries and herbs in smaller spaces. These are all set far enough away from the pool to be practical and beautiful.
He does use raised beds around the pool. Although it's also easy to tuck in edible perennials within other perennials and vines, such as mixing wisteria and grapes. By layering these elements, the landscape mimics nature. Thus creating a lushness and feeling of abundance that's as mentally soothing as the refreshing pool.
Design by Christian Douglas
Photo by Adam Potts
Get the Look with These Plants
A highly productive variety with a long season and large, delicious berries. Ever-bearing with good disease resistance and a wide climate range. Up to 12" tall and 24" wide. Zones 4-9.
A semi-dwarf variety perfect for small gardens or large containers. This bountiful tree yields two crops of succulent green figs with flavorful, sweet flesh. Zones 7-10 (can be hardy down to Zone 5 if sheltered for winter).
Showy pink-white flowers light up this tree in spring, followed by large red fruit in late summer or fall. The delicious apples are crisp and perfect for eating fresh or making cider. Up to 25' tall and 15' wide. Zones 4-9. 
Stefani Bittner of Homestead Design Collective had some unexpected clients to consider when designing this poolside landscape in Northern California. The owners' free-range chickens. Their coop isn't far from the pool. The owners wanted to keep them happy, and also reduce an expansive green lawn area. Bittner reduced the lawn by half. She used gravel as a permeable hardscape near the pool, and low-water plantings with texture to bring the space together.
Re-using wherever and whenever possible is a guideline of Bittner's. She placed existing stone pavers in a more dynamic pattern to complement the casual railroad ties near the chicken coop. Alongside the pool, Bittner re-used dianella and phormium planted elsewhere on the property. Relocating it to the poolside to create punctuated moments in an easy-care border.
She used blue succulents to echo the pool color, and added in fiery oranges and other touches of surprise. The resulting landscape is a vibrant, easy-care solution perfectly suited to the personality and lifestyle of its owners.
Design by Stefani Bittner of Homestead Design Collective
Photo by David Fenton
Get the Look with These Plants
A clumping ornamental grass with an icy-blue color. It's heat- and drought-tolerant and perfect for using as a low-growing border plant or foreground layer. Up to 12" tall and wide. Zones 4-11.
A hybrid selection that's larger and showier than common species. With occasional deadheading, the deep-red flowers bloom from spring to fall. Up to 6' tall and 8' wide. Zones 8-11.
A hardy palm with a compact crown of blue-green, deeply cut, fan-shaped foliage. The multi-trunked habit forms rounded clumps and is perfect for use as a mass or barrier planting. Up to 15' tall and wide. Zones 8-11.