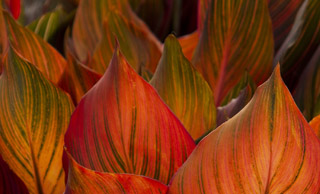 Gardeners work all year long to foster a bounty of bold colors, but it can be a challenge. Even if you have a lot of flowers, they probably don't bloom all year round.
One suggestion is to look for interesting colored foliage. Leaf color can range from bright yellow to burgundy, close to black and even blue. This is a great way to add color when nothing is in bloom.
Yellow foliage really stands out and contrasts well against green plants. Try such stunning options as the Sea of Gold Juniper, with its dramatic golden-yellow foliage; the Sunsation Barberry, which maintains its golden color with an orange cast most of the season; and the Limemound Spiraea, which has bright lemon-yellow leaves that turn orange-red in the fall.
Increasingly popular are plants that offer dark foliage in reds, purples and maroon. The Diabolo Ninebark has intense reddish-purple leaves, while the Heart of Darkness Foamy Bells has fascinating heart-shaped leaves that are cool mint-green with a slight dark burgundy center. Sizzling Pink Fringe Flower is an excellent choice for burgundy foliage. This easy-to-grow plant has rich pink flowers that appear throughout the year against wine-colored leaves. The Cordyline Festival™ Burgundy has graceful, strappy leaves that are such a deep burgundy, they nearly appear black.
Blue foliage – yes, blue – can look very striking in the garden. Lots of easy-to-grow and water-wise conifers have a blue tinge, like the Dwarf Alberta Blue Spruce, Icee Blue Juniper and French Blue Scotch Pine. The Eola Sapphire Hosta has large, thick-puckered leaves that get bluer and bluer as the plant ages.
Another hot trend is variegated plants. Variegation means there is more than one color on the leaf. Some stunners are the Canna Tropicanna®, which has huge burgundy leaves striped with yellow, orange and red. The new Tequila Sunrise Mirrorplant has jewel-like foliage that is highly glossed and bright colored. The Variegated Red Twig Dogwood has lovely mint-green leaves edged in sparkling white and it provides the added bonus of blood-red stems in winter, providing spectacular color all year long.
In addition to bringing year-round color into the garden, distinctive foliage colors and shapes can provide the architectural design look that many top designers favor. For more terrific suggestions for colorful foliage, see our suggested list.