What is Farmer Chic?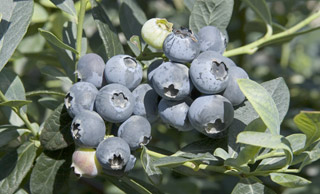 It's simple, really. It's a way of gardening for the eco-aware who don't want to sacrifice style for practicality. You like the idea of growing your own fruits and herbs, but don't want your yard to look like something to drive a tractor through – or maybe your space is smaller than the average tractor.
Follow our guide and start adding some edible plants to your garden, and you'll soon find that you want to add more and more. And by incorporating them into your design and selecting a variety of attractive fruits, herbs and vegetables, your garden will look chic and luscious.
Here are our top reasons to start plating edibles:
Eating Local – what could be more local than your own yard?
It's Easy – the truly Chic Farmer wants to spend more time harvesting and eating rather than planting. Select perennials that just keep providing a profusion of fresh, nutritious foods, year after year
A Bit of Envy – when you share your homegrown produce with friends and family, they'll notice that your recipes taste so much better with fresh, organic herbs and homegrown fruits and vegetables.
Good for the Environment – we don't have to remind you of the carbon footprint on those supermarket grapes that were grown in South America, especially when they are so easy to grow yourself.
You Can Have Both – you don't have to choose between an ornamental garden and an edible landscape. There are so many really beautiful edibles that will provide color, texture, flowers and fragrance.
Are You Ready to Unleash Your Inner Farmer?
First, take a look around your garden to see where you might be able to fit in some edibles. Don't forget to think about the front yard as well as the back. Perhaps you could give up a portion of the lawn. Do you have any high-maintenance plants that need too much water or attention? Might be time for a little "shovel gardening" and say, "so long."
Next, think about the largest items in the landscape, the trees. Fruit trees make a beautiful addition to the garden or in a container on a patio. Citrus, with their glossy green foliage and fantastic fragrance, can provide an abundance of oranges, grapefruit, tangerines, lemons and limes. Try the Variegated Calamondin Orange, with stunning green and cream-colored foliage. Even the fruit is variegated with a pale green stripe. The Moro Blood Orange has bright red-fleshed fruit with a delicious flavor, and the Meyer Improved Lemon produces a crop of juicy fruit twice a year. Gardeners in colder climates can easily grow citrus in containers and overwinter them indoors. A great looking plant for a container is a Kumquat, which is loaded with small, orange fruit. The fruit is delicious for snacking or made into marmalade.
Mediterranean favorites, pomegranates and figs, provide a bounty of gourmet fruit on gracefully branching trees. Pomegranates have brilliant orange flowers that will yield a crop of big red fruit that are extremely high in antioxidants. And figs produce a summer harvest of tasty fruit perfect for deserts or appetizers.
Quince is a spectacular flowering tree that produces a tart fruit that makes fantastic jams. Try the Super Red Flowering Quince and enjoy huge bright red blossoms or the Cameo Japanese variety, with delicate apricot-pink blooms.
Now, on to shrubs. Blueberries are the hottest edible for home gardens. They are very chic, with an array of white to blush-colored flowers in the spring and foliage that changes in the autumn from a pretty green to vivid red and gold. And, you'll be rewarded with a lot of berries. This delicious, antioxidant super-food is quite pricey in the supermarket, yet one plant can produce six to seven pounds of fruit.
Blueberries are surprisingly easy to grow throughout the U.S. – even in warmer regions. The Southern Highbush varieties like Bountiful Blue, O'Neal, Sunshine Blue, Jubilee and Southmoon are extremely tolerant of heat and humidity and don't require a pollinator to produce fruit. For the colder parts of the country, plant the Northern Highbush varieties, such as HardyBlue, Patriot, Spartan, Misty, Northblue and Top Hat. These do require a pollinator, meaning that you need to have at least two different varieties with similar bloom times, planted close together.
Next, think about adding height in your Farmer Chic garden. You'll want some vines that will climb onto lovely wrought-iron trellises or a vintage arbor. Grapes are great vine for covering structures, and you'll be rewarded with sweet, juicy grapes for eating or for winemaking. For something a bit more exotic, try growing Kiwi. This native of China, also called a Chinese Gooseberry, is delicious and easy to grow. It's a fast-growing vine, so plant near a trellis or arbor so it can climb and the fruit can hang down for easy harvesting.
Herbs will round out your incredible edible garden. Just tuck in creeping Rosemary like the Huntington Carpet or an upright grower like Roman Beauty or Barbeque; and some lavender, such as Hazel Spanish Lavender or the dwarf Thumbelina Leigh English Lavender. Try growing a Sweet Bay in a container on your patio and use the leaves for soups and sauces.
These easy-to-grow plants are a welcome addition to ornamental varieties and are even more ample when grown with vegetables. To complete your farmer chic look, add some raised-bed planters and have an all-season garden that pays you back with the freshest foods in your own yard.