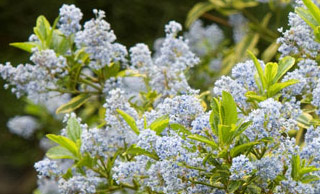 When looking back at the recent destructive fires in the Western U.S., a number of homes were saved as a result of the owners' careful pruning and landscaping techniques that protected their homes.
What You Can Do
The first priority is to clean up the dead trees and shrubs surrounding your home that are pure fuel for fire. Removing flammable vegetation reduces the threat of fire.
Take out the "ladder fuels" – vegetation that serves as a link between grass and treetops. It can carry fire to a structure or from a structure to vegetation.
Maintain a well-pruned and watered landscape to serve as a green belt and protection against fire. Prune all trees up to 6′ to 10′ from the ground.
You'll want to assess your risk – find out about the fire history in your neighborhood and make sure you're clear about your property's boundaries and contours.
Assess the overall terrain and things like prevailing winds, native vegetation and seasonal weather
Stack firewood at least 30 feet from your home and store flammable materials in metal containers at least 30 feet away from structures and wooden fences.
Always install smoke alarms on every level of your home. Test them monthly and change the batteries at least once a year. Consider installing the new long-life smoke alarms.
Choose Plants for a Fire-Safe Landscape
All sorts of factors go into determining which plants are appropriate for a fire-safe landscape: things like how much water and salt they retain (which is good) or if they contain a lot of aromatic oils or tend to drop a lot of matter (not so good). Read more about what makes a fire-safe plant.
You'll want to use the zone concept. Zone 1 is closest to the structure; Zones 2-4 move progressively further away.
Zone 1. This well-irrigated area encircles the structure for at least 30 feet on all sides, providing space for fire suppression equipment in the event of an emergency. Plantings should be limited to carefully spaced fire-resistant species.
Zone 2. Fire-resistant plant materials should be used here. Plants should be low-growing, and the irrigation system should extend into this section.
Zone 3. Place low-growing plants and well-spaced trees in this area, remembering to keep the volume of vegetation (fuel) low.
Zone 4. This furthest zone from the structure is a natural area. Think selectively here, and remove highly flammable vegetation.
Planting Techniques
Eliminate small trees and plants growing under trees. They allow ground fires to jump into tree crowns.
Space trees 30 feet apart and prune to a height of 8 to 10 feet
Place shrubs at least 20 feet from any structures and prune regularly.
Plant the most drought-tolerant vegetation within three feet of your home and adjacent to structures to prevent ignition.
Provide at least a 10- to 15-foot separation between islands of shrubs and plant groups to effectively break-up continuity of vegetation.
Landscape your property with fire-resistant plants and vegetation to prevent fire from spreading quickly.
For more information, contact the United States Fire Administration: www.firewise.org or visit usfa.fema.gov
Plants for a Fire-Safe Garden
Zone 1
Lily of the Nile (Agapanthus)
Bloodstone Thrift (Armeria maritima 'Bloodstone')
Evening Glow Bergenia (Bergenia cordifolia 'Winterglut')
Fortnight Lily (Dietes bicolor)
African Iris (Dietes iridioides)
Pink Princess Escallonia (Escallonia x exoniensis 'Fradesii')
Pineapple Guava (Feijoa sellowiana)
Daylily (Hemerocallis)
Waxleaf Privet (Ligustrum texanum)
Lilac Beauty Lilyturf (Liriope muscari 'Lilac Beauty')
Wheeler's Dwarf Japanese Mock Orange (Pittosporum tobira 'Wheeler's Dwarf')
Dwarf Pomegranate (Punica granatum 'Nana')
Red Elf™ (Pyracantha x 'Monelf')
Star Jasmine (Trachelospermum)
Sunny Skies Periwinkle (Vinca minor 'Sunny Skies' P.P.# 13466)
Zone 2
Flamingo Ash-leaved Maple (Acer negundo 'Flamingo')
Compact Strawberry Bush (Armeria maritima 'Bloodstone')
Dwarf Bottlebrush (Callistemon citrinus 'Little John')
Tomlinson Natal Plum (Carissa macrocarpa 'Tomlinson')
Ground Morning Glory (Convolvulus mauritanicus)
Fortnight Lily (Dietes bicolor)
African Iris (Dietes iridioides)
Red Yucca (Hesperaloe parviflora)
Lilac Beauty Lilyturf (Liriope muscari 'Lilac Beauty')
Silver Dragon Lilyturf (Liriope spicata 'Silver Dragon')
Jack Spratt New Zealand Flax (Phormium 'Jack Spratt')
Bronze Carpet Stonecrop (Sedum spurium 'Bronze Carpet')
Variegated Stonecrop (Sedum spurium 'Tricolor')
Autumn Joy Stonecrop (Sedum x 'Autumn Joy')
Potato Vine (Solanum jasminoides)
Golden Sword Yucca (Yucca filamentosa 'Golden Sword')
Soft Leaf Yucca (Yucca recurvifolia)
Zone 3
Fern Leaf Yarrow (Achillea x 'Moonshine')
White Rock Rose (Cistus x corbariensis)
Brown-eyed Rock Rose (Cistus ladanifer maculatus)
Purple Rock Rose (Cistus x purpureus)
Dwarf Coreopsis (Coreopsis auriculata 'Nana')
Ballerina Cranesbill (Geranium cinereum 'Ballerina')
Bloody Cranesbill (Geranium sanguineum)
French Lavender (Lavandula dentata candicans)
Sea Lavender (Limonium perezii)
Russian Sage (Perovskia atriplicifolia)
Huntington Carpet Rosemary (Rosmarinus officinalis 'Huntington Carpet')
Furman's Red Autumn Sage (Salvia greggii 'Furman's Red')
Mexican Bush Sage (Salvia leucantha)
Lavender Cotton (Santolina chamaecyparissus) Green Lavender Cotton (Santolina virens)
Ivory Tower Yucca (Yucca filamentosa 'Ivory Tower')
Soft Leaf Yucca (Yucca recurvifolia)
Banana Split™ Soft Leaf Yucca (Yucca recurvifolia 'Monca')
Fern Leaf Yarrow (Achillea x 'Moonshine')
Carmel Creeper California Lilac (Ceanothus griseus horizontalis)
Victoria California Lilac (Ceanothus thyrsiflorus 'Victoria')
El Dorado Ceanothus (Ceanothus thyrsiflorus 'El Dorado' P.P.A.F.)