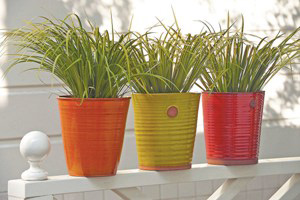 Should you choose the pot to fit the plant.or the plant to fit the pot? We say both. For eye-popping combinations in whatever style you prefer, place equal emphasis on the pot and the plant. Here are some ideas:
Patio Trees
Add height, volume and a splash of color to your patio, balcony or deck, simply by adding a few patio trees. We grow dozens of varieties of patio trees, which are specialty forms with a three-foot tall trunk and an expertly pruned dome of foliage and flowers. A natural for containers, patio trees provide an easy starting place for a high impact arrangement. Simply add a few trailing plants and then place them anywhere you need an instant makeover.
English Urn
Re-create the elegance of an English manor with a pedestal urn, a towering accent that will add instant style to a shaded garden. Celebrate the Victorian love of Boxwoods and formal evergreen shapes. Insert brightly splashed Painted Ferns (Athyrium niponicum) to ensure a lush color and rich appearance. You can even venture into shrubs with exquisite, heavy blooming Camellias and Rhododendrons. To balance its height, be sure to insert dangling vines like English Ivy (Hedera helix) or groundcovers such as Common Periwinkle (Vinca minor 'Bowles'). Exploding with foliage, this celebration of the shade garden would be as well suited to a palace as to your backyard.
Bright Spots
Vivid glazed pots are perfect accents for small urban gardens, balconies and courtyards. Fill them with small-scaled plants with vibrant foliage color and close-up interest to create sparks of fire in dull spaces, like Mirror Plant (Coprosma). Experiment with succulents – hardy and tender – to exploit their rigid forms and fascinating aspects. You can even sample herb gardening with perennial culinary-seasoning plants. The bold color and close-up interest will make these plants and their cheerful pots the bright spot in your garden.
Tropical Paradise
One big pot planted with the best of the tropics can be your own private island no matter where you live. Growing frost-sensitive plants in large containers lets you push the frost line: simply bring them indoors or under cover during brief cold snaps. Create tropical style with large leaf plants like Canna, Banana (Musa) or Bird of Paradise (Strelitzia), Palms or Bamboo. Bring blossoms to the forefront with Hibiscus, Bougainvilleas or Lantana.
Modern Metallic
Metallic pots reflect modernism's belief in clean lines and industrial materials. Planted with care, their handsome shapes will enhance the minimalist spaces of a modern home. Fill them with upright growers like Dianella, Dasylirion or Bamboo for a living column of texture. Or bring out their architectural value with rosette shaped succulents, like agaves. And for bright foliage color year round, look for large strap leaf plants with vivid bronze or variegated cultivars, such as Bauer's Dracaena Palm (Cordyline 'Baueri') or Rainbow Sunrise New Zealand Flax (Phormium 'Rainbow Sunrise'). Try a top dressing of finely ground green or blue recycled glass gravel for a jewel garden like no other.
Asian Inspiration
Venture into the unexpected container plants, choosing colors inspired by Asian design. Bounce shrubby foliage in sepia and sunset hues against an acid green pot and discover the pleasure of complementary colors. Fill it with bright-blooming Azaleas and enjoy a dazzling display of floral hues. Choose strap leaf plants for exotic textural interest and under-plant them with groundcover Roses or creeping Juniper. Setting the pot in a sea of jet-black Mexican beach pebbles adds even more edge to your presentation. Entertaining the eye with unusual compositions is easy when you start with a brilliant pot.
Mediterranean Jardinière
Discover topiary inspired by Italian nurseryman Edo Ansaloni that evokes the precision and elegance of traditional villa and chateaux gardens. Evergreen foliage makes these innovative forms as attractive in winter as in summer. In drought resistant cypress and juniper varieties, they even defy water rationing. Planted in a terra cotta jardinière, a topiary is a portable sculpture for a terrace, patio or in a foundation bed. Thanks to uniformity of growth, you can create identical compositions and use them to flank an entry, window or fountain for dramatic emphasis.