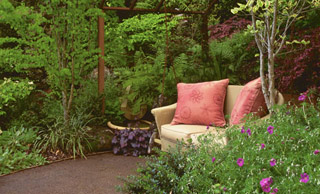 Even those fortunate enough to have a huge yard may still have a small side yard or patio that needs an intimate design for a smaller space. Or you may desire to create an inviting vignette within a vast space. And, of course, there is certainly a trend in newly built homes having smaller yards – but that doesn't mean homeowners with a mini-garden can't create a fabulous backyard retreat. And, condo and apartment dwellers can grow an array of plants in containers on a deck or balcony.
Choose the Right Containers
There are more container styles and material choices than ever before. The most important thing is that the container be large enough for the plants you want to grow. Generous rooting space means plants grow quickly and perform well.
The good news is that there are so many dwarf plant varieties on the market that are ideal for containers or specimen plants in small gardens. And for many, designing a smaller space can be much less intimidating than tackling a larger space.
Keys to Designing Small Gardens
Consider the various ways you look at your garden. The vignette from your kitchen or dining room window or the views you encounter as you walk to and from the garage should be factored into your plan. Often, you can take advantage of a neighbor's tree as an element for your own space. Use an adjoining specimen to help create a focal point and build around it. The areas you see most often can be designed as all-season beds and include an array of plant types, including evergreens, deciduous shrubs with interesting branch structure, and early- and late-blooming perennials.
Sometimes, a space is so tiny that it needs a little extra help. Remember, less is more in environments that are space-challenged. Just as in a small interior room, clutter can make an outdoor space feel cramped, so keep your accessories to a minimum. A mirror in the garden is one décor element that really pays off, as it reflects light and adds a multiplier effect to the plants and colors in your space. Painting perimeter walls or fencing a dark green can also create an air of expansiveness.
Hiding unwanted views may be a concern. If garbage bins or a neighbor's kitchen window intrude, plant a compact screening hedge. Or build a lattice corral for the bins and enhance it with a short vine or small evergreen shrub. Consider planting a tree to divide you from your neighbor…a deciduous variety is a good choice if you only desire a screen during the summer months when you use the patio. Come winter, you'll appreciate the sun that shines through the tree's bare branches. If you use a common variety of conifer for a screening hedge, plant the fewest number needed. If three will do the job, it will leave you with room to plant a diverse selection of ornamental shrubs and flowers that provide ongoing interest. Short screens are just as useful in pots on a deck as they are in the ground. Use a long, rectangular container for a formal display of three plants or a single specimen tree planted in a good-sized pot. If you are lacking room for a large screening plant but need to camouflage a blank garage wall, apply creativity. Woody vines, such as Climbing Hydrangea, Hydrangea anomala petiolaris, or shrubs such as Pyracantha. Pyracantha can be espaliered on a trellis to provide a fan-shaped design.
Choosing the Right Plants
For a compact garden to look its best, plants must be allowed to grow into their natural form, so choose plants that fit. Although you might love a wide-spreading tree, it will suffer if it is planted in a too narrow space; you will, too, when you have to continually prune it to make it "fit." Dwarf cultivars of large species offer many of the same traits such as leaf shape or flower color that are admired in larger plants. Try the Hick's Yew ( 'Hicksii') which grows only four feet wide. Choose a dwarf plant for an accent in a container – such as Petite Plum® Crape Myrtle ('Monum'), or the variegated Kaleidoscope Abelia ('Kaleidoscope'). Generally, dwarf cultivars are excellent choices for small mixed landscapes. The Dwarf Eastern White Pine ('Nana'), is easily combined with flowering shrubs and low-growing perennials as edging.
Evaluate how much sun reaches your garden. Small gardens typically are shaded by buildings or tall trees. To ensure color, take advantage of whatever sun does appear, choosing part shade plants for partial sun areas. Then plant the denser shade sections with variegated selections that will brighten the darkness. Variegated Hostas (Hosta), do the job for many months of the year; in winter, look for variegated evergreens, including Sedges (Carex), and Aucuba (Aucuba).
Small Space Gardening in Containers
A well-placed and planted container can be a focal point in the landscape throughout the year. A garden entirely made up of potted plants adds another design dimension – the containers themselves. For a pulled-together look, avoid a hodgepodge of pots, instead use containers of varying sizes in a single color or a complementary color scheme. Remember that small pots will need to be watered more often – twice a day in the summer if the pot is in full sun. Drip irrigation systems are lifesavers for container gardeners, because they don't waste water and can be set up on timers. Don't be afraid to use different types of plants in one large container. You can use a small tree or shrub, an ornamental grass, and several perennials with no trouble. Or, as an alternative, use one plant per pot and then switch the pots around depending on what is in bloom. You will get a new look for the garden with little effort – a garden that will be pleasing to you on more than one level.
Small and potted gardens are beautiful, but they also have therapeutic benefits. In densely built cities and crowded suburbs, they connect us to nature and enhance the environment. Small gardens provide flowers for bees and food and cover for birds, they help lower temperatures, improve storm water flow and clean the air. Such a small effort, and such a big return!