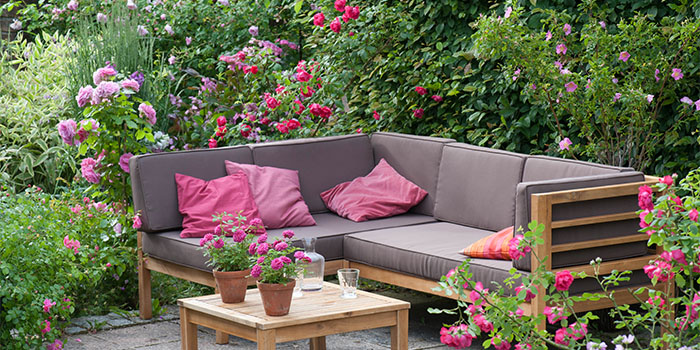 Ah, roses. From bud to bloom to falling petals, no garden, from cottage to contemporary, is really complete without at least a few of these dreamy flowering shrubs. Their wide variety of growth habits, sizes, colors, and textures can fill any niche in the home landscape, and as breeders have made improvements in disease resistance, they're less work, too. As long as the site is right, there is no reason you can't have roses in all parts of your garden. Here are five of our favorite ways to use them.
Create Structure
Sure you could plant an evergreen or conifer, but taller shrub roses (such as Cloud Ten™ Climbing Rose which can be a large shrub or climber) planted close together make a beautiful and effective hedge to create privacy or to define property lines; lower growers are spectacular when used to outline a path or dividing one part of the garden from another. The secret is achieving a dense hedge is to plant your bushes closely, not more than 18" apart. Here are three to try:
Vertical Impact
Climbers and ramblers such as Eden Climber® Rose are great choices to add interest to otherwise plain walls and fences and provide shady, flowery cover to arbors and pergolas. Use shorter varieties to cover pillars or tuteurs. We recommend these three with a caution: some get HUGE so choose accordingly and provide a sturdy structure.
Plump-Up a Mixed Border
Roses can play a supporting role, too. Look for taller varieties such as The Charlatan® Climbing Rose (which may be grown as a large shrub) to add height and scale to the back of a border and free-flowering, mid-sized shrubs to amp-up the summer show of foundation plantings comprised of mixed evergreens.
Romance a Container
Whether one eye-popping large shrub  in a large container, or one of the new compact roses (such as Sweet Spot™ Peach Rose) alone or snuggled up with a mix of perennials or annuals, potted- up provide solutions for places where it's difficult to plant such as hardscaped areas or around swimming pools.
Dressed to Thrill
When used en masse, trained into an unconventional form such as standards or allowed to ramble as a groundcover (such as Apricot Drift® Groundcover Rose) these are showstoppers.