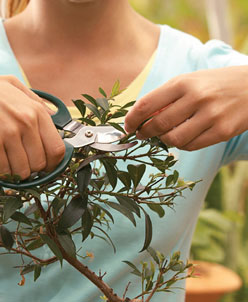 We prune plants to make them more beautiful, to encourage flowering, and to help them grow strong and healthy. Some trees and shrubs need never be pruned while others require a seasonal cutting.
Light pruning for health
Nearly all woody plants develop little problems that can lead to big diseases or unwanted growth. Careful cuts throughout the year go a long way to ensure healthier plants. Keep a quality pair of clippers in your back pocket while in the garden so you can correct these unhealthy conditions with a kindly cut.
Remove any part of the plant that looks diseased before it can spread. Remove dead twigs and branches so these don't become pest entry points. If branches are crossed or touching, remove the smaller one because friction creates wounds which invites problems. Trim off whip-like sucker growth originating at the base of the trunk so it doesn't 'suck' growth energy from the rest of the tree. Do not prune later in the summer. Allow shoots to mature and prune again in winter.
Pruning the natural way
Unless you desire a formal garden, no plant looks natural when it's shaped into a ball or box. Each species has its own natural beauty, and pruning should enhance this form not fight it. Woody plants that must be cut back for size or shape should be done in a natural way, by working from the inside out. Strive to retain enough outer foliage so that each cut is cloaked in leaves.
Pruning deciduous flowering shrubs
How and when you prune deciduous flowering shrubs influences the size and quantity of blossoms, or whether they flower at all. The key is to know when it flowers, and whether blossoms develop on the older twigs or newly grown ones.
Spring flowering shrubs blossom on twigs that matured the year before. They blossom so early there is no time to put on new growth before it is time to flower. These shrubs are pruned at the end of their flowering season to encourage more abundant summer growth that will support next year's crop of flowers. Examples include Bridal wreath, Forsythia (Forsythia), Lilac (Syringa) and Flowering Quince(Chaenomeles).
Summer flowering shrubs blossom on new twigs grown in the spring. These plants are pruned in winter while dormant, which encourages a flush of new stems in spring. These in turn bear more abundant flowers in mid to late summer. Examples include most Butterfly Bush (Buddleia), Crape Myrtle (Lagerstroemia), Rose of Sharon (Hibiscus syriacus), Spirea (Spiraea japonica), Beautyberry (Callicarpa), Japanese Mock Orange (Pittosporum tobira), Potentilla (Potentilla), Snowberry (Symphoricarpos), and Hydrangea (Hydrangea) varieties that bloom on new wood.
For larger pruning jobs, check with your local garden center for advice.
Recycle your prunings
Monrovia's commitment to the environment includes relieving landfills of excessive organic matter that could be put to better use in gardens. If you have a lot of pruning to do, recycle the clippings in your home or garden or city compost site. You could also rent a chipper-shredder machine to render material into valuable mulch.