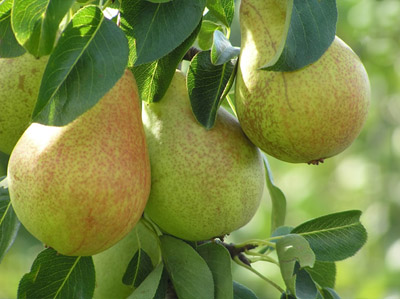 Monrovia's edible collection is growing with dozens of edibles that were chosen for taste, beauty and for being easy to grow. Our stunning fruit trees and shrubs will complement an existing ornamental garden, providing a bounty of fruits and berries. Easy care, attractive herbs like Rosemary and Bay Laurel round out the edible garden.
Gilbert Resendez, Monrovia's edible expert, suggests two new exclusive edibles — both are improved varieties with anti-oxidant rich fruit. Angels Red® Pomegranate was discovered as a sport and produces soft seeds that are pleasant to eat, and its juice content is much higher than other Pomegranates. Its prolific bright-red fruit appears in early September, before most other pomegranate varieties. Bountiful Blue® Blueberry named for its lovely blue-green winter foliage offers year round interest — dainty white flowers in spring, a huge crop of tasty berries in summer, and purple fall color. Blueberries are the hottest hedge plant and our 12 Blueberry varieties offer an option for every region of the US.
This year we are excited to offer five new varieties of Wine Grapes. Perfect for hobby winemaking or snacking, these selections have a heavy fruit crop, interesting twining habit and attractive scarlet fall foliage. We've added an array of Apples, Peaches, Cherries, Pears and Plums to our edible collection. All are smaller-sized plants with an abundance of fruit, many with lower chill requirements, guaranteed to provide a big harvest of quality fruit all season long.
Citrus with its glossy green foliage and fantastic fragrant flowers, provides an abundance of Oranges, Grapefruits, Tangerines, Lemons, Limes and Kumquat. Our many dwarf varieties do beautifully in containers making them easy to overwinter.
Bramble fruits continue to be popular, and we grow a wide assortment of Raspberries, Blackberries and Boysenberries. Our new Fall Gold Raspberry offers the same great taste as red Raspberries in a unique color. We also specialize in more exotic edibles like Bananas, Kiwi, Quince, Pineapple Guava and Figs for more adventurous tastes.