Peach Sorbet® Blueberry
Peach Sorbet® Blueberry
Vaccinium corymbosum 'ZF06-043' Plant Patent #23,325
Item #8171
USDA Hardiness Zone: 5 - 10
Plant Description
Peach Sorbet® is a compact blueberry with stunning peach, pink, orange and emerald green leaves. White bell-shaped flowers appear in spring, leading to an abundant summer crop of blueberries. In most climates, this plant will keep its leaves throughout winter and turns a rich eggplant purple.
Videos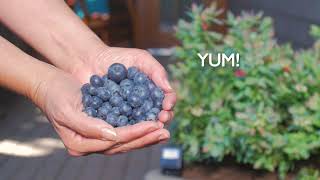 Growing Blueberries In A Pot
(0:46)
You won't regret adding blueberries to your container garden this summer. Get the 411 on how to thrive these delicious berries in a...
More Videos >
Stories
More Blog Posts >