Boulevard® Kingfisher™ Clematis
Boulevard® Kingfisher™ Clematis
Clematis 'Evipo037'
Item #30269
USDA Hardiness Zone: 4 - 9
Plant Description
This prolific, compact climber offers large, purple-blue flowers over a long season. Supplies beautiful vertical interest to any garden fence or trellis. A great choice for a container or left to meander through shrub beds. Deciduous.
Detail

Botanical Pronunciation:

KLEM-uh-tiss

Average landscape size:

Reaches 6 to 8 ft. tall, 2 to 3 ft. wide.

Blooms:

Late spring through early summer.

Care

Care Information

Follow a regular watering schedule during the first growing season to establish a deep extensive root system. Feed with a general purpose fertilizer. Provide the support of a trellis or arbor. Roots prefer a cool, shaded area, tops in the sun.Pruning time: prune after flowering; pruning group 2.

Light Needs:

Partial to full sun

Watering Needs:

Needs regular watering - weekly, or more often in extreme heat.
Videos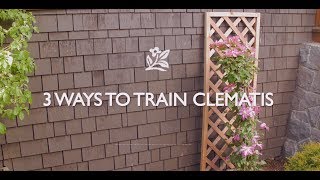 How to Train Clematis
(1:10)
Not only is Clematis known for being a versatile climber, but it is also known for its variety of interesting ways you...
More Videos >