Festival™ Burgundy Cordyline
Cordyline x 'JURred' P.P. #14,224
Item #3173
USDA Hardiness Zone: 8 - 11
Plant Description
Prized for its eye-catching bright burgundy-red foliage, this hybrid Cordyline creates a dramatic grass-like effect with its long arching leaves and tiny white flowers appearing on dark red stems. Spectacular when paired with bright-colored foliage and flowers. Plant in drifts along walkway borders or in foundation plantings. A bold architectural form in container gardens. Evergreen.
Light Needs:
Full sun
Watering Needs:
Once established, needs only occasional watering.
Average Landscape Size:
Arching leaves form a mounding clump 3 ft. tall and wide.
Key Feature:
Patio Container Plant
Blooms:
Summer
Landscape Uses:
Average landscape size:
Arching leaves form a mounding clump 3 ft. tall and wide.
Patent Act:
Asexual reproduction of plants protected by the Plant Patent Act is prohibited during the life of the patent.
Design Ideas
This spicy new cordyline is a natural in hot color tropical gardens when played off large green foliage plants. It is also favored by smart modern garden designers who love its unique form and color for single specimens in ground or in simple geometric containers. Give this plant a rich Asian flare in decadent glazed ceramic pots and urns. An outstanding accent for patio areas and courtyards looking for something new and different. As with all cordylines they are a staple of the true Arts & Crafts era garden and California bungalow design.
Care Information
Provide well drained, moist soil. Add a controlled release fertilizer to the soil mix. In zones 7 & 8, plants may go dormant in coldest of winters, re-emerging in spring. In colder climates, bring indoors before the threat of frost. In spring, remove old foliage for a neat appearance.
Light Needs:
Full sun
Watering Needs:
Once established, needs only occasional watering.
History:
This vast group is classified in the Agavaceae family with most members native to India, Australasia and Polynesia. The genus was named by French botanist, Philibert Commerson in the middle 18th century who derived it from the Greek for club, referring to the thick club-shaped root. The entire genus Cordyline is always subject to a great deal of confusion because of their similarity to both Phormium and Yucca. This is complicated by their former genus, Dracaena, Batistii, and Robinsoniana. This particular plant is a cultivar of the common New Zealand cabbage tree, C. australis, bred with C. banksii and C. pumilo. It was developed by Jark Jury and has just recently reached the world market via Anthony Tesselaar International.
Lore:
In its home, the South Pacific, this plant was named cabbage tree because of its roots provided a valuable carbohydrate food source. Early missionaries actually brewed beer from it. The leaves and roots provided plentiful fibers for everything from food wrappers to thatching and sandals. The Maori and others helped to distribute various species throughout the Pacific Islands.
Videos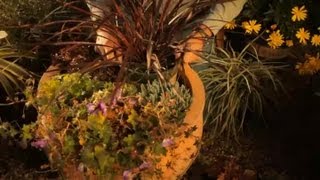 Flower Planter Tips
(02:30)
Flower planters can make great additions to any home garden or landscape design. Get flower planter tips with help from...
Tropicals
(01:56)
Tropical plants are those that….well…grow in the tropics. The good news is that not all tropicals need rainforest amounts of...
More Videos >