Life's no vacation for plants installed around a pool. Between splashes of chlorinated water, reflected heat, foot traffic, and often winter neglect, they take plenty of abuse. But, if you choose carefully, you can have a lovely and colorful garden all season. Also, try and selecting plants that can stand up to these conditions. Since the poolscape doesn't exist in isolation, the design should be consistent. Especially with the rest of the garden or the style of the nearby house. So, we've divided this into three categories. All of these can go into containers or directly into the ground (see tips below for more info).
Check out these solutions for zones 3 -7 as plants can overlap!
If you have a particular situation and would like other options, just drop us a note in the comments section.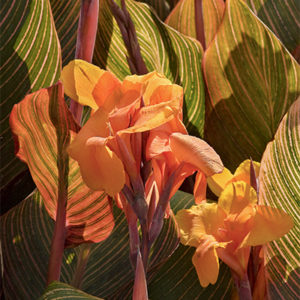 Exotic foliage and large bright orange flower heads bring the drama when massed.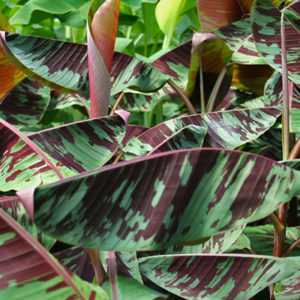 So named for the spectacular blue-green leaves mottled with a deep blood-red.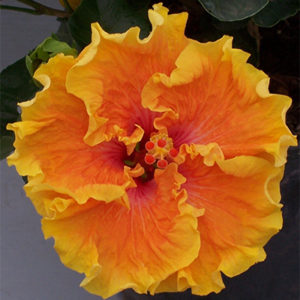 Vigorous glossy green foliage and tropical blooms, even through the heat of summer.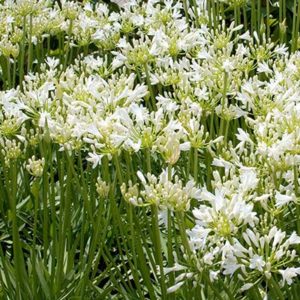 White variety is especially valuable where pool is enjoyed during the evening hours.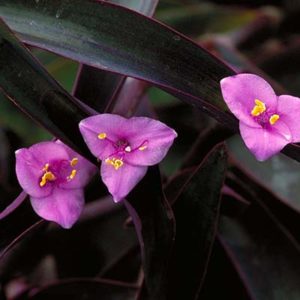 Trailing, tender perennial with purple stems, violet-purple leaves and pink flowers.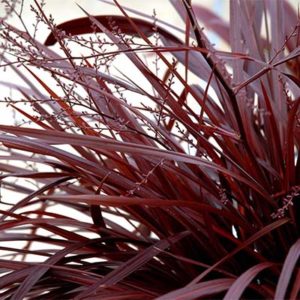 Bright burgundy-red foliage creates a dramatic and eye-catching grass-like effect.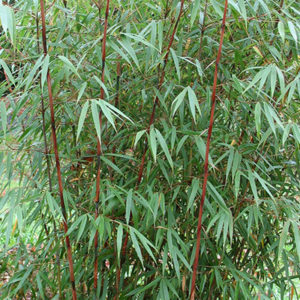 Plant this graceful bamboo for privacy, but also ideal for pots. Non-invasive.
Mass for a super-chic, year-round display of deeply cut, glossy green leaves.
Makes a striking large hedge with lime-hued summer blooms changing to pink in fall.
Dense mound of ground-hugging branches that radiate from the center. Fuss-free.
FIVE THINGS TO CONSIDER WHEN PLANTING BY THE POOL
Avoid plants that litter by dropping lots of leaves, needles, flowers, fruits, sap, or debris. This includes many trees but also some shrubs and vines such as bougainvillea.
I

f planting close to the pool or pool surround, avoid plants with sharp blades, thorns, spines that can cause injury.

This includes cactus and some succulents.
Beware of plants with invasive roots that can tear up paving and impact stability of in-ground or above ground pools.
We love bees but swarms of them near the pool is no-go. Avoid magnets such as honeysuckle, bottlebrush, wisteria and some perennials.
F

actor in the upkeep of poolside plantings and if you would rather swim than tend. Consider lots of containers with a drip system set on a timer.