Boxwoods are well-known and often used because they are dependable, hardy, and easy-care evergreen shrubs that can accomplish many things in a garden design. From foundation plantings that look great year-round to privacy hedges and topiaries — we have a boxwood for that! While we will always love boxwoods for all they can do in the garden, it's important to explore alternative shrubs that can bring fresh textures, colors, and character to your outdoor space. 
Plus, boxwoods are not a "one size fits all" shrub — you may not have the right soil, climate, or site for them to thrive.  Different shrubs can thrive in various climate zones and soil types, allowing for greater adaptability to your specific location. Whether you choose the vibrant foliage of Orangena™ Vaccinium or the showy spring blooms of Jade Enchantress® Cherry Laurel, utilizing alternatives to boxwood can elevate your garden's aesthetics while making it more unique and adaptable.
Below you'll find general tips for what to look for in a shrub that will accomplish similar things to boxwoods in your landscape, plus our favorite shrubs that fit the bill. You can find full, healthy, and craftsmen-grown shrubs like these in the green Monrovia pot at your local garden center. 
Finding Boxwood Substitutes: What to Look for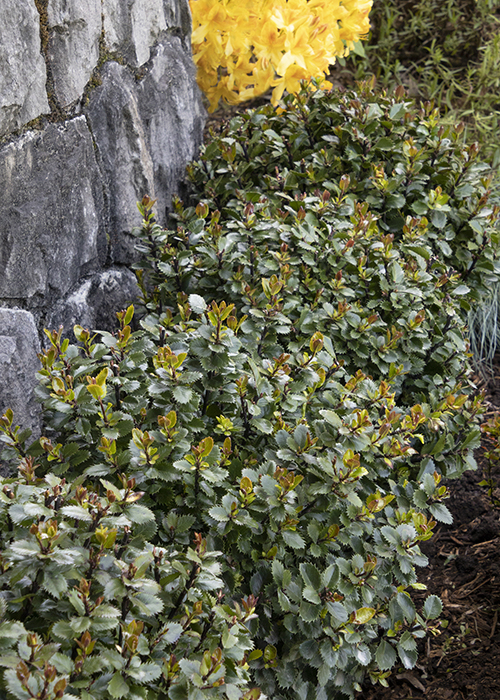 When you're on the hunt for a solid boxwood replacement, there are a few must-have qualities to keep in mind. These are traits that make boxwoods so popular in gardens all over North America. But they aren't unique to boxwoods; plenty of other shrubs can deliver the same perks.
Appearance: A good substitute should have a similar aesthetic appeal to boxwood, with attractive foliage and a neat, compact growth habit. It should be able to maintain its appearance and shape with minimal pruning.
Evergreen: Like boxwood, the shrub should be evergreen, providing year-round greenery and structure to the landscape.
Hardiness: Make sure you choose a shrub that is hardy in your climate and conditions. Bonus if the shrub is adaptable to a wide range of conditions!
Low Maintenance: A great substitute should require minimal care, including pruning, watering (once it is established), and fertilizing, to keep it looking its best.
Versatility: Good boxwood alternatives are often versatile in their uses, and suitable for formal hedges, borders, specimen plantings, or other landscaping designs.
Size and Growth Rate: Check the mature size sure to choose a shrub that is appropriate for your space. Boxwoods range in size, and so will many of your alternative choices.
Ultimately, the best boxwood substitute for your specific landscape will depend on your location, design preferences, and specific growing conditions. We have twelve fantastic options below that range in climate needs, foliage color, and size, and some even offer spring flowers—there's truly something for every garden here.
Best Boxwood Alternatives
This unique and brand-new cotoneaster, discovered by the plant enthusiast Dan Hinkley, stands out with its narrow, upright growth pattern. Its petite green leaves contribute to a delicate texture that is similar to boxwoods. It can be easily pruned into formal shapes, making it an excellent choice for crafting hedges in narrower planting beds. Discovered at elevated altitudes, there's a possibility it is hardy beyond zone 7, but additional testing is required to confirm. And, of course, it maintains its evergreen allure year-round. Part to full sun. Up to 5' tall, 3' wide. Zones 7-9.
Another new introduction that is being touted as an ideal substitute for boxwoods, this adaptable male evergreen holly has a naturally rounded shape. It's the ultimate stand-in for boxwoods, excelling in shearing for a formal hedge appearance. Plus, it's a tough contender, boasting solid resistance against diseases and mites. And you guessed it, it stays green all year round. Full sun. Up to 6' tall and wide. Zones 7-9.
A great alternative to boxwoods for lean, rocky soils. An adaptable evergreen shrub, this vibrant plant features striking orange-red new growth that remains vivid throughout the summer months. Its neatly rounded growth pattern can be effortlessly shaped into a well-maintained hedge. Its natural form is equally attractive, offering versatility in landscaping—just like boxwoods! Full sun. Up to 4' tall and wide. Zones 7-10.
The perfect warm-zone boxwood replacement! This compact, structured, and easy-care variety is perfectly suited for container planting or as a low hedge. It's also perfect for bordering a walkway or encircling a rose or perennial garden. A warm-zone favorite thanks to its vibrant green foliage, and naturally rounded habit that requires very little pruning. Part to full sun. Up to 4' tall and wide. Zones 8-11.
Another fabulous boxwood substitute for warm zones, this compact, evergreen shrub has an elegant, multi-branching growth pattern. Its vibrant deep green leaves are complemented by silvery-green undersides. Similar to boxwoods, Little Ollie® Dwarf Olive is great for hedges, accents, and specimen spotlights. Additionally, it excels in topiary designs and can be trained as a single-trunk tree for smaller spaces. Boasts impressive tolerance to heat, drought, and salt conditions. Full sun. Up to 6' tall and wide. Zones 8-11.
This remarkably resilient and low-maintenance evergreen shrub has foliage that transitions through various vibrant hues. Fresh leaves emerge in spring, showcasing a striking scarlet red, which gradually matures into a soothing blue-green during the summer months. As summer unfolds, delicate white flowers bloom. When autumn's cooler temperatures set in, the foliage rekindles its intense red shades. Just like boxwoods, its naturally compact form makes it a perfect choice for planting around foundations or incorporating into mixed borders. Part to full sun. Up to 3' tall and wide. Zones 6-11.
The compact, rounded habit makes this selection of the North American native inkberry the perfect cold-hardy boxwood substitute to Zone 3. The lush, glossy green foliage is a superb option for foundations, hedges, or mass plantings. This low-maintenance evergreen is remarkably adaptable, thriving in various soil conditions and even tolerating moderately shaded areas. When pollinated by a male counterpart, this female selection produces inconspicuous black fruit, providing a food source for wildlife in your garden. Part to full sun. Up to 4' tall and wide. Zones 3-9.
A hardy variation of the Little Rascal® Holly, this shrub maintains the dense, rounded shape but exhibits a more upright growth pattern. Its glossy, deep-green leaves transition into a captivating purple-burgundy shade during the fall and winter months. An excellent, low-maintenance choice for foundation planting, this shrub offers enhanced disease resistance. As a male holly, it serves as a reliable pollenizer but does not bear berries itself. Full sun, Up to 4' tall and 3' wide. Zones 5-9.
Featuring rich, emerald-green leaves and a naturally small, rounded shape, this resilient evergreen shrub serves as an ideal alternative to compact boxwood varieties. Its flat, boxwood-esque leaves maintain their vibrant hue throughout every season. It's perfect for creating refined borders and petite hedgerows. This male cultivar does not produce berries. Part to full sun. Up to 2' tall and wide. Zones 6-9.
This petite evergreen shrub bursts into pink blossoms during late winter to early spring, occasionally flushing with a second bloom in the fall. Its charming rose-pink flowers give rise to petite, dark berries. Ideal for low-maintenance gardens, it boasts a tidy, compact growth pattern that rarely requires pruning. Once established, it exhibits impressive heat and drought tolerance. Its hardy foliage is resilient to pollution and wind. Part to full sun. Up to 3' tall, 4' wide. Zones 8-10.
This resilient and compact evergreen shrub exceptional resistance to pests and diseases. Its dark green, glossy foliage that is attractive year-round. In late winter to early spring, it blooms with red-maroon flowers. With its remarkable adaptability, it serves as an excellent substitute for hollies, laurels and larger boxwoods like Green Mountain or Green Tower® Boxwood in borders, hedges, or privacy plantings. Part to full sun. Up to 5' tall and wide. Zones 6-9.
This lush dwarf evergreen shrub offers year-round appeal with its glossy, deep green leaves. The fragrant creamy-white flower spikes are succeeded by petite black ornamental fruits. Its dense foliage boasts significantly enhanced disease resistance. Similar to boxwoods, this versatile shrub is perfect as a hedge, background plant, or privacy screen and also provides an inviting winter refuge for birds. Part shade to part sun. Up to 3' tall, 6' wide. Zones 6-9.
Learn More About Gardening with Shrubs