Hardiness Zones
USDA Hardiness zones explained
There are very few rules in gardening, but perhaps the most important one is to work within your zone. Choosing plants that grow and thrive in your particular climate is the very first step toward having a beautiful garden.
What are Zone Maps
Gardeners need a way to compare their garden climates with the climate where a plant is known to grow well. That's why climate zone maps were created. Zone maps are tools that show where various permanent landscape plants can adapt. If you want a shrub, perennial, or tree to survive and grow year after year, the plant must tolerate year-round conditions in your area, such as the lowest and highest temperatures and the amount and distribution of rainfall.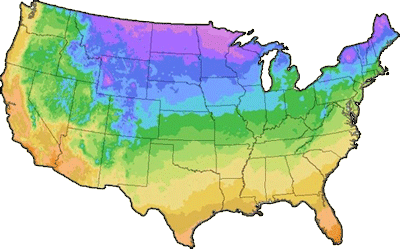 Zones, Annuals and Perennials
USDA Hardiness Zones play a role in the categorization of annual and perennial plants.  An annual is a plant meant to add quick color, structure, or texture to your garden or containers for just one season. Sometimes you'll find these marked as "seasonal" at garden centers. A perennial, however, is a plant that will come back year after year when grown in the appropriate USDA Hardiness Zone and conditions. 
If a plant is sold as an annual, it is frost sensitive and will only last until your first frost. There are some frost-hardy annuals, but these are generally still sensitive to freezing temperatures and will be damaged after your first freeze.  
Most annuals can be grown as perennials in warmer climates (Zones 10-13), just be sure to check the USDA Zone on the plant tag or webpage to be sure.  
USDA Cold Hardiness Zone Map
First published in 1960 and updated in 1990 and 2012, the map is based on the average annual minimum winter temperature, divided into 10-degree F zones. For the first time, the map is available as an interactive GIS-based map. Users may also simply type in a ZIP Code and find the hardiness zone for that area. By using the map to find the zone in which you live, you can determine which will survive in your garden because they can withstand these average minimum temperatures.
Our zone finder tool is based on USDA Plant Hardiness Zone Map which is the standard by which gardeners and growers can determine which plants are most likely to thrive at a location. The most recent revision was prepared by the PRISM Climate Group at Oregon State University, and was released by USDA in 2012. Based on the average annual minimum winter temperature over a 30-year period, the map divides the country into zones representing a spread of 10°F (zones 1-13).