Boulevard® Daiyu™ Clematis
Boulevard® Daiyu™ Clematis
Clematis 'Evipo083'
Item #41886
USDA Hardiness Zone: 4 - 9
Plant Description
Flowering from the ground up, this compact, dark-pink re-blooming variety is ideal for large containers, in front of leggier clematis, or on short pillars. Free flowering, from both leaf axils and stems, resulting in flowers from the ground up. New and exclusive for 2017. Deciduous.
Detail

Botanical Pronunciation:

KLEM-uh-tiss HIB-rid

Average landscape size:

Climbing vine quickly reaches 4 to 6 ft. tall, when supported.

Companion Plants

Japanese Maple (Acer); Daylily (Hemerocallis); Maiden Grass (Miscanthus); Climbing Rose (Rosa); Cranesbill (Geranium); Butterfly Bush (Buddleja)

Care

Care Information

Provide humus-rich, well-drained soil. Roots prefer a cool, shaded area, with top growth in the sun. Water deeply, regularly during first growing season to establish an extensive root system. Apply fertilizer when new growth begins, and repeat after first bloom flush. Provide the support of a trellis or arbor.Pruning time: prune after flowering; pruning group 2.

Light Needs:

Full sun

Watering Needs:

Needs regular watering - weekly, or more often in extreme heat.
Videos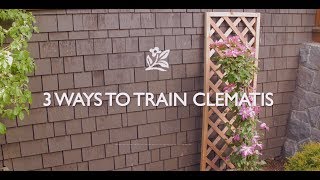 NEW
How to Train Clematis
(1:10)
Not only is Clematis known for being a versatile climber, but it is also known for its variety of interesting ways you...
More Videos >
Stories
More Blog Posts >