Second story window boxes add an elegant finishing touch to just about any house. But, they can sometimes be tricky to design and to maintain. You probably want to actually see out of your window so nothing too tall. And, make the most of the vertical lines of the house with plants that spill and cascade. So, we've assembled twelve plants that don't need extensive deadheading, pruning, or fussing over. And, we've grouped them by condition preference, style, and sequence of bloom.
If you can't find these exact varieties at your local garden center don't worry–something similar will do the trick. Just tell your garden center helper about the light conditions and the style you're trying to achieve.
Of course, being plants, they'll need water. As they're in a container, regular feeding with an organic time release fertilizer. More care info below.
Here's an easy combo to try in a full sun spot. Spikes of purple Cordyline cap both ends and a burgundy-purple Purple Heart makes for a showy centerpiece. Loads of purple Scaevola, variegated ivies and red Verbena add mass and tumble over the sides. These will be annuals in most zones. Though the ivy can be brought indoors over winter and placed in a sunny window.
SECOND STORY CUTTING GARDEN
Grab some clippers and a vase, open the window and snip a bedside bouquet. We chose annuals for this window box because the more you clip, the more they'll grow an abundance of flowers. These will bloom continuously from spring to first frost.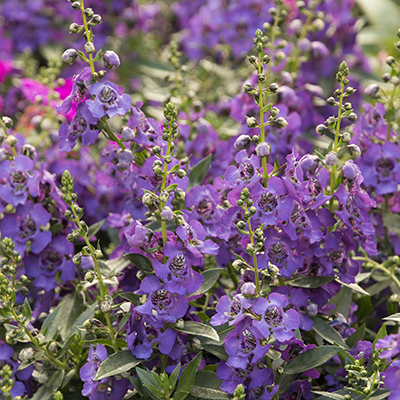 Brilliant spikes of large, vibrant flowers bloom continuously, providing an extended season of color. Heat lover that's a hummingbird magnet. Annual. Full sun.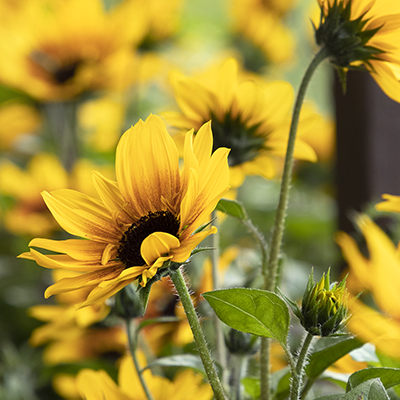 Produces over 1,000 flowers in a single season, throughout summer until first frost. Full sun. Annual.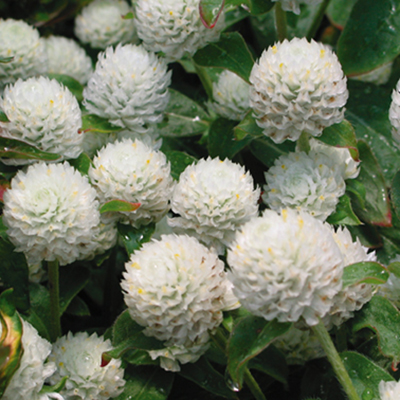 Sprightly little bobble heads with unique texture flower continuously all summer. Sun-loving with exceptional heat and drought tolerance. Full sun. Annual
If you have a larger window box (maybe it spans a double window or you have an second story balcony). This combination of fruits and flowers is about as romantic as it gets. Let the clematis just spill over the side!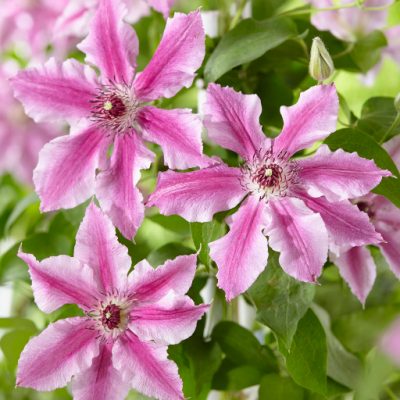 Compact climber offers a profusion large, pink flowers with dark pink bars in spring and again in late summer. Just let it tumble over the edge of box. Partial to full sun.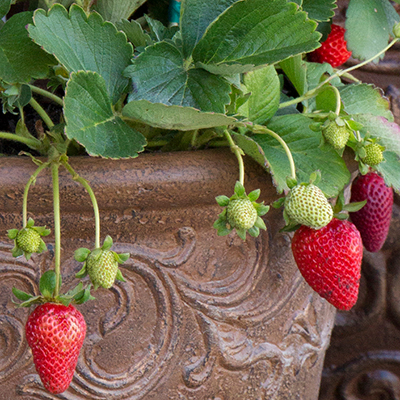 Day-neutral variety produces large, pretty berries with exceptional flavor continuously throughout summer. Evergreen in frost-free areas. Partial to full sun.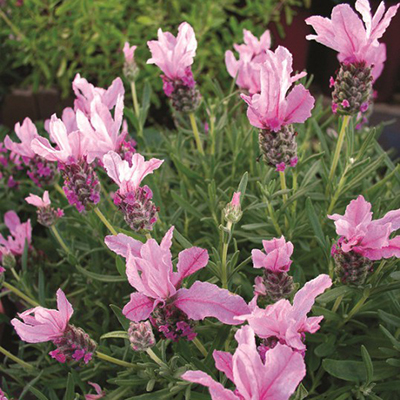 Exquisite pink flowers with very long 'wings' on a nice, compact, mounding plant. With superior heat tolerance and a longer bloom season than most. Full sun.
FOR A REALLY TOUGH TO WATER SPOT
We're plant warriors but sometimes even we don't want to primp a planted box. Therefore, this combination of red-tinged succulents (two of which bloom in high summer) is an all-day, everyday wonder.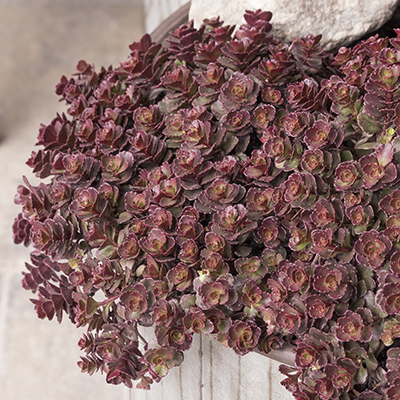 Lush mat of bronze-red foliage, yet needs little water once established. Dainty pink flowers occasionally. Evergreen in mild winter regions. Partial to full sun.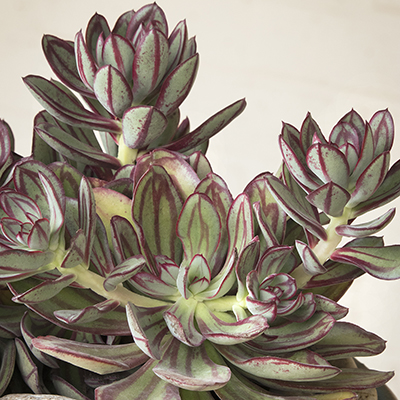 Rosettes of absinthe green, vividly painted with red on margins and mid leaf and coral-pink and yellow flowers in summer. Frost-tender–bring indoors in winter. Full sun.
Huge, brilliant raspberry flower clusters bloom early atop smoky blue-grey foliage from spring through fall. Evergreen in mild winter regions. Partial to full sun.
Windows that face east or west and only get sun part of the day. These can be dressed to thrill with a variety of plants full of color, texture, and loads of interest. This green and rose combination shimmers in the shade.
Brilliant burnished-black leaves are spotted hot pink in the spring, lightening in summer to cream and pink spots. Super unique and colorful. Partial to full sun.
Unique, narrow, dark-green foliage that resembles praying hands is heavily rippled with gold margins. Great upright habit. Full shade to filtered sun.
Compact with slender, arching, variegated foliage. Excellent for adding fine texture and contrast. Full shade to partial sun.
Think about repetition. Choose 3 – 5 plants that you love and use them abundantly.
Think about hues. These are all mixed planters. If you decide to go with a single type of plant, consider getting it in a range of colors. Or, a range of hues within that color.
Think about textures. The best containers thrill with all sorts of shapes and textures, particularly in foliage.
Think about heights. Tall, small, spill all mixed together makes for a planter with lots of movement.
Think about green. Flowers are exciting, but they'll always look even better when showcased against a leafy backdrop.
Think about the color of your house. When choosing plants, be sure to take a cell phone snap of your house's exterior to get colors that work.
Now, to keep those planters happy!
Buy the largest, deepest window box your house's exterior can accommodate. You want a huge show–a narrow box will dry out fast and limit your options.
Don't over plant. This one's tough, especially when planting annuals. They will fill out. If you leave each with room to grow, they won't have to compete too much for food and water. Then, they'll be happier and healthier.
While these plants were chosen for their moderate water sipping habit, remember that they're in a limited space. Often in full sun and sometimes subject to winds. Consider self-watering planters and simple drip systems to make life easier.
Do you have other conditions and would like a recipe for success? Leave a note in comments below.