Hydrangea season is coming into full swing over the next two months. Now's the time to think about how you'll use the cut flowers to decorate your home. One way to use them is in a wreath to decorate an exterior door. Make sure that it is out of hot, drying, direct sun and wind. Just pick up a few simple supplies from a craft store. In about thirty minutes, you'll have the prettiest, most seasonally decorated door on the block.
SUPPLIES:
Wire wreath form (select the size that suits the dimension of your door)
Paddle of 22 or 24 gauge green floral wire (stems are heavy–choose a thicker wire)
Sharp pruners
Fresh hydrangea blooms on 12" long stems. (While you can use any type of hydrangea, the mophead varieties are the easiest kind for this project)
Spray bottle with a mist nozzle
STEPS:
I

n the early morning when the stems and flowers are fully hydrated, cut branches on an angle. Do so at about 12" in length.

Immediately put stem side down in a bucket of cool water and place in a cool, shady location. Give them an hour or two to fully recover. If blooms start to wilt, give them a fresh cut.
Create a triple loop of wire from your paddle and attach this to the frame. You will use this loop to hang the finished wreath.
S

tart wreath by laying a stem on the wire form. Then, wrap about two inches from the base of the flower head until it is secure.

Clip stem to 6-8″ long.
Lay the next bloom at a slight angle–pointing slightly outward–over the stem of the previously attached flower. Wire this on securely.
Continue adding flowers alternating outward and inward for the fullest, most lush look.
Mist flowers as you go and when you have completed the project.
Hang wreath out of direct sun and harsh winds. It will stay fresh for a few hours which is ideal for a garden party. If you want the wreath for a longer time, leave it in place and the flowers will dry.
GROW THESE FOR SPECTACULAR BLOOMS!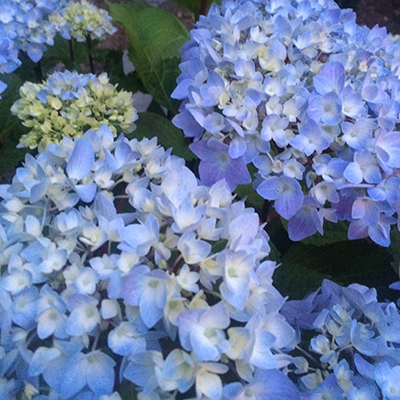 Striking ruby-black stems support big mophead flowers on this re-bloomer. Flowers age to a vintage cream-splashed green color. Up to 5′ tall and wide.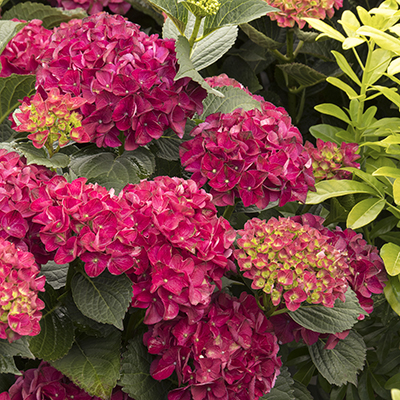 Long-lasting ruby-red color mophead blooms not influenced by soil pH. Notably sturdy stems. Up to 3.5′ tall and wide.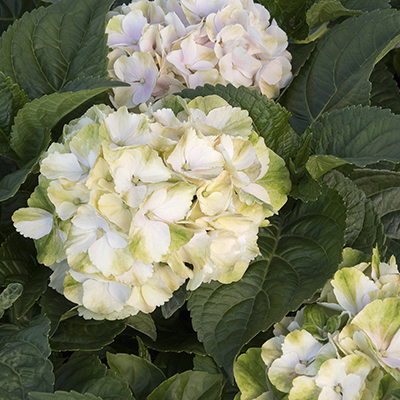 Long-lasting, large blooms emerge pale green, turn pure white, then develop light-pink tinge. Up to 3.5′ tall and wide.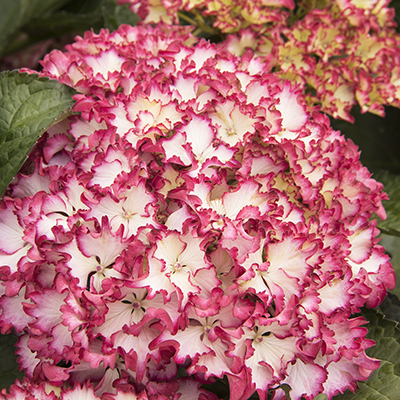 Long-lasting, bi-color blooms that are white, edged in rich rosy red, and mature to deep pink. Up to 3.5′ tall and wide.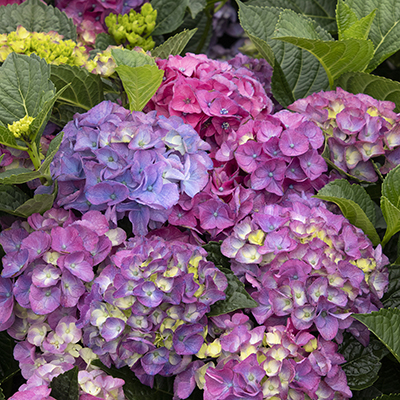 Showy re-bloomer with a profusion of full flower clusters that mature a deep pink on very sturdy stems. Up to 4′ tall and wide.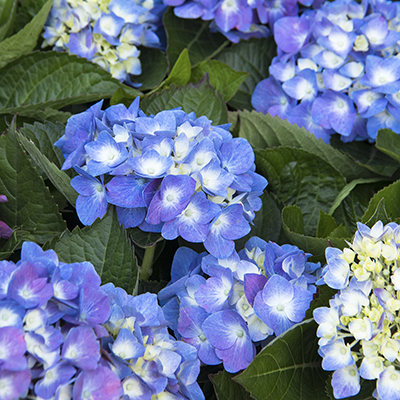 Big, mophead flowers influenced by soil pH, extra-dark green leaves, and a neat, mounded form. Up to 4′ tall and wide.