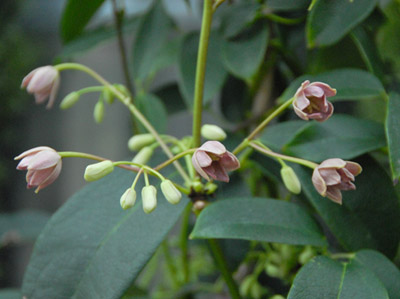 The Dan Hinkley Plant Collection launched in 2009 with an ever increasing number of fascinating varieties, chosen by this renowned plant explorer. Each was selected to both excite the plant collector and satisfy the needs of keen gardeners looking for a stable of reliable workhorses for their gardens.
Dan Hinkley has methodically looked for new plants for temperate gardens for the past 25 years, both in the Northern and Southern Hemispheres. His observations of these plants in their natural ecosystems have allowed Dan to be a better gardener and educator in promoting their use in specific landscape applications in North America. After rigorous governmental inspection and systematic evaluation to insure his introductions will not pose a threat through bio-invasion, plants are released for the enjoyment of gardeners across our country.
Hinkley's passion and dedication to this process has resulted in numerous awards and citations from the world's leading horticultural institutions. He is currently the only contemporary horticulturist to hold the Scott Gold Medal, the Liberty Hyde Bailey Medal of Honor and the Veitch Memorial Medal from the Royal Horticultural Society. His two most recent books, The Explorer's Garden; Rare and Unusual Perennials as well as The Explorer's Garden; Shrubs and Vines from Four Corners of the World have each been presented the Book of the Year award from the American Horticultural Society. Some favorites in the current collection include a frost-hardy Flowering Maple he selected as a seedling in his garden in the Puget Sound region, a winter-hardy Fairy Bell, a Red-Leafed Mukdenia, four standout Fuchsias, a new fragrant Pachysandra and a dwarf form of Giant Honey Bush. New this year is a Mountain Pepper Tree and two fragrant, profusely flowering Sausage Vines — one discovered in remote Nepal, the other from a forgotten plant on a cathedral wall in the U.K.
Stay tuned as numerous exciting finds from Japan, China, Vietnam, Turkey, Taiwan, Mexico, New Zealand, Chile and Australia make their way into independent garden centers carrying the Monrovia label under the Hinkley banner. Dan's eye will continue to focus on plants with vibrant foliage, those requiring less water in our landscapes and those offering months of ornamental value with a minimal amount of effort. Monrovia is fortunate to partner with Dan in his global explorations and we are pleased to add his hand-selected treasures to our inventory.