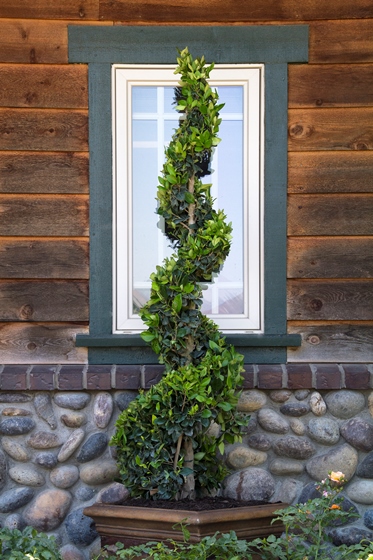 Ornamental shrubs are the workhorse in the garden. These are the plants that can provide privacy screens and hedges to make your outdoor living space more intimate and your home more colorful by forcing blooming branches. They can be artfully combined with perennials to create mixed borders and they're often placed throughout the landscape as specimen plants to highlight a beautiful seasonal flowering habit, decorative fruit, distinctive variegated foliage or fall color. With more than 75 exclusive Monrovia introductions and hundreds of varieties, we offer an incredible palette from which to create a stunning landscape design. 
Foundation plants set the design of your garden and can be good for hiding things you don't want to look at; or to create privacy hedges.  Golden Nugget™ Barberry brightens any garden with its deep gold foliage that is tinged with orange.  For a great container look with an easy care shape try Golf Ball Kohuhu, a cute, dense evergreen shrub with a natural round shape.  
We grow a lot of topiaries…and they're popular as ever. Spirals, pom-poms, patio trees, poodles and more. They provide a classy focal point in the garden or in large containers in your outdoor room. Junipers are good choices, as they'll hold their color all year, and their dense foliage makes it easy to maintain the shape with light pruning. Icee Blue® has silvery blue foliage that is tinged purple in the winter.  Green Columnar has a nice upright habit and bright green foliage. Looking for something with blooms? Waxleaf Privet displays white blooms in Spring and its glossy foliage responds very well to pruning into topiary forms.