Tangerine™ Spreading Lantana
Tangerine™ Spreading Lantana
Lantana x 'Mone'
Item #5720
USDA Hardiness Zone: 9 - 11
Plant Description
Profuse, bright tangerine-colored flowers on a beautiful spreading habit, useful in natural form to brighten flower beds, or mass as a ground cover or low hedge. Topiary forms are perfect for accenting a border or displaying in containers at an entry or patio. Tolerates heat and drought. Evergreen in frost-free areas; treat as an annual elsewhere.
Videos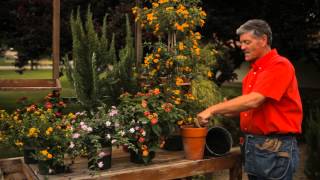 How to Fertilize Lantana
(2:04)
Fertilizing Lantana in the right way will keep them looking great all throughout the season. Find out how to fertilize...
More Videos >
Stories
More Blog Posts >