Boulevard® Parisienne™ Clematis
Boulevard® Parisienne™ Clematis
Clematis 'Evipo019' Plant Patent #16,069
Item #41455
USDA Hardiness Zone: 4 - 9
Plant Description
A stunning flowering vine for a long, prolific season of color. Large, pale violet-blue flowers erupt from new growth in spring and continue through summer. The compact, sturdy stems easily climb trellis or arbors and require little tying for support. Ideal for smaller garden beds and perfectly suited for patio containers. Deciduous.
Videos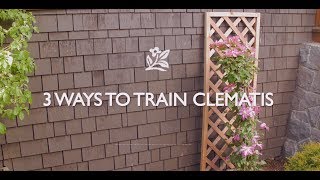 How to Train Clematis
(1:10)
Not only is Clematis known for being a versatile climber, but it is also known for its variety of interesting ways you...
More Videos >