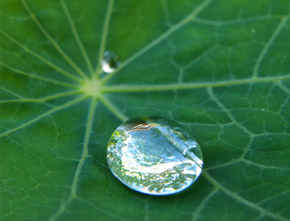 We were the first major nursery to recycle irrigation runoff in the late 1970s. This breakthrough drastically reduced our use of water and fertilizer and has now become a standard in the industry. By recycling more than 90% of irrigation water at our four growing locations, we save more than 2.5 billion gallons of water per year.
Irrigation automation is another way we conserve water. Hundreds of irrigation valves are computerized where site managers can monitor temperature and wind conditions in order to choose the most effective means of irrigating plants. Site managers are trained to know how much water to use for specific plants at different times of the year. Correct irrigation not only saves water, but also promotes healthy plant growth, reducing the need for corrective chemical applications.
We use micro-irrigation to cut water use and manage diseases on certain crops. Micro-irrigation prevents the wetting of the plant foliage, which reduces the incidence of diseases thereby reducing the need for chemicals.
We operate a constructed wetland at our Cairo, Georgia location – another first in the nursery industry. Excess rainwater can be diverted into the wetlands allowing plants and bacteria within the wetland to utilize any nutrients in the water. This wetland system is part of an extensive water and nutrient management plan in place at our Georgia nursery that allows water to be recycled whenever possible, reducing the amount of groundwater used.