From towering trees to spreading groundcovers there's a Cornus for every corner of the yard.
Dogwoods are prized for their beautiful spring blooms in shades of white, pink, or yellow. They are usually followed by red, purple, black, or white bird-attracting fruit. (There are about 45 or so species, some native to N. America, others from Japan, China, or Korea.) They fill the garden with lush summer foliage, brilliant fall color. Some even have brilliant red, orange or yellow winter stems.
Because of their diverse forms there are lots of ways to use them in the landscape. Here are five favorite ways. (This is Stellar Pink Dogwood.)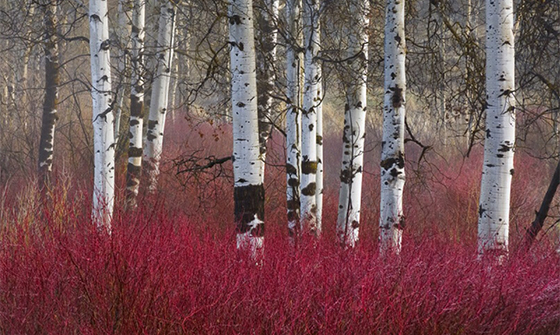 Why We Love Them
With their lovely foliage, spring flowers, and summer berries, twig dogwoods charm year round. But let's be honest, we're growing them for the shock of color they bring to the winter landscape.
The twigs tends to fade over time from early spring to summer. Keep the color coming by pruning out 1/3 of the older branches every three years or so. This is because the younger branches bear the brightest color.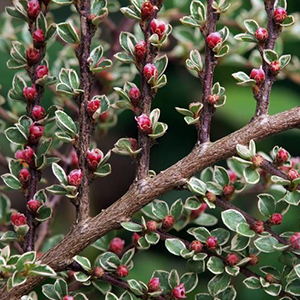 Naturally forms a thicket of upright, blood red stems under variegated leaves. Pretty white berries, too. Partial to full sun. Up to 8 ft. tall and 6 ft. wide.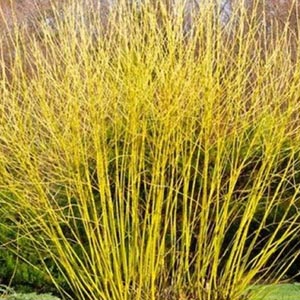 Bring interest to the winter garden with this one's yellow twigs and impressive scale. Give ample room to do it's thing. Partial to full sun. Up to 8 ft. tall and 9 ft. wide.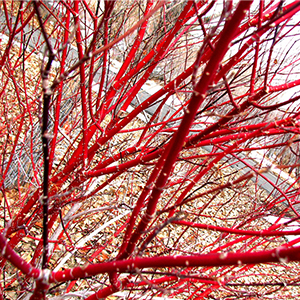 Plant where dramatic red stems can easily be viewed from a window! Up the impact by pairing with yellow twig varieties. Partial to full sun. Up to 9 ft. tall and 5 ft. wide.
For Spring Flowering Trees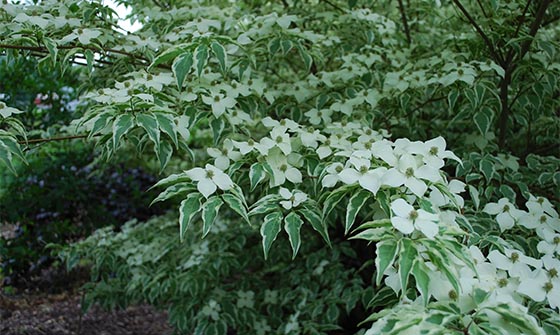 Why We Love Them
When you think "dogwood" it's likely the image that comes to mind is Cornus florida, the famed spring flowering tree. We love it too, but the world of dogwood trees is so much greater than just that one type.
Here are three varieties that you may not know. Each with something distinctive from flower size to flower color to amazing foliage. Each tops out at a moderate size for a tree. This makes them a wonderful option as a singular sensation in the front yard. Or, if space permits, a jaw-dropping option when several are planted as a group.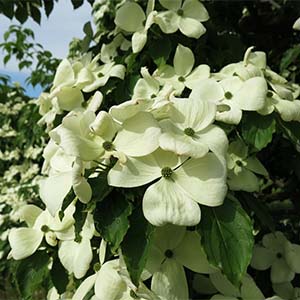 Distinguished by huge white flowers  and high resistance to disease due to cross between C. nuttallii and C. kousa. Partial to full sun. Up to 20 ft. tall and wide.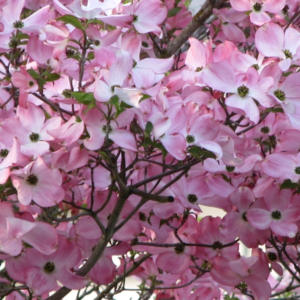 Large, soft-pink overlapping flower bracts in early spring. Cross between C. florida and C. kousa. Blooms later and bears no fruit. Partial to full sun. Up to 25 ft. tall and wide.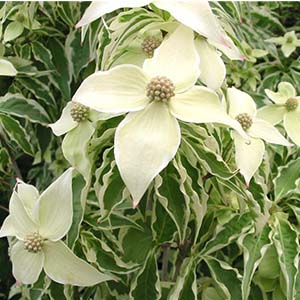 All the fabulousness of a typical C. kousa (flowers! berries!) but with gray-green variegated leaves that fade to pink in fall. Partial sun. Up to 20 ft. tall and wide.
For Showy All-Season Shrubs
Why We Love Them
While all these also sport the otherworldly bright-hued winter stems of other Cornus varieties, these three make for exceptional shrubs. This is due to their (relatively) moderate size. Each grows quickly into a thick mass that can easily fill a shady corner that needs a bit of help. They make a statement with pretty flowers and interesting foliage.
Add them to shrub borders with viburnum, ninebark, summersweet, sweetspire, and weigela. Then you'll have something amazing from early spring through late winter.
Very hardy and compact with golden foliage fading to soft yellow in summer then red in fall. Flaming orange-red winter stems! Partial to full sun. Up to 7 ft tall and wide.
N. American native with compact habit ideal for a showy hedge where the bare blood-red winter branches can be appreciated. Partial to full sun. Up to 6 ft. tall and wide.
Multi-stemmed shrub or small tree. Valued for early spring bloom (even before forsythia!). Birds love late summer fruits. Partial to full sun. Up to 20 ft. tall and wide.
Why We Love Them
You can grow a dogwood tree in a very large container. However, there are varieties that are naturally or cultivated to be smaller, even dwarf. Growing in a container is not without some difficulty, but it can be done.
Dogwoods naturally grow in well-drained, organic soils with roots maintained in a cool, moist environment. It may take some experimenting to get the watering right. Adding a layer of acid-mulch (such as pine straw) to the top of the soil can be helpful. Dogwoods are fast growing–expect to move them into a larger container or into the ground within a few years. But in the meantime…wow!
Tops out at about half the height of other red twig types. However same vivid dark-red winter stems under brilliant fall foliage. Partial to full sun. Up to 4 ft. tall and wide.
Variegated foliage and brilliant red winter stems of C. alba, but only two-thirds the size. Can be kept smaller with pruning. Partial to full sun. Up to 6 ft. tall and wide.
Super-dwarf with lush green foliage and brilliant-white spring flowers. Yep. Got those red winter stems! Partial to full sun. Up to 30 in. tall and wide.
For Spreading Groundcovers
Why We Love Them
Bunchberry. It's like a classic dogwood, only in miniature!
North American native is a problem solver: durable groundcover that can handle woodland shade. Tolerates always moist, acid soil and isn't fazed by winter's wickedly cold conditions.
Spring flowers attract butterflies, followed by clusters of bright red berries that attract birds. Semi-evergreen foliage turns reddish-purple in fall. Reported to be both a rabbit-proof flower and a deer-resistant perennial. Partial shade to partial sun. Up to 12 in. tall and spreading. Zones: 2 – 7. Herbaceous.
Lead image: Melissa Clark, ©Melissa Clark Photography