Clematis, those flowering vines with blooms that are single or double, rounded or star shaped, large or petite. They add so much charm to trellises, swirling around mailboxes. Or, scrambling up a mature tree and draping over arches and arbors. To know them, is to love them. Here we are highlighting Group 3 clematis, which bloom later, often into fall.
It's a huge family of plants. (300+ species and hundreds of hybrids–typically divided into groups defined by bloom size and bloom time). We could go on about clematis for days–they're that good. But we wanted to draw your attention to a few we recommend for late summer into autumn bloom.
Clematis are divided by bloom time into groups 1, 2, 3 (or sometimes A, B, C). The grouping determines when the flower will bloom and also when and how to prune. By planting clematis from all three groups you can have flowers for 5 months or more. ( More below on the different groups.)
The later bloomers, typically mid to late summer and into fall, are Group 3. If you plant these now, you will have some blooms this year. Plus many more next year, at a time when the rest of the garden is slowing down. Plant with other earlier bloomers and let them intertwine. Or, plant apart where the shock of the fresh blooms will be a total feast for the eyes. Here are 9 exceptional candidates for your garden.
We know this is a big topic and will do future posts about it (especially about pruning). However, if you have clematis questions, do not hesitate to ask!
(Above) Those huge purple flowers! Probably the most popular clematis of them all. Fast growing up to 15 ft. tall, with support. Partial to full sun. Zone: 4 – 9
Group 3 Clematis for Late Blooms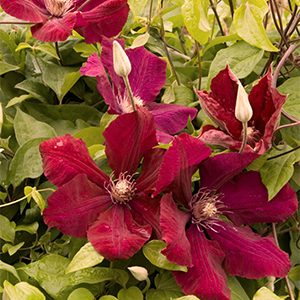 Brilliant, velvety crimson blooms on a woody vine with leathery-textured, green foliage. Its compact size makes it an excellent choice for containers and small spaces. Up to 10′ tall with support. Full to partial sun. Zone: 4 – 9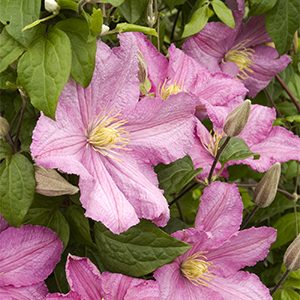 Profusion of large, brilliant pink blooms with soft yellow centers. Beautiful flowering groundcover or climber for arbors. Excellent choice for small spaces. Up to 10′ tall, with support. Full to partial sun. Zone: 4 – 9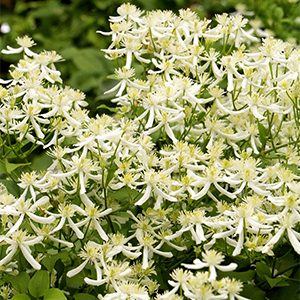 Handsome climbing vine displays billowy masses of fragrant flowers against leathery dark green leaves. Flowers emerge late summer to fall. Fast up to 20′ tall with support. Full to partial sun. Zone: 4 – 9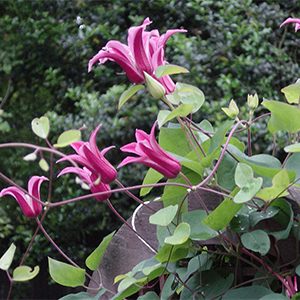 Striking, deep reddish pink, tulip-shaped flowers with cream and maroon stamens bloom continuously from summer into early autumn. A classic vine for fences, walls and arbor posts.Up to 8′ tall with support. Full to partial sun. Zone: 4 – 9
Award winning cultivar valued for its large, open, magenta-pink flowers. Train to climb or leave unsupported to ramble through medium to tall shrubs. Up to 12′ tall. Partial to full sun. Zone: 3 – 9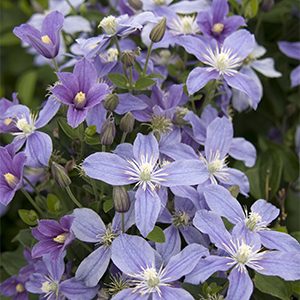 A non-vining, bushy, semi-herbaceous clematis that's an excellent choice for containers, or borders where it will grow through shrubbery. Full to partial sun. Up to 6′ tall, 3′ wide. Zone: 4 – 9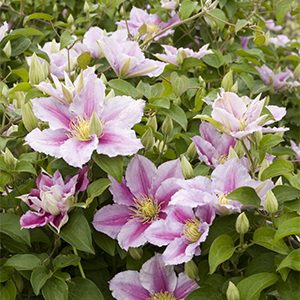 Super cool! Two-toned flowers bloom continuously from top to bottom, first as double blooms, and later in the season as single blooms. Up to 6′ tall, with support. Full to partial sun. Zone: 4 – 9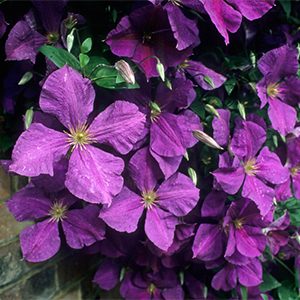 Showy flowers are slightly broader than those of C. 'Jackmanii'. They will cover this climbing vine throughout most of the summer. Up to 12′ tall. Full to partial sun. Zone: 4 – 9
Group 1 are the early flowering types C. alpina, C. macropetala. These have single, or double bell shaped flowers and some C. montana, with large saucer shaped flowers. These are all no prune Clematis.
Group 2 are Clematis which flower early to mid summer and sometimes with a second flush mid to late summer. This group of Clematis have upright single, double saucer shaped flowers and are often very showy. Prune only as needed, late winter to early spring.
Group 3 are the later flowering clematis which have large saucer shaped flowers in summer and early autumn. Within this group there are also small flowering Clematis. They have a variety of flower shapes, saucer, star shaped, bell and open bell and also tulip and tubular. Hard prune in later winter to early spring.