It's summer window box season. Time to unleash your inner painterly self! We took a stroll through the web and thought these 15 planted-up window boxes were just so inspired. Especially in their use of really diverse plants and the way they often solved a problem. We hope you find some great (steal-me!) ideas here.
(Above: The lesson here is to pick a color palette and then explore all the hues. Think of it as a paint strip from the hardware store with a range of colors from light to dark. These are primarily million bells with some spike dracaena and bacopa.)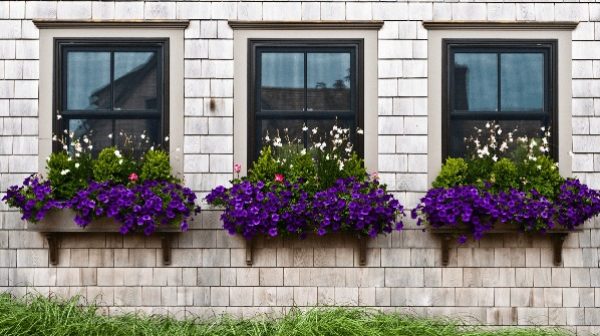 Color! Nothing says "welcome" like a colorful window box.
Left: We love this simple but "wow" mix of boxwood cones, million bells, and gaura. Bring on the sunshine!
Below left: Gaura again (which bees and butterflies LOVE) with verbena and geraniums.
Below right: Wonderful, unfussy mix of a dwarf lavender and trailing vinca for purple lovers.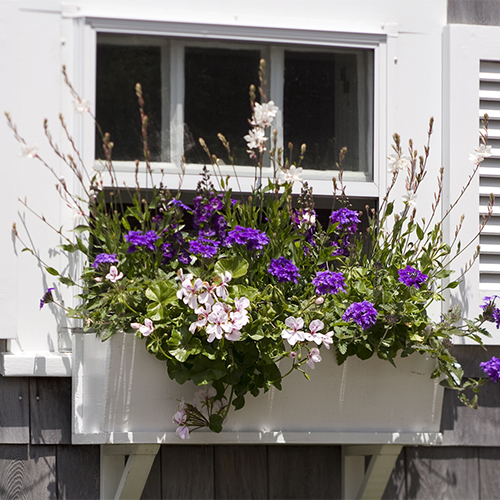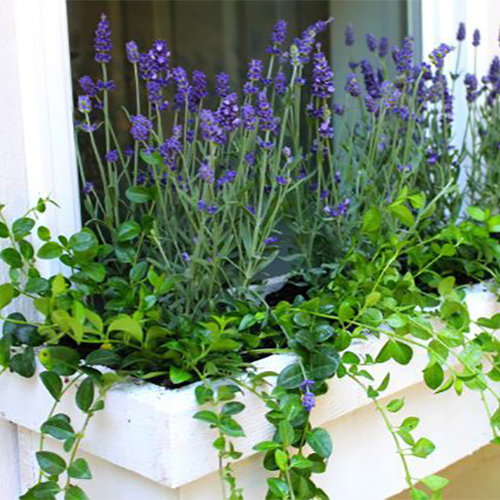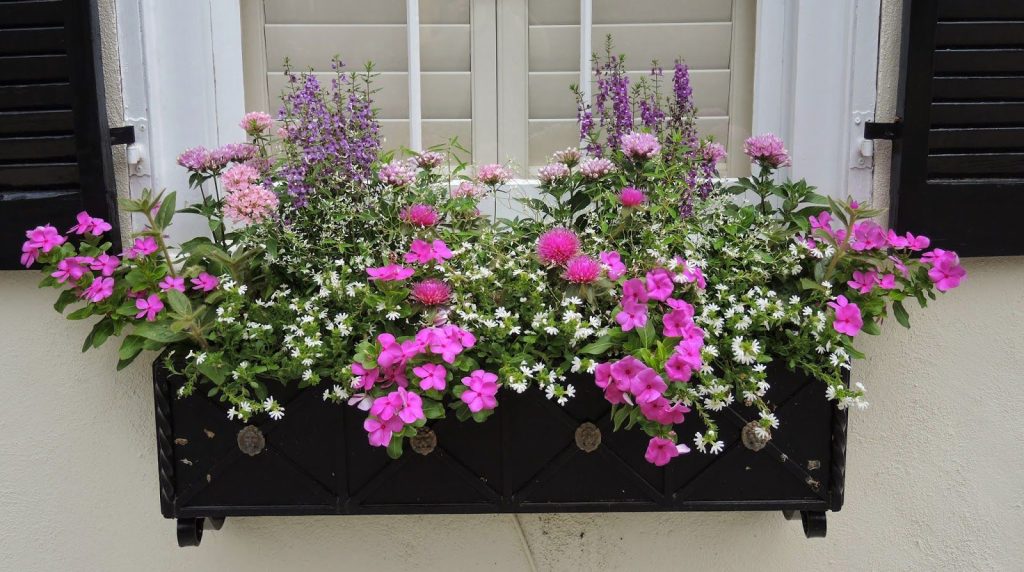 Left: This composition has just enough structure balanced by some billow. Impatiens, Knautia, thistles, Angelonia, Scaevola and a frothy sedum are magic.
Lower left: Think "water wise" has to be succulents? This combo of sea lavender, Angelina sedum, creeping Jenny, yarrow, dusty miller, and an ivy sips. Rather than gulps even in the hot summer sun.
Lower right: The Kent oregano (spilling in front) and the mandevilla being trained to frame the window. It sets the tone for this beautiful box. The lime is Nicotiana (flowering tobacco).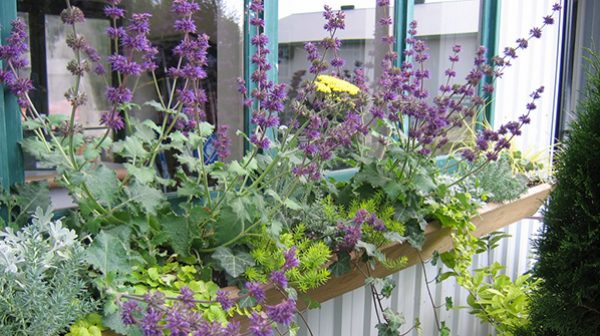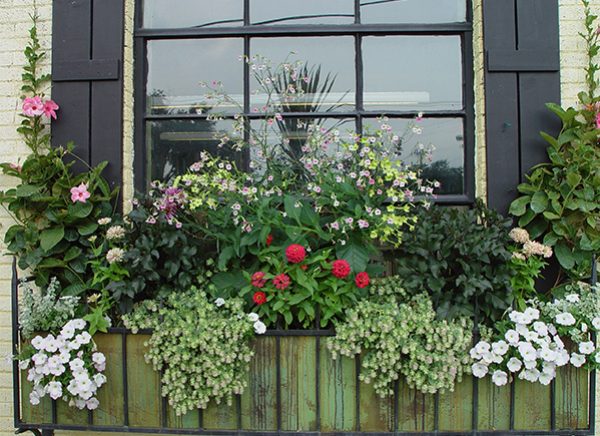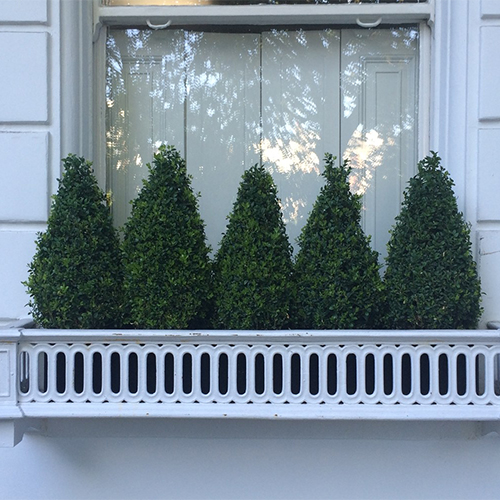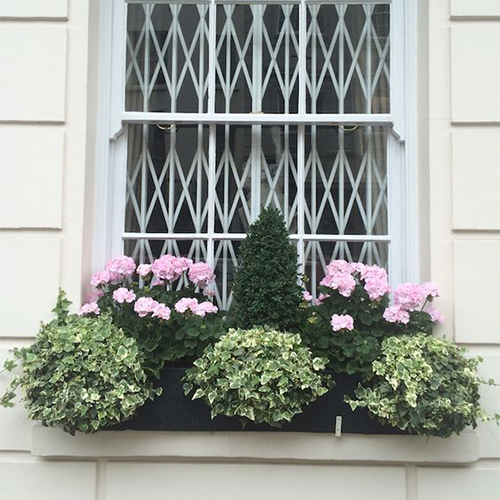 When a froth of flowers doesn't suit, boxwood to the rescue!
Upper left: Boxwood cones all in a row. The vertical detail of the window box itself stands in for what would be something spilling. Lesson? Less can be more.
Lower left: That said, sometimes you like a bit of blousy. Here the filler (ivy and million bells) are so delicate and wispy that they don't overwhelm. So pretty.
Above: 1 + 2 + 3. One boxwood cone (we recommend Petite Pillar boxwood which is naturally columnar). Then two geraniums and three mounds of variegated ivy (keep clipping to get this look). Done.
Some the best window boxes we've seen take their cue from the style of the building around them. Not just the plants, but the actual boxes.
Upper left: This one's genius. They've matched the light pink color of the windowbox to the color of the pink blooms on these ornamental grasses. Look at how those pink blooms show up!
Lower left: The hardware, style and finish of the box mirror the door and metals of the handles and grates. The colors of the plants also nods to the hue of the brick wall. Betting you could recreate this with stain and off the shelf mounts.
Below: Okay, how genius are these window box mounts made from logs. These repeat the effect of the bark wall treatments below? And, the forest feel of the greens plantings.
There is nothing wrong with a window box in full shade filled to overflow with ferns and ivies. Classic and always classy. Where you've dappled sun, afternoon shade, or all day light shade, there are other plants that do well in boxes.
Upper left: Holly fern  has such a distinctive leaf that provides a crisp edge. It contains all of the impatiens, Angelonia, and Scaevola here. The dried moss really brings the woodland feel.
Lower left: Mophead hydrangea with lamium, purple oxalis, duckfoot ivy, cyclamen are an inspired combo for partial shade.
Above: Boston fern, gorgeous begonia, Glacier English ivy, and Triostar Stromanthe against those blue shutters?! Wow.
Above: So a window is too low to mount a box? Just place it on the floor and keep it low with boxwood orbs and English ivy.
For every "problem" there is bound to be a solution. We salute these homeowners and gardeners for some pretty clever ideas.
Upper left: Treating the three sides of this bump-out as one seamless horizontal line. Then planting a repeated pattern of cypress cones, annuals and trailing ivy is actually genius. This one probably stops traffic.
Lower left: This narrow ledge could accommodate one box for sure. Although honoring the two individual windows makes for a more interesting display. Love the contrast of brilliant yellow against the marriage of terra cotta and wood.