Curb Appeal Solutions: Dealing with No Backyard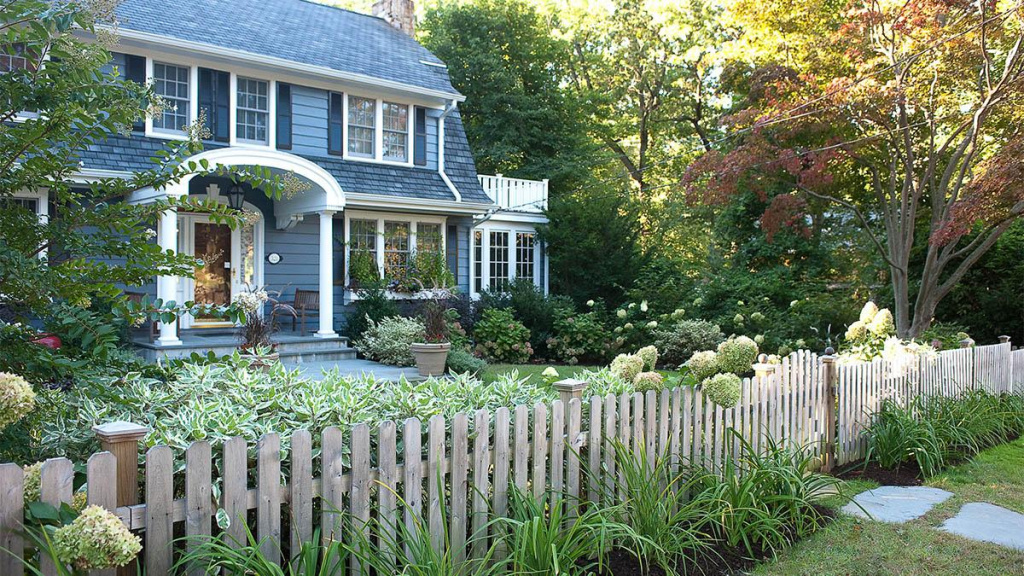 Who wouldn't love to look out the back window into a lovely, private, wooded glen? The problem comes when you also want outdoor living space for entertaining, flowering plants that attract birds and butterflies, and maybe some turf for the kids.
We love how Robert Welsch of Tarrytown, NY's Westover Landscape Design made the most of the sunny front yard at this home with its classic Dutch colonial dwelling, transforming a once dull and damaged lawn into a four season garden with so much curb appeal.
Adding a new expanded bluestone entry and portico, gravel seating terrace, tons of flowering hydrangeas, exuberant container and window box plantings, and tranquil brick red bubbling urn fountain while keeping the cedar picket fence low makes this space so inviting and also all kinds of useful. (See the entire garden here. No, you really want to!)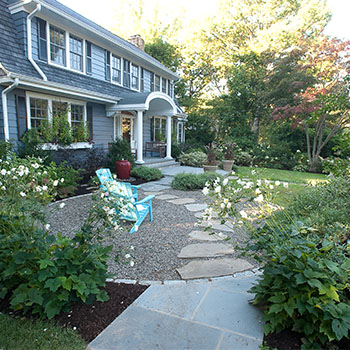 The Details:
The upper left side of the lawn was removed to make way for this charming gravel patio surrounded by fragrant lavenders and flowering perennials. A bubbling fountain made from a pot adds a musical note.
Get the Look: Hardworking Front Yard
When creating a seating area such as this one, remember to keep it in scale with the rest of the space. This is a large front yard and a wide dwelling. The gravel-floored patio, which measures 18′ in diameter, takes up about 1/5 of the front yard, roughly the same width as the left side of the house. Anything much smaller would look unintentional and tacked-on. If you're creating a feature, own it!
There are lots of plants here, but not that many varieties. Masses of Limelight hydrangeas and Ivory Halo dogwood not only make care easier, but create huge impact.
What makes a garden interesting is the unexpected such as this cedar fence that's not painted white to match the house. Contrast can be tricky to achieve, but when it works…wow.