Curb Appeal Solutions: Dealing with Privacy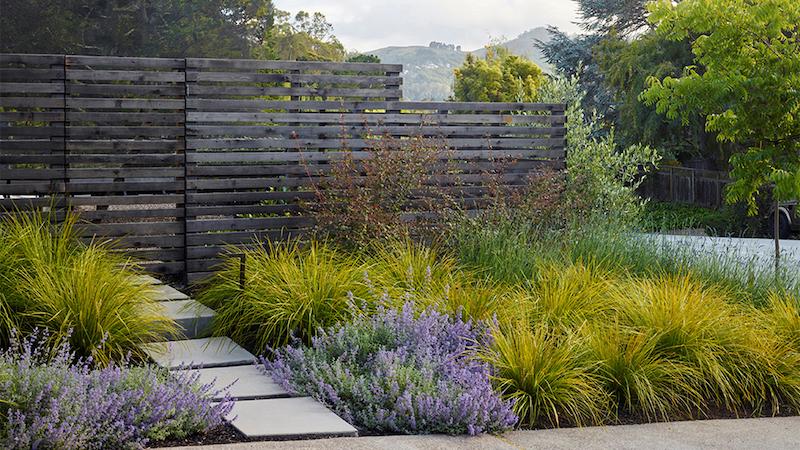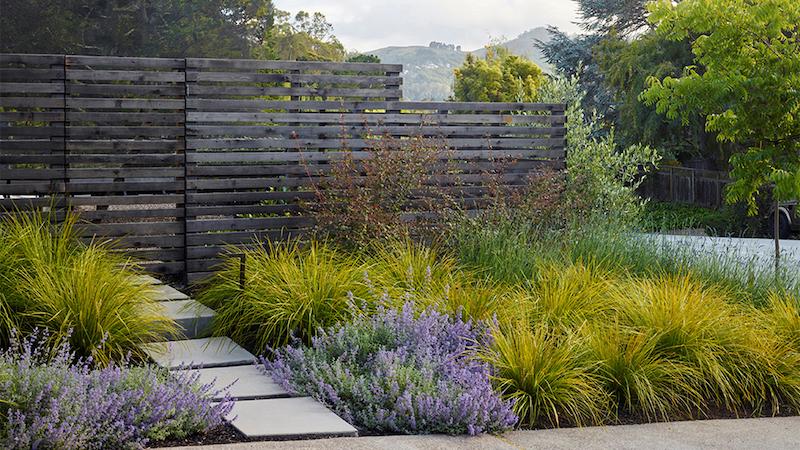 This sleek mid-century ranch had lots going for it, chiefly large and ample windows that let light in…along with the prying eyes of everyone driving by. Creating privacy was paramount, yet large play spaces were needed for the family, and no one wanted to sacrifice curb appeal.
A series of "rooms" were implemented using a simple palette of materials and plants that kept the design streamlined without being overwhelming. Best example is the use of widely-spaced slats that make up this fencing. Just enough privacy without screaming "keep out."
Designed by Joseph Huettl of Huettl Landscape Architecture in Walnut Creek, California, curb appeal is enhanced by an inviting, fuss-free garden. Waves of grasses, flowering shrubs, and perennials including catmint and lavender stand up to roadside and sidewalk traffic while offering a sort of soft warmth to the contemporary lines of the space.
Takeaway here? Decide how much privacy you really, really need before you build that wall. (You might be surprised!)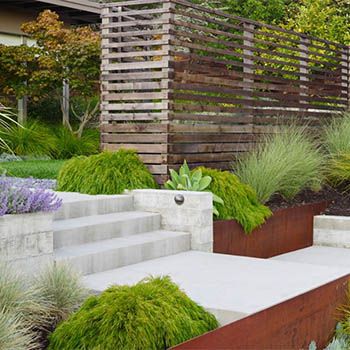 The Details:
This side view of the slatted fencing shows how to keep it private, yet also open and welcoming. Bronze-hued COR-TEN steel compliments the tones of both the fencing and Japanese maple foliage.
Get the Look: Modern Family
No one wants to feel exposed when enjoying private outdoor spaces, but before you install that 8′ stockade fence, consider other options such as the slatted fence here or even a hedge of loosely-planted evergreen shrubs. You'll feel connected to the 'hood, but also have a bubble of seclusion.
Gardens in "public spaces" such as curbside need to be made from tough plants that don't require too much care and can stand up to dogs, kids, and car exhaust. Avoid anything too delicate and save the headache of posting "keep off" signs.
Use the lines of the house as your "cheat sheet" when designing a fence. This house is dramatically horizontal so the fence feels right at home (a taller house might feel better with a more vertical fence).