Curb Appeal Solutions: Romancing Modern Design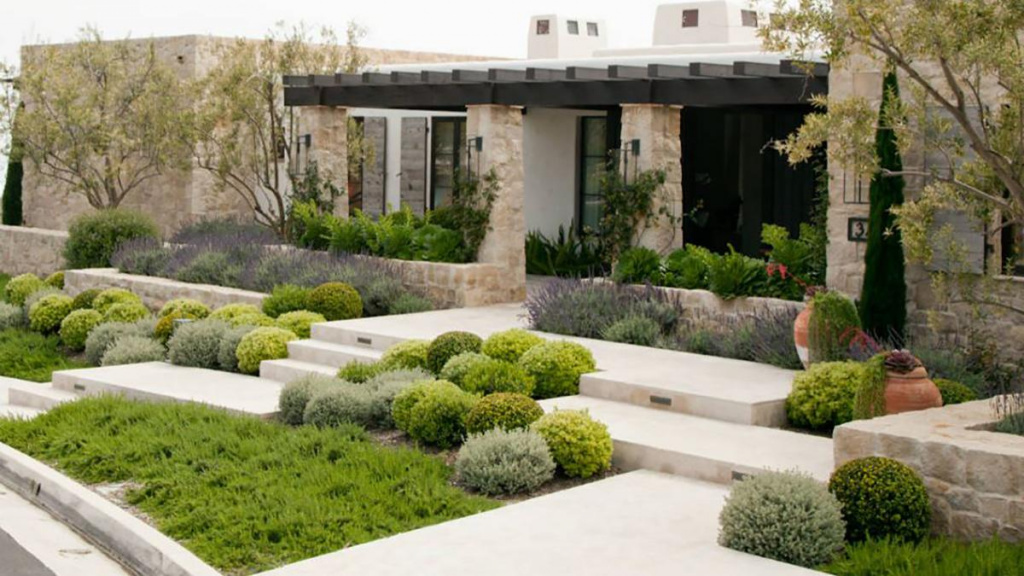 The low-slung horizontal planes, light-hued, flat, stone walls, and dark-stained pergola set on stone plinths all add to the drama of this contemporary home set above the ocean in Orange County, CA. Rather than installing a minimalist landscape, the designers chose instead to warm up the front, juxtaposing the linear structure with tough shrubs clipped into jaunty balls, a "lawn" of junipers used as a groundcover, and added cottage-style romance with beds of lavender and pillars clad with climbing roses. Created by the Santa Monica firm m. elle design, it's a good example of how to mix metaphors in a landscape to get a look that works, while breaking all the rules.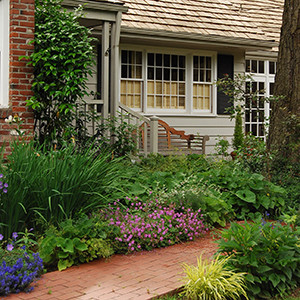 The Details
Staggered steps are a genius way to slow the journey from curbside to front door so the landscape can be fully appreciated. Urns stuffed with succulents not only add interest, color, and texture, but help to define the outer boundaries of the stone stairs.
Get the Look
Get the scale right. Nothing here is substantially taller than the roof line of this house, so the impact of the strong horizontal lines is uninterrupted
Don't fight the modern vernacular (you chose it because this is your style, right?). Warm it up if you like, but resist the temptation to add lots of billowy, colorful plants to soften the neutral, hard surfaces
You know to mass at least three of each plant for impact, but these outcrops comprised of large clusters of sheared shrubs dotting the landscape add real oomph and movement. It shows that quite often, more is more. Oh, see

 

TDF interiors

 

here.