Drive down just about any suburban street to observe a few front yards. The likely takeaway will be (1) is there a house in all that shrubbery? (2) Does anyone live there? Or, (3) Wow, that's so nice.
By realtor industry estimates, a well landscaped front yard increases the value of your house by an average of 11% nationwide. And, the happiness you derive every time you turn into the driveway is, of course, priceless.
A great front yard starts at the foundation of the house. Foundation plants help to frame a house and anchor it to the site. Done right, with appropriate planting schemes, foundation plants can help your front yard become a dynamic garden space. Miss that opportunity and everything else you upgrade or install feels somewhat "off".
Here are four things to consider when designing a foundation planting scheme.
3 Most Common Foundation Planting Mistakes 
Cramming everything into a too small a footprint in order to have more front "yard".
Not taking cues from the architectural style and best features of the house.
Failing to both read AND believe the info on the plant tag about mature size.
WORK WITH THE ARCHITECTURE AND STYLE OF YOUR HOUSE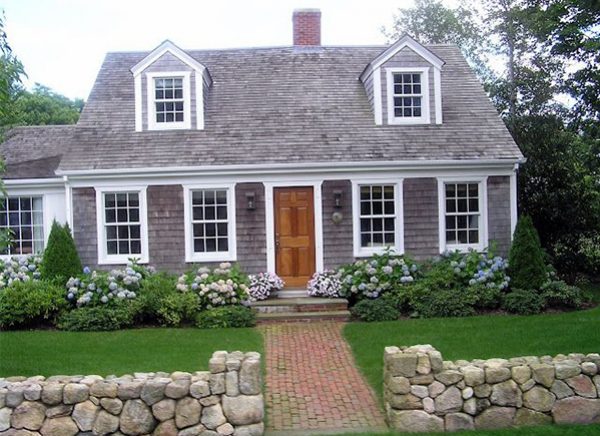 These homeowners have taken their foundation planting cues from the style of the house. Repeating the architectural lines and preserving key features.
Upper left: The casual style of this Cape Cod home is reflected in these loose plantings. (Hydrangeas, rhododendrons, and conifers.) Note the cone-shaped conifers at the ends of the house, a subtle nod to the roof.
Lower left: With lines this dominant, low plantings that add texture without competing with architecture. Plus, the larger shrubs around the door are just so effective.
Below: Formal house, formal foundation planting. The stone facade is busy. So, using mostly greens and allowing shapes rather than color to tell the story is a great idea.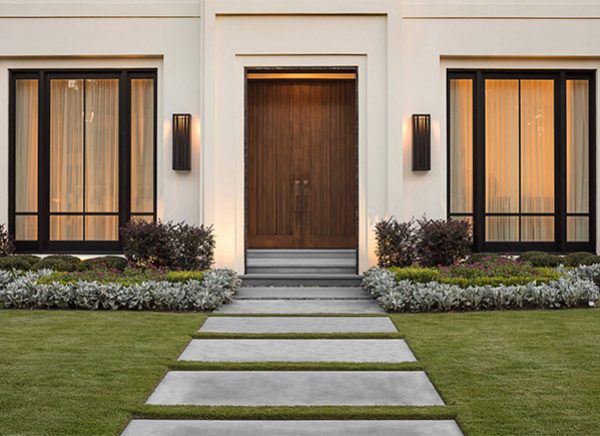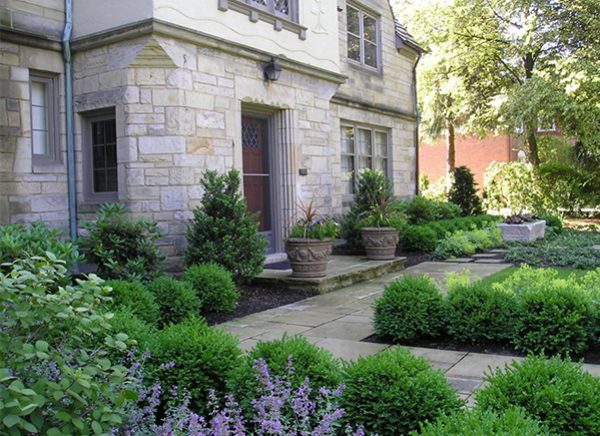 AIM FOR 4 SEASONS OF INTEREST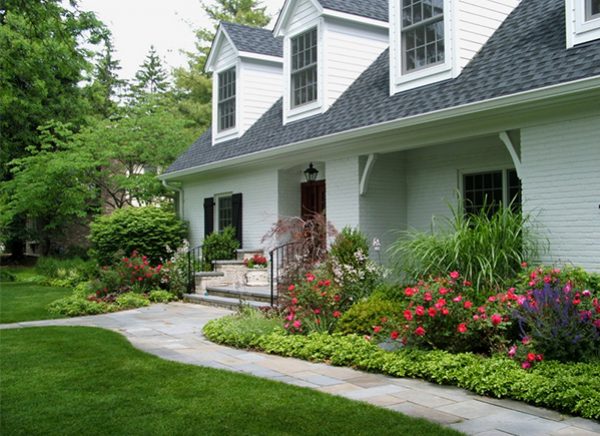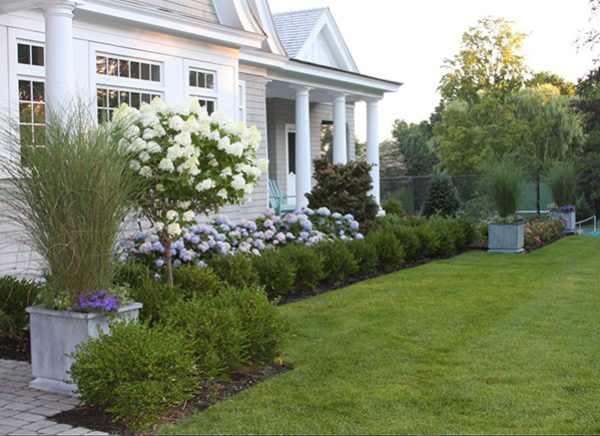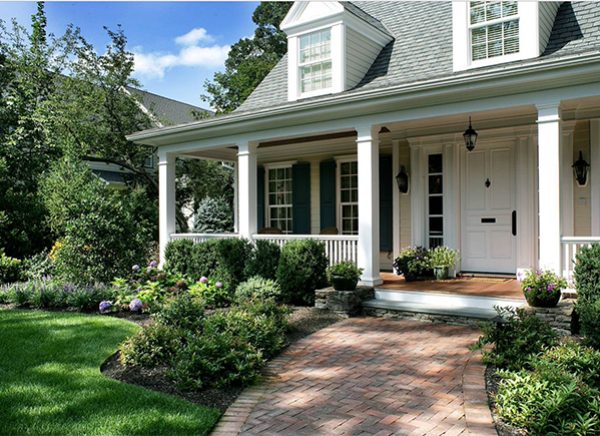 Even in really cold climates, we want our front yards to continue to tell our home's story year round. That means we need to plan for those times when the flowers go dormant. These are three good examples of foundation plantings that have the right balance of evergreen and flowering plants.
Upper left: When those roses and grasses are done, the shrubs will keep this interesting.
Above: After the hydrangeas wrap it up, that boxwood hedge will add plenty of punch, especially in winter.
Lower left: Same story here. While this garden is young, you can already picture it as the seasons progress.
BORROW FROM THE LANDSCAPE AROUND YOU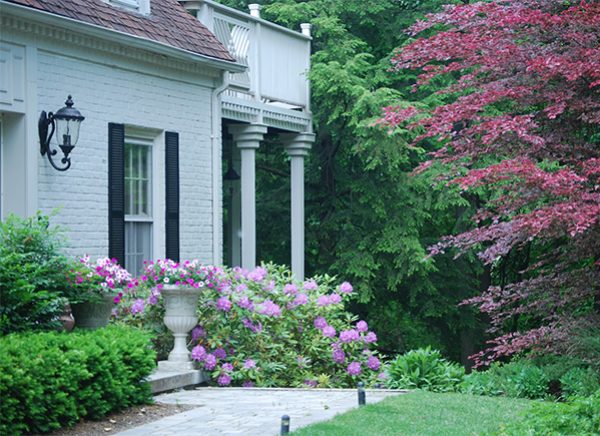 In addition to taking inspiration from the lines and features of nearby structures. Look to the surrounding landscape for even more clues. Style, colors, textures. All there for you to reference, and to help create unity and a sense of place.
Upper Left: This house is on the edge of a woodland, so the rhododendrons make perfect, linear sense. Genius!
Lower right: That olive tree repeats the sort of tree seen in the background. Not exact, but same mood.
Below: Pulling the same plants from the surrounding landscape into the actual foundation scheme creates seamless cohesion.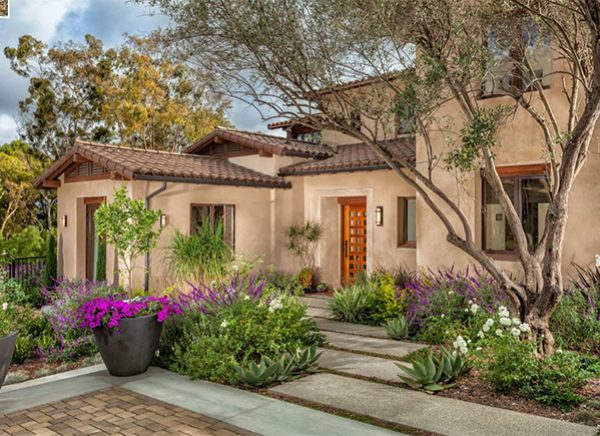 Lots of plants are great, but sometimes architecture offers the opportunity to create a "moment" at the house's foundation. Here are a few examples:
Upper left: These homeowners chose to keep their foundation to one plant-pachysandra. Then put the focus on the front door which is epic. It's an interesting design choice.
Above: A foundation scheme can be more than plants! Adding a feature, such as these fountains or even a large pot, is usually a great idea. IF you're committed to getting the scale right. Undersized elements against the soaring planes of a house are not money well spent.
Lower right: If you have a really cool feature such as these lovely doors and railing. Use plants to draw attention to it.
Got a pencil? 
Before you decide all this is just too complicated or should be left to a pro, here's the good news. There's a formula and a few measurements that can help you achieve a fabulous foundation planting scheme.
When choosing plants aim for 50% evergreens, 25% deciduous or flowering shrubs, and 25% perennials. Site needs may vary. Although, as a general rule, this formula will help create a foundation planting that looks good year round.
Plan for at least one foot of space between your largest plant and the house's exterior wall. This will allow room for maintenance. This helps to push the plantings out from the house which looks better. It can help avoid damage to the exterior.
As a general rule plan for a 6′ to 8′ deep bed. This depth not only looks good, but permits plants to stretch their arms a bit.
We are NOT here to judge, we're here to learn from each other. Here are a few examples where a small change would have made a big impact.
Squissshhhh
No one can find fault with the choice of plants or their layout–this is lovely. However, take a minute and consider how this would have looked had they added a gentle curve. One that made the corners and the center deeper and more fluid. Instead, this feels super tight and doesn't allow each plant to shine.
Takeaway:  Sometimes it makes sense to sacrifice some lawn in order to have a more beautiful foundation planting scheme.
Unbalanced
This one's tough because wow, what a wonderfully romantic tableau. However, so much of the weight is on the right side. All the other plantings are the same height and scale, that the place feels out of whack. All it needs is some plants with height. A medium sized shrub or a large pot with a large shrub set on the ground on the left side. This would help to create a visual triangle that would feel more pleasing.
Takeaway: Use what you have! The roof line here is the biggest clue for the need to add height and staggered layers.
"I didn't think it would get that big"
Another heartbreak! We can all pretty much guess what this is going to look like in about 10 years. When all of those conifers begin to fill in and that tree gets wider. If the homeowners, who clearly love plants and know how to build a luxe border, had made this bed deeper. In order to accommodate all of those specimens, this would have been a home run!
Takeaway: Read and believe the info on a plant tag about mature size. Bare earth is not the look you're after. But, space correctly and fill in with annuals or perennials for the first few years!
Where are the bones?
Someone loves their flowers and in summer, this must be epic. However, as there are no evergreen shrubs, once the season is over, the curtain really comes down on this garden. Just adding three shrubs around that tree and one more at the edge where the path meets the front steps. This would transform this into a four-season beauty.
Takeaway: First comes the bones, then the jewelry. Shop every section of the garden center!
Finally and at the end of the day...
While there are guidelines for designing and installing a foundation planting scheme which can make this project easier. Be prepared to make a few mistakes. You may need to move plants further front. You may need to add more color or texture or height. You may experience the heartbreak of finally removing old overgrown plants entirely. Even seasoned pros have to circle back and re-evaluate what isn't working. Be patient and think in layers.
<———-Just please, do not be this person.
Image credits: (top/1) Architectural Gardens, Chicago. (2) original source unknown. (3) Exterior Worlds Landscaping & Design, Houston. (4) Outdoor Concepts Landscape Contracting Inc, Newbury, OH. (5) Milieu Landscaping, Chicago. (6) Amy Martin Landscape Design, Boston. (7) original source unknown. (8) original source unknown. (9) GRADY-O-GRADY Construction & Development, Inc., Irvine, CA. (10) Bliss Garden Design, Bainbridge Island, WA. (11) Deborah Silver Design, Detroit. (12) Designs by Elizabeth, Spring, TX. (13) original source unknown. (14) The Garden Concierge, Boston. (15) original source unknown. (16) original source unknown. (17) original source unknown. (18) original source unknown. (19) original source unknown