Ever thought of hiring a garden designer but weren't quite sure where to begin?
Read-up on great advice from landscape pros. They give tips on how to get the most out of working with a designer. Then go to our checklist below to get started. If you have questions or need advice, please comment below.
"Dream big and about the long game,"  Susan Cohan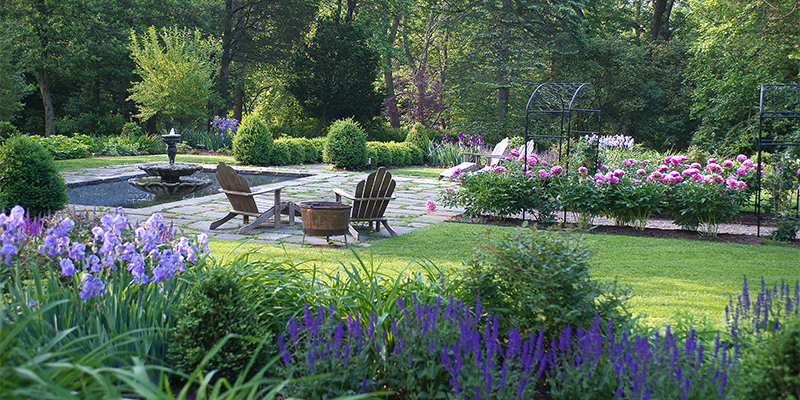 "Hiring a designer is like asking someone to marry you. You want to make sure you, your goals, and your idiosyncrasies are compatible!  Ask to see their portfolio, ask them why they made certain choices, and find out how they work. And, when it comes to making choices, try to remember that price isn't everything. A full-scale design from a professional can consume a chunk of your budget. However, it's better to spend money on a great design and then implement it over time as your budget allows. A well thought out design saves money and heartache. Case in point–I once had a client who wanted a small orchard. They also wanted a pool in a few years. There was only one suitably sunny site. By choosing the pool and waiting for the budget to install it, they avoided having to rip out an entire orchard. And, lastly, anyone offering free design isn't really. It's billed somewhere!"  —Susan Cohan Gardens, Chatham, NJ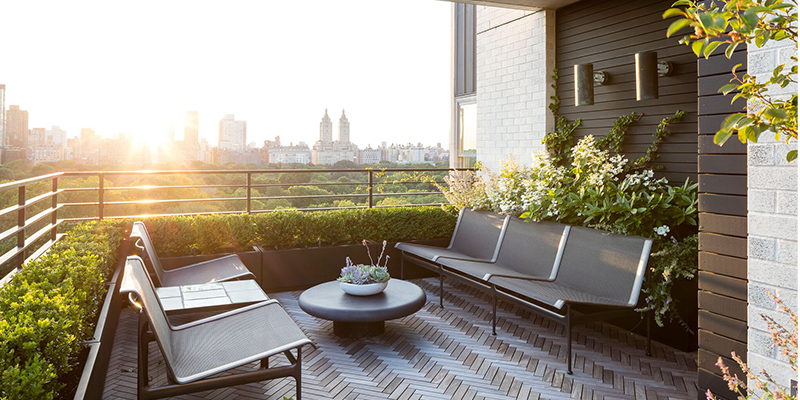 "No matter what the size of your place–from a large terrace to a small balcony–your designer should always start with a master plan that fulfills your dreams for how you'll use the space, even if you have to build it out in phases. Knowing, even in a general sense, what you want is vital. We love clients who create a Pinterest idea board. This gives us a sense of their wish list and their lifestyle. And, while not everything is technically feasible, especially where limits for water or weight are concerned, push your designer and encourage their wildest ideas. Part of our job is to understand why a client wants something, and try to give it to them. It's better to pull back along the way then go safe and regret it later. Finally, while you can have great design at just about any budget, be aware that good gardens can be as expensive as good kitchens. But, think of how much joy that garden will bring you."  —Harrison Green, New York, NY
"It starts with how you want to live in the space,"

 

Scott Daigre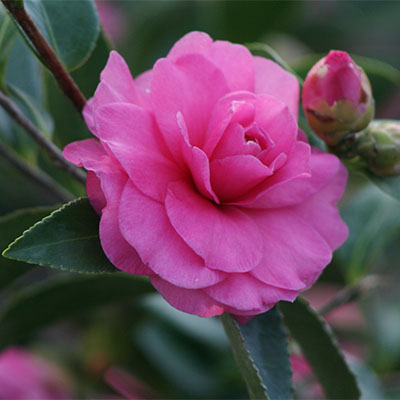 "When I have my first consultation with a new client the first thing I do is to get to the verbs. What do they want to DO in the space? Play? Eat? Swim? Meditate? Wander? Entertain? Raise chickens? It's not that much different from how you approach the space inside. From there it's just a matter of helping the client choose priorities based on those verbs and then creating the budget that will support those needs. And, be open to ideas because designers perceive space in a bit of a different way. That's why you've hired them! To you it's a patch of lawn for the dogs to play on; to a designer, it's a potential pergola for outdoor dining! Finally, be direct about your budget and be sure to get on the same page with regard to the timeline (and probably the upheaval) for a project, large or small. If everyone is thinking along the same lines at the start, you will likely not only have a landscape you love, but also enjoy the process."  —Powerplant Garden Design, Ojai, CA
How to Get the Most From a Pro:
*Find a pro by contacting your local garden center (many offer design services with discounts on plants). Or, through an online service such as Thumbtack or Houzz. Or, by checking out landscaping in your own neighborhood.
*Check references as you would with any home investment. Ask to see a portfolio of projects and budget ranges.
*Be honest about how much time you can spend on garden maintenance or upkeep.
*Before your first consultation, search online sources such as Pinterest, Monrovia.com, Houzz, etc. Look here for design ideas to share with your Pro so he or she gets an idea of your style.
*Know your preferred color palette, or any colors you don't like, or plants you don't like.
*Be prepared for expenses related to demolition, drainage, watering systems, and soil improvement if your landscape isn't "plant ready"
*Discuss sizes of plants for installation and "growing in" time. You may save money by planting smaller sizes.
*Ask about an annual check up once the garden is planted. Some designers will offer a seasonal tune up.
*Understand what the designer's policy is on dead plants after installation. Sometimes the drip system was faulty, or there was another problem. Will they replace the plant?