Big, pretty flowers, tough and hardy, perennial, and flowers in August. When there's a bit of a lull in the perennial border, it's hard to beat coneflowers. These are always a fuss-free late summer charmer. From the original purple classic have come hundreds of stellar hybrids. They're expanding the range of colors to virtually the entire rainbow. Here are a few we recommend for their distinct colors and appeal to summer and late-season pollinators.
(Above is Ruby Star coneflower which has extra-big flowers…and a couple of awards, too. )
Craftsman Tip!
Remember to deadhead after the main event in August-September to encourage flowering into the autumn.
From pure white to muted creams and ivories. Removing coneflower's traditional warm, bright colors really shows the simple elegance of these flowers. How perfect for a mid-to-late summer all-white garden with swaths of Shasta daisies, phlox, and buddleia!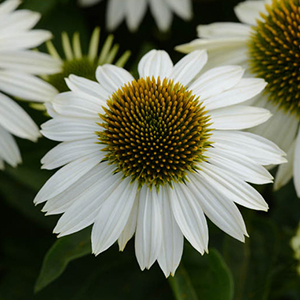 Compact, prolific bloomer perfect for a sunny container (and great cut flower).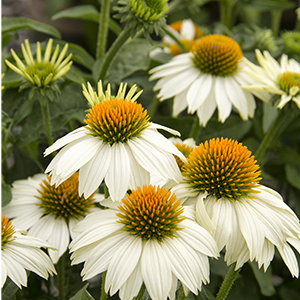 Because the plant branches from the base, it also produces more flower stems!
The garden needs saturated color when the sun goes full-on in summer (butterflies love these colors!). Mix these with other shades of reds or tone down the effect with splashes of blue, purple, or green shades. We like penstemon, veronica, and Limelight hydrangea.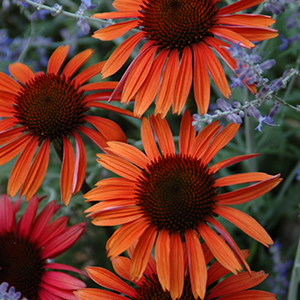 Fragrant! Bright orange flowers segue seamlessly into the fall garden.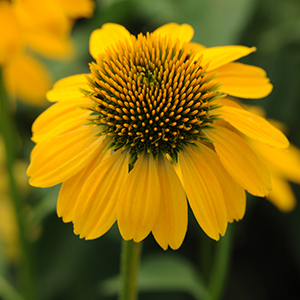 Leave extra-large dried blooms on plant in fall to feed wintering song birds.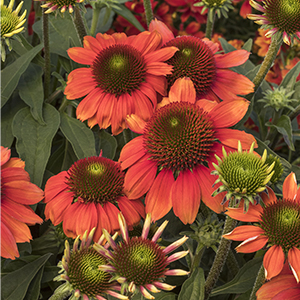 Orange-red blooms that don't fade under the direct rays of the summer sun.
Why not plant something now that flows into fall's deep, rich, harvest colors? Brown or pale melon might not be your first thought when designing a border or a container. However, the sumptuousness of these velvet-hues creates a sophistication that's pretty enviable.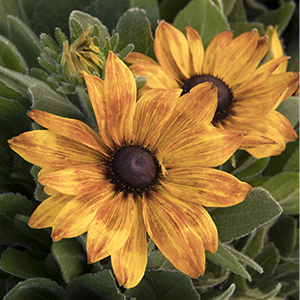 Looks like a rudbeckia, acts like an echinacea!  Huge flowers last 2 – 3 months.
Fragrant, long lasting, all-summer anemone-type blooms. (With blue hydrangeas? Wow.)
Mass for garden drama. Orange-tipped petals start with a broad red-brown center.
Giant flowers swirl with bees and butterflies. Mix in a pot with maiden grass.
Hot color and spicy fragrance well into fall. Pretty in a border with Russian sage.
Cultivating Coneflowers:
Provide average, well-drained soil.
Water deeply, regularly during the first growing season to establish an extensive root system.
Reduce frequency once established; tolerates mild dry spells.
Clip spent flowers to promote repeat bloom.
Cut back in fall after frost, or leave dried seed heads through winter.
Prune any old foliage and fertilize in before new growth begins in spring.
What goes with coneflower?