By Judie Brower for Tesselaar Plants
Roses draw us in like bees to honey and perhaps more than any other design style. They're essential to a cottage garden. They just are. Varieties like Flower Carpet are fuss-free, hardy, and thrive in your area (zones 4 - 10). They can also be among the easiest of plants to maintain. Here are some ideas for using them for their most romantic effect. (Love this? It's Flower Carpet® Appleblossom Groundcover Rose with cranesbill geranium–what's more doable than that!)
Adding Charm to Existing Spaces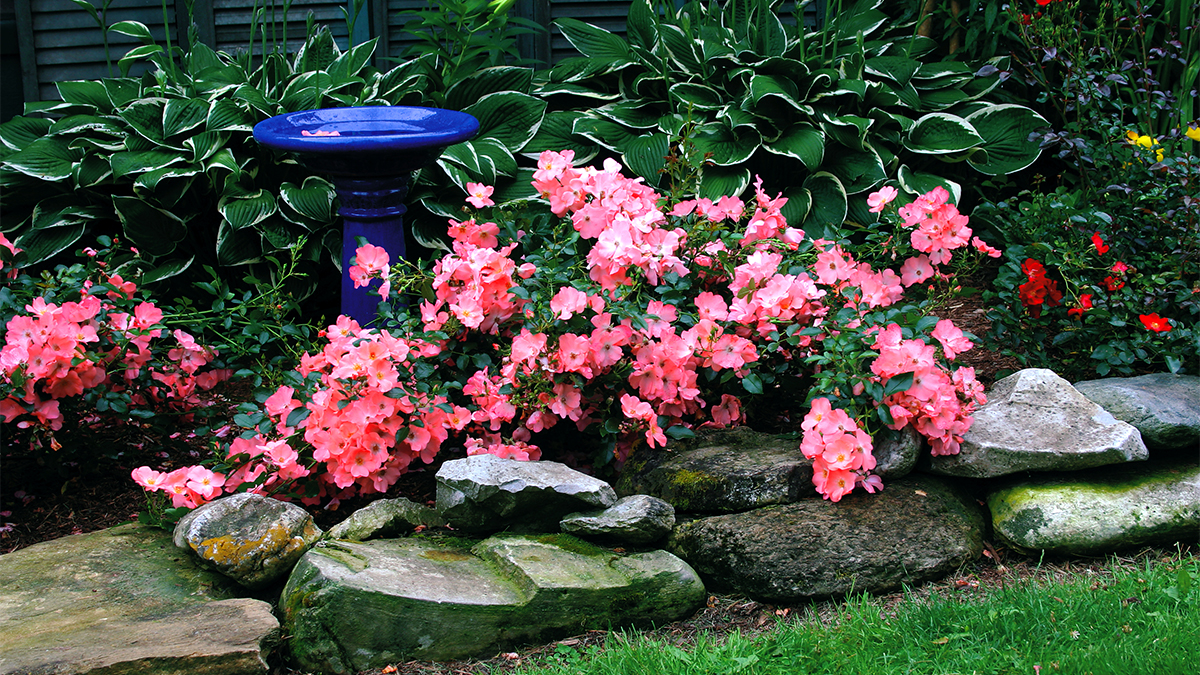 Just try to picture this lush border without the addition of these super-romantic, single-flowered, Flower Carpet® Coral Groundcover Roses? They take this space from subdued to smashing, adding color and romance while not screaming "I'm a rose garden." Get the look by planting close to walkways (but not too close as they do have some thorns). Or, along the edge of a vegetable garden for a French potager look. Because these roses are self cleaning—meaning no deadheading—plant them in spots that aren't always easiest to reach. Such as cascading over walls.
Lush, Spilling Containers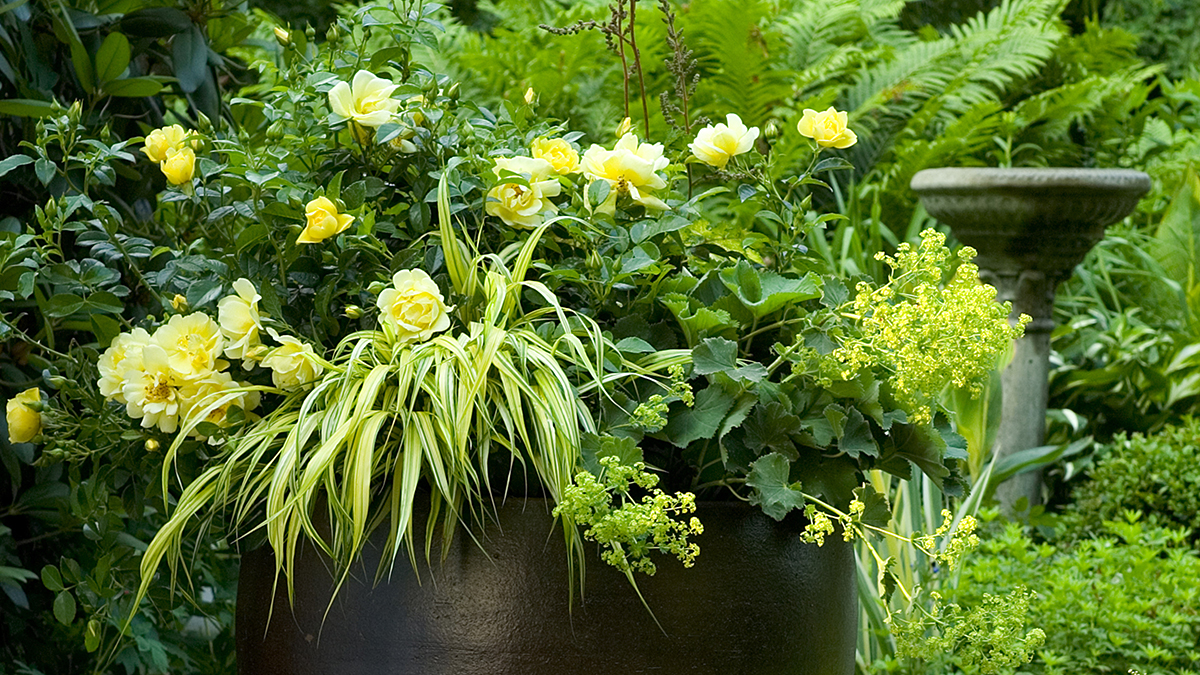 Decorative containers add interest to any garden, especially when stuffed to the max with roses. Get them off to a great start by selecting a large container (at least 18" deep and wide). Then filling it with quality potting mix and a good handful of fertilizer for roses. Fill with roses like Flower Carpet® Yellow Rose which is full-figured and romantic. Then tuck in other plants that play up the colors. Try the lady's mantle and zebra grass in this one. The other advantage to containers is that you can move them around the garden to change things up. It's the cottage garden way – ignore the rules, play around and have fun!
Billowing Cut Flower Bouquets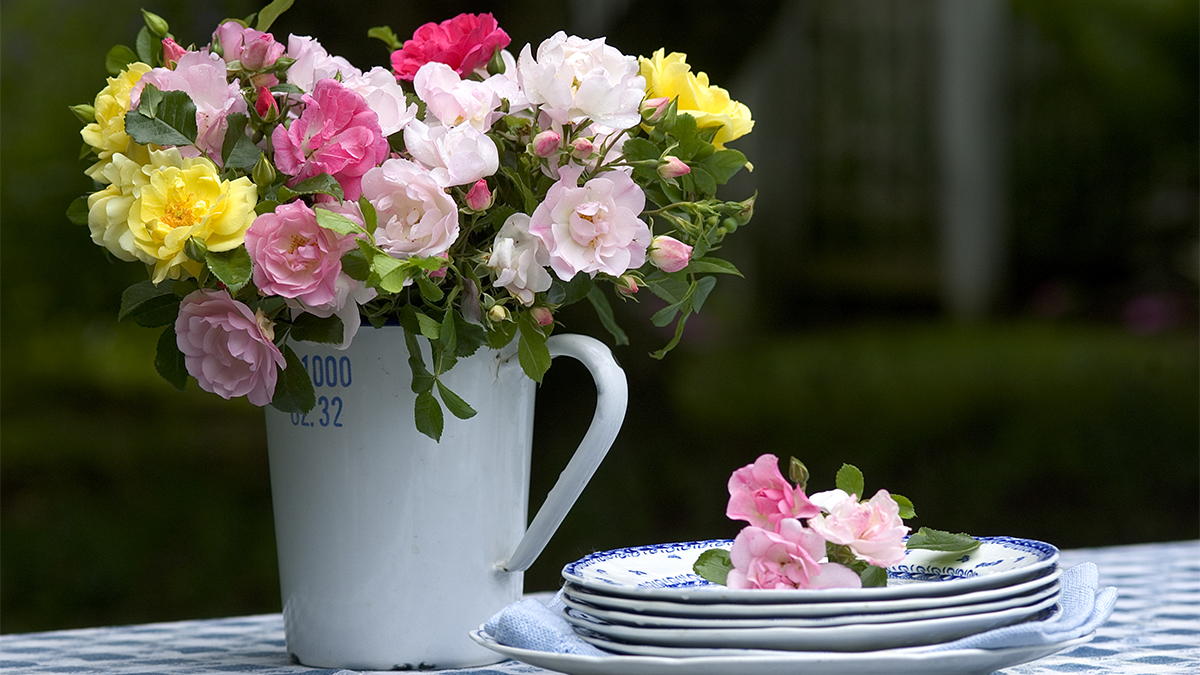 A single stem of a Flower Carpet rose provides a full display of loose-flowing roses. For those who enjoy pastels, Flower Carpet Amber, Coral, White and Appleblossom are ideal. For bright-color lovers, Flower Carpet Pink Supreme and Scarlet can't be beat for both color and long-flowering performance. Both in the garden and in a vase. Just remember for long-lasting bouquets, the best time to cut flowers is in the morning. This is when they have had the advantage of the cooler night air and moisture.
Caring for Flower Carpet Roses
Flower Carpets require about 6 hours of full sun for maximum blooms. In high heat areas, morning or afternoon sun is preferable to full day sun.
Water regularly during the first growing season to establish an extensive root system. Containers tend to dry out rapidly in high heat and should be watered more frequently than in-ground plants.
Tolerates mild drought when established.
In zones 5 and below, winter protection is advised.
As a groundcover, space plants 3 ft. apart.
Feed with a timed-release rose fertilizer.
Prune lightly to shape in early spring.