Come the dog days you may be hot, sticky, and over it. However, by choosing perennials that are low-maintenance with long bloom seasons, your garden will be happily flowering well into fall.
Here are two combinations (plus a few neutrals) to consider:
The first features pinks and purples that look so

 

fresh in the slanted rays of early morning and late afternoon.
The second is all about oranges and yellows. These colors

 

hold up well under the bright light of direct, overhead summer sun.
The third is a

 

few of the great equalizers—purple, blue, and white. These work with either color scheme, and add dimension and contrast.
Of course, this is YOUR garden, so mix-and-match for the combination that makes your heart sing. You'll be rewarded with plentiful blooms, loads of flowers for cutting, and provide treats for all kinds of pollinators, too. And, since these are perennials, next year they'll come back, bigger and better than ever.
Check out the companion post for colder zones as some plants overlap (and who doesn't love more options!)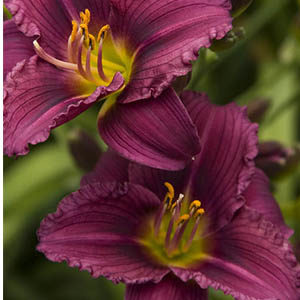 Strappy leaves are hard-working elements that add architecture to a border, mixed perennial bed or in pots. Mass this carefree miniature for a stunning groundcover. Full sun. Zone: 4 – 11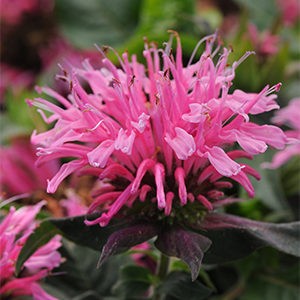 No summer border is complete without these fluffy-headed, bee-seducing stalwarts. More compact and considerably shorter; Ideal between taller plants and tidy borders.  Partial to full sun. Zone: 4 – 9
Blowsy, rose-purple flower spikes glow when back lit by the sun. Improved variety with longer bloom season and better cold tolerance. Stunning in mass plantings. Full sun. Zone: 5 – 10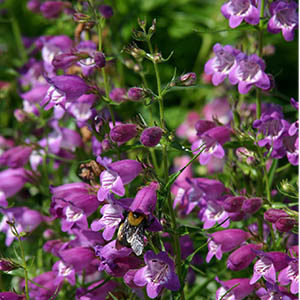 After delphiniums are done, you need something spiky to break up a flowering border. This one blooms for months and loves heat. Use in borders and naturalized landscapes. Full sun. Zone: 4 – 9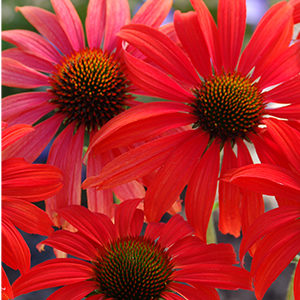 A fragrant coneflower! Brilliant red flowers attract birds and butterflies well into fall. Plant in wide swaths for eye-popping in a perennial border. Full sun. Zone: 4 – 9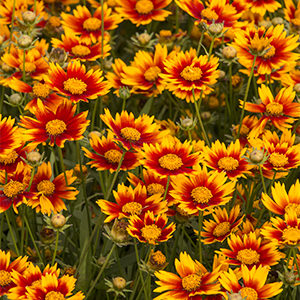 This super-compact heat-lover provides a fantastic show from summer through fall. Perfect for smaller gardens, fronting borders, or in mixed containers. Full sun. Zone: 5 – 10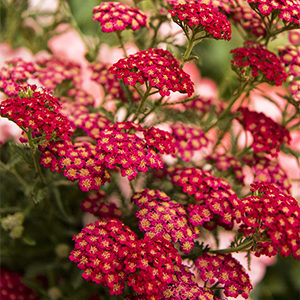 Drought-tolerant and beloved by butterflies, yarrows have a distinct texture and shape that helps add depth to flowering borders. Rich, velvety red flowers are the most fade resistant to date. Full sun. Zone: 3 – 9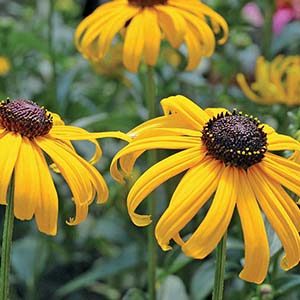 New and genius! Not dependent on day length to induce flowering. Blooms early summer right through mid-fall. Wonderful in mixed borders. Partial to full sun. Zone: 4 – 10
Easy-going and perfect in schemes from modern to cottage. This variety has been improved so as not flop over in the landscape! Colorful, easy care choice for accent, border or mass planting. Full sun. Zone: 4 – 10
Fragrant flowers attract butterflies and bloom continuously from summer to fall without deadheading. Dwarf, spreading habit makes it the perfect ground-cover. Full sun. Zone: 5 – 9
When you need to add oomph but not overwhelm a color scheme, this little tumbler is ideal. Let it spread in front of borders and soften the edges of lawns and patios. Partial to full sun. Zone: 4 – 10
Spikes of vibrant, violet-blue blooms and compact habit (only 1′ tall and wide) makes this shorter veronica perfect. Use in containers, fronts of borders, and cutting gardens. Full sun. Zone: 4 – 9
Image Credits: (top) GAP Photos/Clive Nichols
Love the Look? Bring it Home!