You're never too old for a popsicle! Especially when it's a cool, sweet combination of fresh-from-the-garden blueberries and a bit of booze.
We tried lots of recipes and fell for these four. They're simple, fast, and made from ingredients you probably already have in the kitchen. Allot a bit of extra time as popsicles need to overnight in the freezer to fully harden. End a party with blueberrylicious, boozylicious popsicles!
Blueberry Basil Martini Pops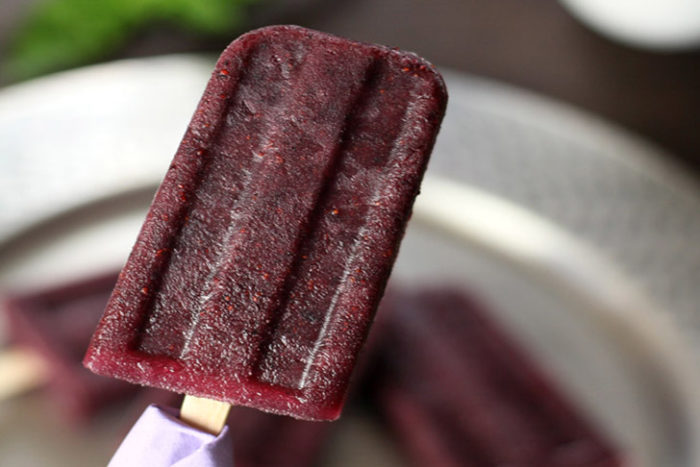 Blueberries and basil? We loved this simple and unexpected recipe from Creative Culinary. Adding a bit more basil brought out the sweet and earthy flavors. This one had the strongest, most savory flavor. It was a huge hit.
Ingredients: (Servings for 6-8 popsicles)
1 cup water
1 cup sugar
2 & 1/2 cups loosely packed basil leaves
4 cups fresh blueberries
2 T. fresh lemon juice + zest
1/4 cup vodka
Instructions:
Combine water and sugar together in a small pot. Boil over high heat until sugar dissolves. Add basil, remove from heat, and allow to cool. Once cool, strain to remove basil.
Puree blueberries, lemon juice and basil syrup in a food processor.
Strain the mixture to remove solids, extracting as much juice as possible (optional).
Whisk in vodka.
Fill popsicles molds, add sticks to molds after two hours when mix has set, then freeze overnight. Remove from molds, lay on plates and put back in freezer for a few minutes to firm up.
Editor's note: To emphasize the taste of basil and lemon, we upped the basil by a cup. (Compared to the original recipe's 1 ½ cups.) Then, we added ½ teaspoon of lemon zest. Straining to remove the solids is optional, but we found the finished popsicle had a prettier, clearer look.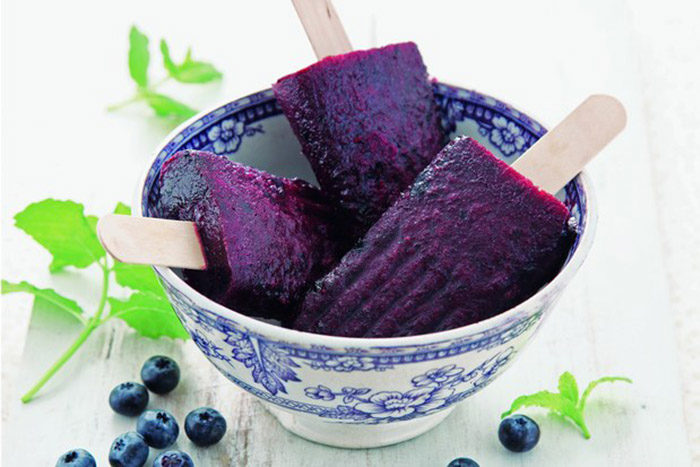 For a sophisticated take on a popsicle, this one, which uses mint and bourbon fits the bill perfectly. A riff on a classic mint julep. Filler Magazine's recipe pairs the freshness of sweet mint and blueberries with the toasted cinnamon flavors of bourbon. This one had the most "boozy" flavor.
Ingredients:
½ cup sugar
2 cups fresh blueberries
1 cup water
8 sprigs mint
6 T. bourbon
Instructions: (Serves 6-8 popsicles)
Combine sugar, water, and mint sprigs into a small pan over high heat. Boil till sugar dissolves then simmer for a few minutes.
Remove pan from heat and allow to cool.
Place syrup (including mint leaves), blueberries, and bourbon in a food processor and puree.
Strain mixture to remove solids (optional)
Fill popsicles molds; add popsicle sticks after two hours when the mix has set, then freeze overnight.
Editor's note: For a more refreshing taste, we doubled the amount of mint sprigs. Consider freezing a bit of the mixture in individual ice cube trays. The, add the cubes to a glass of bourbon for a unexpected cocktail.
Roasted Strawberry and Blueberry Red Wine Popsicles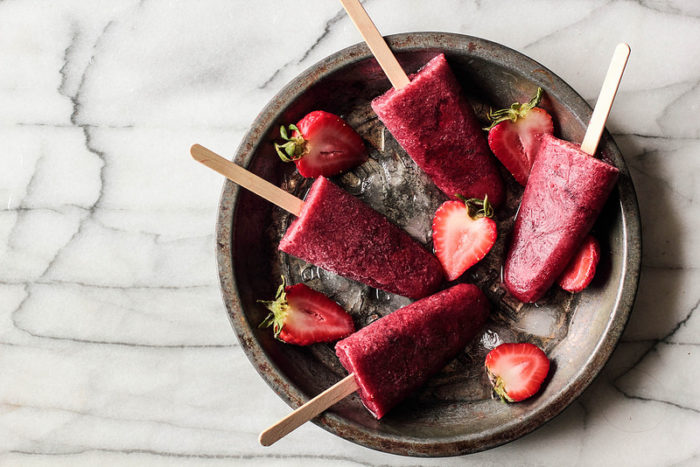 Roast fresh berries in a bit of sugar and balsamic vinegar and add sweet red wine. This will give this adult popsicle a richness and depth that we found pretty seductive. This one from Pastry Affair was addictive (and it had a bit of a kick, too).
Ingredients:
2 cups fresh strawberries, quartered
1 cup fresh blueberries
1 teaspoon balsamic vinegar
2 T. granulated sugar
1 cup sweet red wine
Instructions:
Preheat oven to 375 degrees F.
Combine the strawberries, blueberries, balsamic vinegar, and sugar into a bowl. Spread evenly in a rimmed sheet pan. Roast for 20 minutes, remove from oven and allow to cool.
Puree half of the roasted berries in a food processor, process until smooth; stir in red wine.
Spoon the remaining half of the roasted berries into the bottom of popsicle molds. Pour red wine mixture into molds to fill. Freeze popsicles for at least 45 minutes before inserting popsicle sticks. Freeze for a remaining 4 to 6 hours, or until completely frozen, before serving.
Editor's note: We added one cup of blueberries to the original recipe for a slightly tangy flavor. We tried several wines and found blends rather than single varietals had the required sweetness. Try freezing a batch of this in individual ice cubes and then adding them to your favorite Sangria recipe. This would be a perfect summer party-punch idea.
Prosecco Infused Blueberry Ice Pops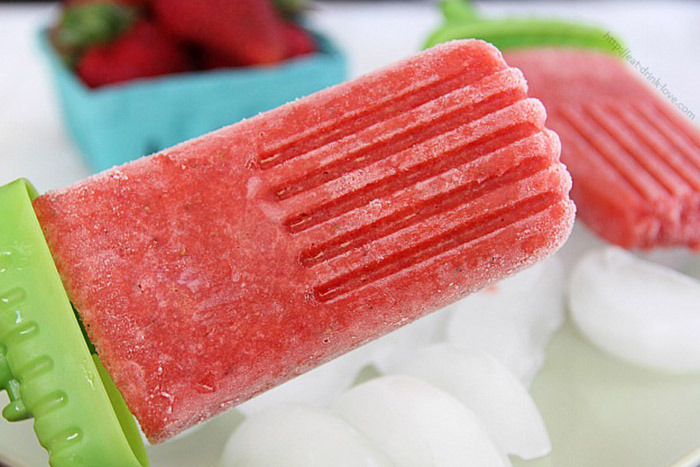 Short and simple, this sweet poptail recipe blending Prosecco and berries had a true romantic dinner sort of appeal. It was the most like drinking a festive cocktail. While milder than others, the lingering flavors were delicious.
Ingredients:
½ cup dark organic cane sugar
1 cup water
2 cups blueberries
1 cup Prosecco
2 T. fresh lemon juice
Instructions:
Combine water and sugar into a small saucepan. Bring to boil then turn down to simmer until the sugar has dissolved. Remove from heat and cool to room temperature.
Puree syrup and blueberries in a food processor.
Strain to remove solids (optional)
Add Prosecco and stir.
Pour into molds and let freeze until set (about 3 hours) before adding sticks. Freeze overnight.
Editor's note: This recipe was inspired by Brown Sugar's Strawberry Champagne popsicles. Instead of strawberries and champagne, we used Prosecco and blueberries and changed to dark organic cane sugar for more depth. This one thawed out most quickly, so bring it out at the last moment.