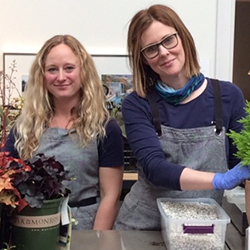 By Megan Nichols and Jessie Jacobson of Tonkadale Greenhouse, Minnetonka, MN.
Shrubs are trending more now than ever.
Every landscape could benefit from one (or several) shrubs to provide structure an interest. Although, which is the right shrub for the right space, with the right light requirements? When trying to choose a shrub, you may ask yourself, "Where do I go from here?" Answer: Shrub shopping! Right after you read the rest of this blog post all about shrubs.
Here are four kinds of shrubs we know you will love in your garden. (These are ideal for zones 4 – 7. Live in a warmer zone and would like some suggestions> Drop a note in the comments section! We're here to help.)
Though they look sweet as can be, weigela are known for Hangin' Tough in hot, southwest-facing exposures. Spring bloomers, these shrubs produce abundant trumpet-shaped flowers that beckon hummingbirds; some will continue to bloom lightly throughout the summer. Unfussy and adaptable, they prefer full sun. However, they can handle light or dappled shade and will tolerate clay and drought. (But give them well-drained soil and adequate water and see the happiness).
Here are three favorites.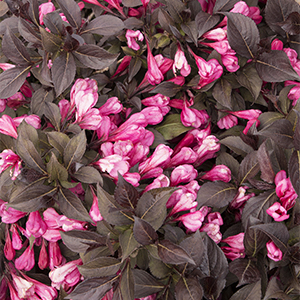 Compact and colorful with dark ruby-red foliage and soft-red flowers. Super hardy!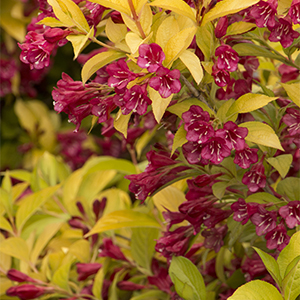 Brilliant golden leaves that hold their color all season long, undaunted by summer sun.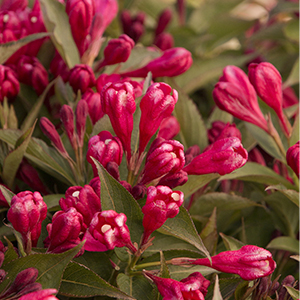 Border a walkway with this compact re-bloomer. Bright, lipstick-red flowers!
Spirea are common but well-loved shrubs, and with good reason. They can handle tough conditions and come with a variety of attractive attributes. Some are low and moundy, others have great foliage color, and some have a cascading habit. All bloom their heads off, primarily late spring to mid-summer depending on the cultivar. We love the new varieties, of course, but the tried and true are here to stay, too.
Give these a look.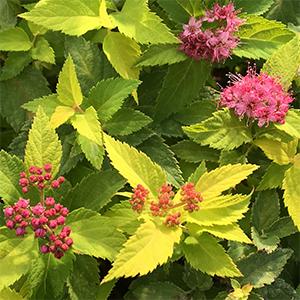 Orange new foliage matures to gold; hot-pink flowers in spring, and again in summer.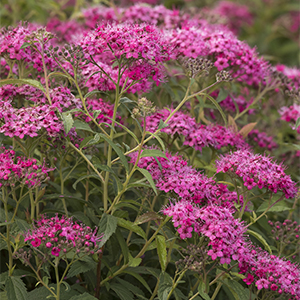 Long lasting neon-red flowers top green foliage that turns burgundy in fall.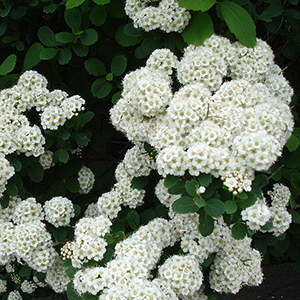 Name says it all. Simply spectacular blizzard of blooms in mid- to late spring.
There is no shrub blog worth its salt without mention of the unofficial shrub of Minnetonka, MN! The hydrangea is the Cover Girl of shrubs. And yes, it's salt tolerant! From showy mopheads to graceful panicles, there is a hydrangea for almost any landscape need. Borders? Check. Containers? Check. Wall Climber? Check. (Read more here.)
Tough to choose only three, but here are some of our favorites.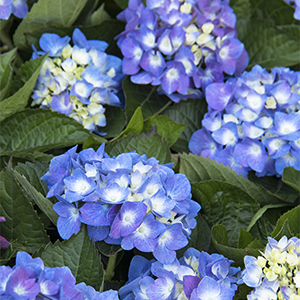 Hardy, compact, repeat blooming machine with big, mophead flowers.
Vigorous climber with variegated foliage and fragrant, white blooms in late spring.
Big lime-green panicles age to nearly pure white, on sturdy stems that don't flop.
If your landscape has a significant amount of shade, but you're in the market for shrubs, yews have got you covered. Though not strictly new, Hicks Yew are new to us (see below). For interesting structure, junipers have a lot to offer. And, there are plenty of dwarf conifers and even conifers that color-up in the cold. We could write a book about these useful plants!
Till then, we recommend these.
Tall and narrow, perfect for north-facing doorways or hedging a shady property line.
Arching branches clothed with soft, silvery-gray needles. Effective groundcover.
One of the finest gold-hued pines, on a dwarf form! Intense color in coldest zones.
READY TO PLANT? HERE'S HOW.
Planting shrubs isn't hard, though it can sometime be a bit of hard work. Here are the basic steps:
Choose the right shrub for the right place.
Dig a hole only as deep as the root ball, but two to three times as wide.
Remove the shrub from the container and release the roots to signal to the plant that it's time to grow. This can be as simple as running your fingers through them. If the shrub is root bound it may require a serrated knife or clippers.
Fill the hole with water, let it drain, and set the shrub in the middle.
Fill hole halfway with mixed soil that is 2/3 native soil and 1/3 compost.
Water.
Complete filling the hole with the same ratio of soil to compost. Water in.
Pump up the jams, do a little dance, and pat yourself on the back.
About Tonkadale Greenhouse:
Tonkadale is a design driven garden center located in Minnetonka, Minnesota. Pollinator friendly. Kid friendly. Dog friendly. Always original. Always approachable. Your greenhouse home.