One of our favorite times of the year is "falliday." It's those weeks from November into early December when the garden is still giving up goodies. These are used for decorating doors, dining tables, making easy hostess gifts or presents for guests to take home. We gathered up some supplies from the garden (and craft store!) and created a few easy projects to get you started. Please follow the links to sources and how-to's.
We'd love to hear how you decorate for this season. Leave a comment below!
A WARM WELCOME STARTS AT THE DOOR
Here are two ideas for seasonal wreaths. You can make these with materials foraged from your own garden or collected on a nature walk. They look impressive, but are easy to make (we promise).
OAK LEAVES AND BEAUTYBERRIES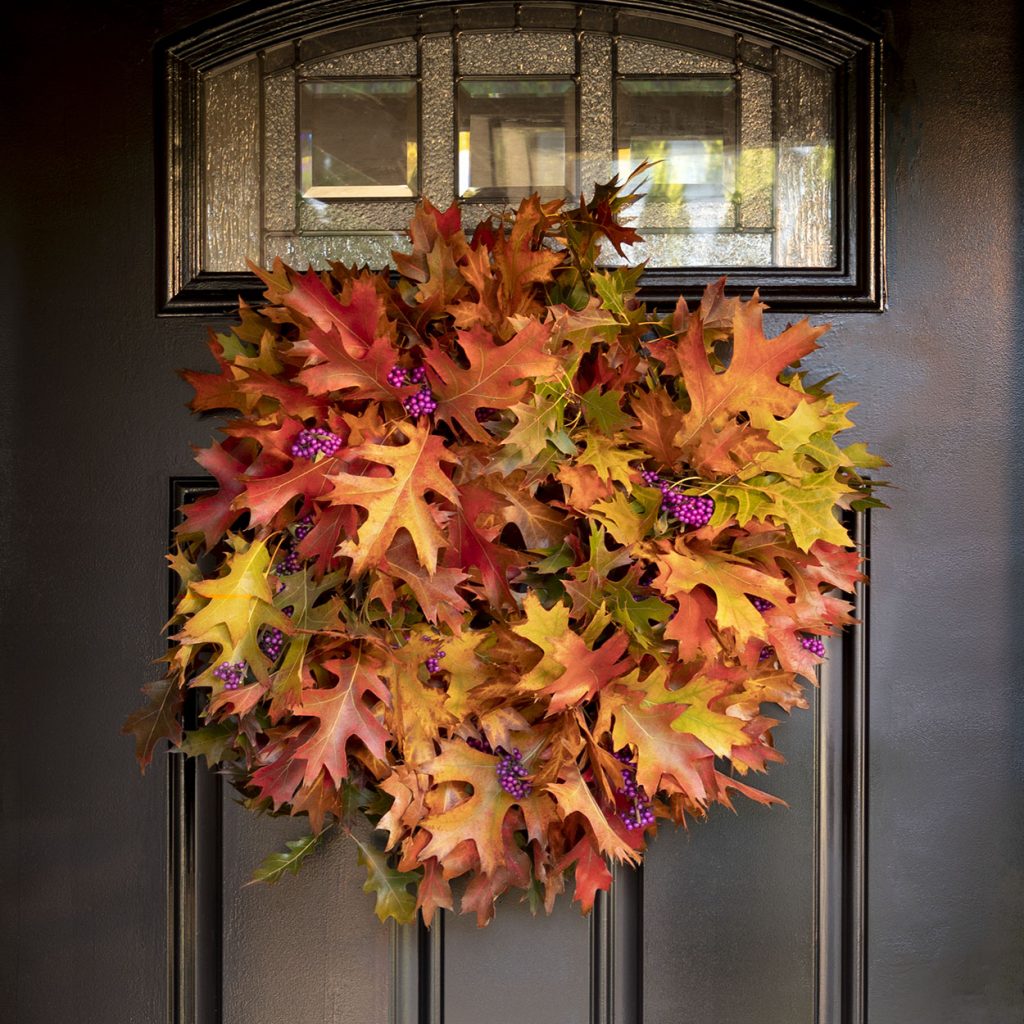 Three 8-12″ branches cut from oak trees are wired onto a simple round 12″ metal frame. Make sure branches are young and pliable.
The trick here is to first wire larger branches all the way around the frame. Overlap the ends in order to get the approximate shape (it will look messy–don't worry).
Once the majority of the frame is covered, fill in with smaller branches to get the shape you want.
Stems of Profusion beautyberry add another texture (we hot glued these). Left in a sheltered place out of direct sun and wind, this autumnal wreath will last at least two weeks.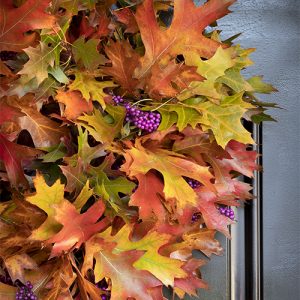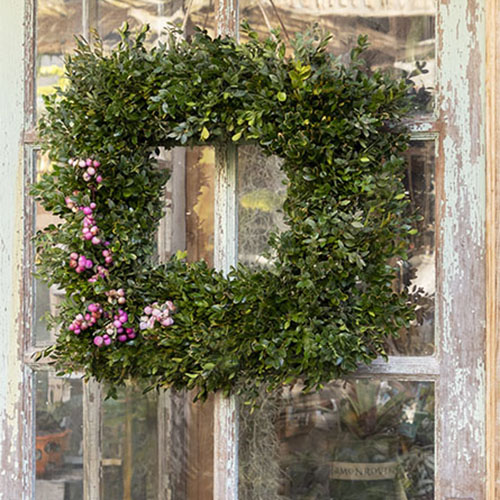 Does this boxwood wreath look complicated to make? It's not.
And to prove the point I enlisted the help of a friend who had never made a wreath. With just a few tips, she crafted this beauty in about 40 minutes and hung it on her shed door.
It's made from a square wire frame, boxwood stems clipped from a hedge. (This is Green Mountain, but any boxwood will do.) It's decorated with a few stems of Charming Fantasy™ Snowberry. She opted for just a few berries; you may want more!
Find the how-to instructions HERE.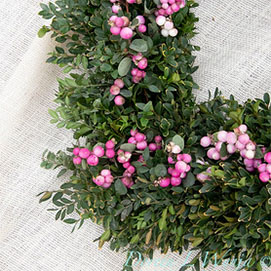 Sharing with friends and family is so much of what the holiday season is all about.
Sitting down to a beautiful meal can be even more memorable if the table is decked out with fresh goods. Especially ones you can find in your garden or at a market.

Here are just a few ideas that we love.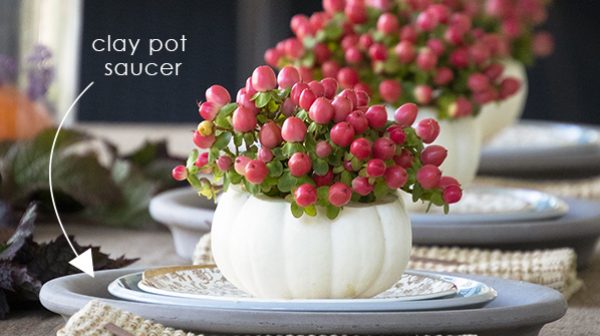 DRESS UP A MINI PUMPKIN
Here's a fun way to decorate the dinner table with berries plucked from a shrub in the garden.
This is a super simple project made with gleaming mini pumpkins and stems of FloralBerry™ Pinot St. John's Wort shrub. (FloralBerry™ is a series of St. John's Wort shrubs that are easy to grow in zones 5 – 7. See all below.)
Once seated, guests can place the filled pumpkins on the table in front of them to add fall color. Then take them at the end of the evening. Can be made a day ahead stored in the refrigerator. Lasts up to a week if water is changed daily.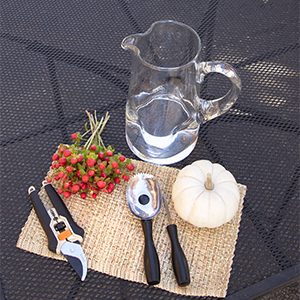 — STEP ONE —
Gather pumpkins, stems of berries, a pumpkin carving kit or sharp spoon (such as a grapefruit spoon), pruners and water.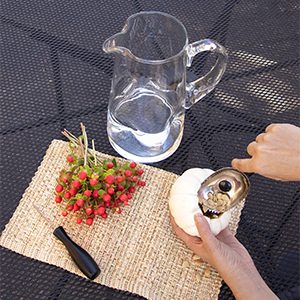 — STEP TWO —
Wash white mini pumpkins well and then hollow out scraping the insides to create a deep cavity to hold water.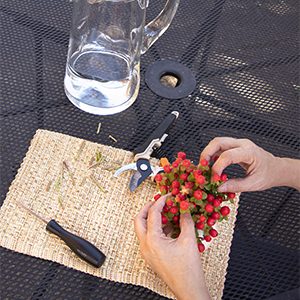 — STEP THREE —
Fill the empty vessel with water, clip the stems of berries to fit the depth, and place inside the pumpkin. Arrange until you love it!
(Above) Slip long stems of washed, fresh, firm rose hips into napkins tied with clean garden twine.
(Left) Place a garden cloche or bell jar atop a pile of fresh leaves, then add pumpkins, berries–whatever is fresh!
SEND GUESTS HOME WITH A LITTLE GIFT
What's the best gift to give your guests? A host who is not stressed out by trying to make the "perfect" party! And that extends to a take home present. Here are two easy but also really charming ideas that you can whip up in 30 minutes or less. We know from experience that these will delight your friends. Find all of the DIY instructions HERE.
We saw a version of this while wasting time on Pinterest and had to recreate it for you. We made the candle (sometimes we get crafty), but a store bought one works just fine. That, and a little DIY with a printer, and you've got a fragrant gift that will surprise and delight.
We know what you're thinking…my 8 year makes these. But know what? Nothing fills a house with a fresh, clean aroma like one of these…without chemicals. So old-fashioned, but also modern too! If you have an orange tree, start there; if not, head to the market.
So, that's just a few ideas to get you started. We'd love to hear how you use finds from your garden to decorate your fall into winter home. Please leave a comment below.
Image Credits: Doreen Wynja