Our Chateau series is in the house!
We loved how Rose of Sharon adds height, scale, color, and a tropical look even in places that aren't tropical. (Zone 5 anyone!). These we worked with a plant breeder to develop a new series with some notable improvements. Here's the story with Chateau™ Rose of Sharon (available in 4 colors–see below)/
This new series sports blooms that cover the stems from top to bottom for a super dazzling show. (Rather than just having flowers at the ends of stems.)

Vibrant colors and strong stamens.
Multi-stemmed, upright habit rather than one that tends to sprawl.
Longer bloom season (early summer to fall depending on your zone).
Chateau™ Rose of Sharon thrives in zones 5 – 9 and is fast growing, reaching 6 ft. tall, 4 ft. wide.
If you have a spot in full sun or partial shade that needs a tall beauty, try this Monrovia exclusive. Introduced in 2019, this serves as a colorful backdrop for other shrubs or as a sensational specimen plant.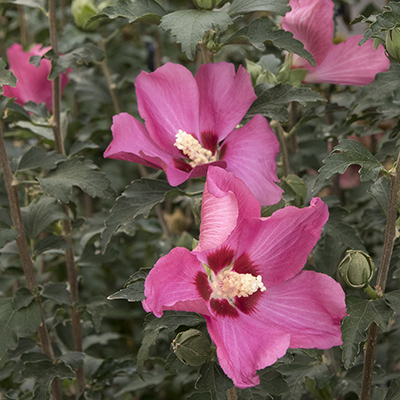 A profusion of large, showy, rose-hued blooms each distinguished by a deep red-violet center. The rich color is especially vibrant when it's back up against deep greens. For instance, boxwoods in a formal garden and panicle hydrangeas in a more cottage design.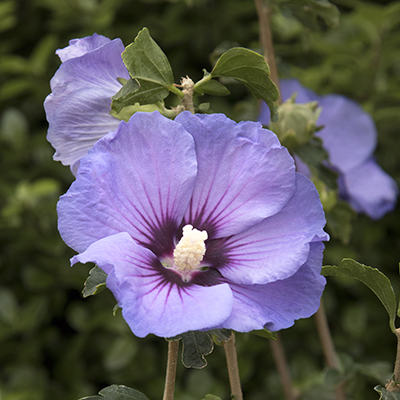 Every garden needs a bit of blue and the blue-violet with deep red-violet center hue. This works so well in an ombre sort of arrangement with similar colors. Pair with lavender, blue hydrangeas, and catmint.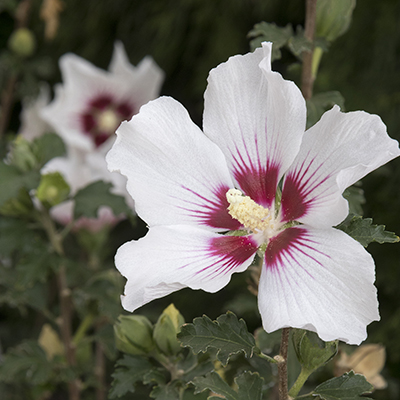 Exquisite, white flowers with a deep red-violet center add stately elegance to an all-white garden. Surround with white roses, salvia, and jasmine (or play on the center with raspberry-toned monarda or coneflowers).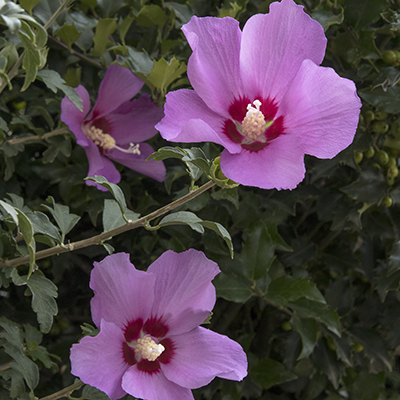 Perhaps one of the best colors to show up. Especially against most house paint colors, brick, or natural finishes like cedar shake siding. Vibrant, clear pink flowers with a mesmerizing dark raspberry center adds a pop to any design.