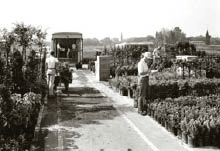 Since our founding by Harry E. Rosedale Sr. in 1926, the name Monrovia has been synonymous with plants that
Grow Beautifully
.
Harry E. Rosedale Sr. was one of the early pioneers to grow plants in containers. It was a revolutionary idea, but he saw that plants would endure less trauma and transplant better if they remained in their containers until they were ready to be planted in the landscape.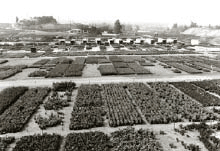 The challenge was to create an environment of soil that allowed the plants to flourish. We have continually improved our soil mixes, developed better irrigation systems and led the way with a series of horticultural breakthroughs resulting in extraordinarily healthy plants that will not only survive but thrive, in home gardens.
Today we grow more than 4,000 varieties and 22 million plants annually, but each one is nurtured by hand with care to assure it will truly Grow Beautifully.
1926
Harry E. Rosedale Sr., a young, visionary immigrant from Denmark, opens Monrovia Nursery Co. on a modest 10-acre plot in Monrovia, California.
1941
Monrovia becomes one of the first growers in the U.S. who trademark a plant (Rosedale Pyracantha).  In the 1950s Monrovia held thirteen plant patents; by 2017, Monrovia's trademarked and patented plants exceeded 200 varieties.
1950s
Rapidly growing, Monrovia establishes a dedicated in-house research department to develop new and better growing methods, and becomes the first grower to ship container plants (originally metal cans, now plastic) across the country.
1953
In its first major expansion, Monrovia Nursery Co. relocates its growing grounds to Azusa, CA, adding several hundred acres into cultivation.
1960s
To help educate and inspire consumers, Monrovia becomes the first nursery to use gardener-friendly, color picture labels on blooming plants for specific varieties. In the 1970s Monrovia introduces an expanded label with detailed care information.
1970s
Monrovia is the first major nursery to recycle irrigation runoff. This breakthrough drastically reduces use of water and fertilizer, and is now a standard in the nursery industry.
1980s
Launches the MN Plant Finder Program, a revolutionary in-store tool that helps shoppers choose the best Monrovia plants for their projects.
1984
In its second major expansion, Monrovia's Dayton, Oregon nursery is acquired. The facility will later win major design awards.
1998
Monrovia is the first national grower to brand plant containers. The signature green cans wrapped with the Monrovia logo become iconic.
2000
Launch of Monrovia.com, which becomes widely popular for its extensive, user-friendly plant database.
2001
In its third major expansion Monrovia opens a nursery in Cairo, GA, allowing for faster shipments to retail locations in Southern and Mid-Atlantic regions.
2009
Monrovia partners with famed world plant explorer, Dan Hinkley, to launch the Dan Hinkley Collection with selections that are exclusive to the brand.
2013
Monrovia offers its plants through Lowe's improvement stores nationwide.
2014
In its fourth major expansion, Monrovia opens a nursery in Granby, CT, allowing for faster shipments to retail locations in New England and the Midwest. Same year, Monrovia launches the shopping portal, shop.monrovia.com, to offer customers the opportunity to purchase plants online for delivery to participating garden centers.
2016
Monrovia celebrates its 90th Birthday.
2017
Monrovia's plant offering exceed more than 4,000 varieties and 22 million individual plants are sold annually.