Grow Hellebores, the harbingers of spring
Hellebores are among the first plants to perk up the spring perennial garden. Their gracefully nodding flowers add the earliest pops of color of the season, providing a glimpse of warmer days to come. From far North to the Deep South, these late-winter to early-spring-blooming beauties are a cure for the winter blues.
Also known as Lenten Rose, Hellebores bloom around the time Lent begins. Some varieties are also referred to as Christmas Rose because of their bloom season in more mild climates. This early entrance to the garden is one reason these evergreen perennials have seen a boost in popularity. Variety is another reason. Hellebores are available in an array of beautiful colors. Look for selections that bloom in shades of deep red, blushing pink, brilliant white, and moody black-purple.
In recent years, a wealth of new Hellebore varieties have become available. New production methods provide growers with better-performing varieties. "Hellebores are traditionally grown from seed," says Georgia Clay, New Plants Craftsman at Monrovia. "Because the plants were seed grown, no two plants are exactly the same. Within varieties you can see a range of different colors and characteristics. In recent years, we are now seeing many hybrid varieties created from tissue culture. This gives us plants that are more uniform, and with more upward facing petals. They flower earlier, produce more blooms, and provide more beauty in the garden."
Designing with Hellebores
Hellebores are versatile perennials for garden design. Often associated with woodland gardens, they are wonderful for mass planting under trees or naturalizing in a wooded area. They make for unique groundcovers and are eye-catching front-of-the-border plants. Hellebores provide beautiful early-season impact in containers. Pair them with other spring plants such as Lungwort, Witch Hazel, and Viola. See more suggestions below.
Perhaps the best reason they are so popular, Hellebores are easy to grow. They are low maintenance once established, and tolerate even dry, shaded spots that challenge other perennials. Rabbits, voles, and deer tend to turn their noses up to Hellebores.
Tips for Growing Spectacular Hellebores
Hellebores tolerate a wide variety of growing conditions, but selecting an appropriate location is key for them to thrive. Plant them where they will receive partial to full shade in the summer. The hot summer sun can damage their foliage. Site Hellebores under trees for protection. Southern gardeners may want to opt for full shade. If you live in an area with harsh winters, choose a location that is not subjected to strong winds.
Hellebores prefer loamy soil that drains well. Amending the soil with organic matter, such as compost, should provide enough nutrients. Consider use of a light application of slow-release granular fertilizer in spring in particularly poor soil. If your garden's soil tends to be very acidic, adding lime can help create the more neutral pH Hellebore prefer. If you are unsure, contact a soil-testing laboratory for a soil test.
Newly planted Hellebores need regular watering, especially during long periods of hot weather. Use of a layer or organic mulch helps keep the soil moist. Once established, Hellebores are drought tolerant and virtually maintenance free. If you wish to remove spent blooms, you can do so in late spring. In the fall, cut out any dead leaves and debris to make room for next spring's new growth.
Top Hellebore Varieties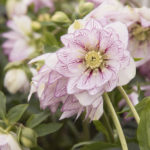 Cascade™ Picotee Hellebore
(Helleborus 'Monobyrn2')
Bold and beautiful, Cascade™ Picotee brings bright-white, double blooms with violet-red accents, including the stunning picotee edge.
Zones 4-9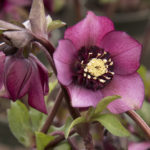 Cascade™ Blush Hellebore
(Helleborus 'Monobyrn1')
This variety features pretty, purple-pink petals on a backdrop of leathery evergreen foliage. Cascade™ Blush is a beautiful, subtle Hellebore.
Zones 4-9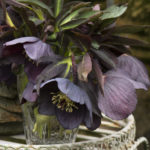 Windcliff Slaty Blue Hellebore
(Helleborus x 'Windcliff Slaty Blue')
As its name suggests, the flowers of Windcliff Slaty Blue bring a rare, slate-blue color to the garden. This variety was selected by Monrovia's Plant Hunter, Dan Hinkley, from a seed grown at his Windcliff Garden.
Zones 4-9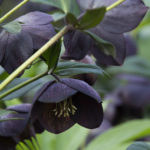 Winter Jewels® Black Diamond Hellebore
(Helleborus x hybridus 'Black Diamond')
The nearly black blooms of Winter Jewels® Black Diamond will turn heads in any garden. These large, cup-shaped blooms surround a contrasting chartreuse center.
Zones 4-9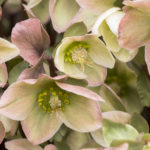 Ivory Prince Hellebore
(Helleborus x hybridus 'Walhelivor')
A classic variety, it offers pink buds that burst open to reveal white flowers that quickly take on pink, ivory, and cream tones as they mature, giving the plant a one-of-a-kind look.
Zones 4-9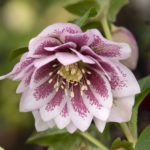 Winter Jewels® Painted Doubles Hellebore
(Helleborus x hybridus 'Painted Doubles')
This eye-catching selection offers large, petal-packed flowers that are creamy pink and brushed and spotted with shades of deep plum-purple and red. Each flower is unique!
Zones 4-8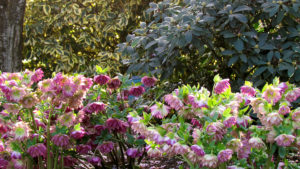 Picking Perfect Pairs for Hellebores
Choosing companion plants for Hellebores offers an endless list of possibilities. Start by considering your design theme and how much space you have. Next, think about bloom time. Do you want companions that flower at the same time as Hellebores? Or would you like to extend the season with companion plants that take over as Hellebore blooms fade? Do you need a beautiful backdrop or something to create the shade needed for Hellebores to thrive? Here are a few companion options.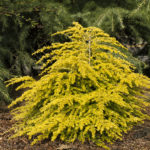 Upper Midwest and Northeast
Zones 4-5
The bright golden-yellow needles of Golden Duchess® Eastern Hemlock provide a unique color backdrop for the evergreen foliage of Hellebores. At only 4 feet tall and 5 feet wide in 10 years, this Hemlock provides a complementary to the shade the garden.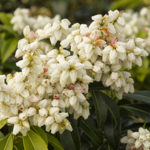 Western U.S. through Mid-Atlantic
Zones 6-7
Enchanted Forest® River Nymph™ Pieris is a perfect companion plant. This compact, evergreen shrub flowers in concert with Hellebores, with exceptional numbers of pure white bell-shaped flowers.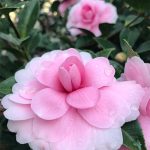 Pacific Coast to Deep South
Zones 8-9
Every shade garden needs a Camellia. Chansonette's Blush Camellia is covered with soft pink blooms from fall through winter, making it a great opening act for Hellebores.