With over 1,000 (yes, ONE THOUSAND) varieties and cultivars including hybrids, the iconic Japanese maple tree is among the most versatile small trees for use in the landscape. As with most fabulous plants, there's plenty of stories to tell. Let's get to know these wonderfully elegant, fuss-free beauties a bit better. Here are 10 "did you know" fun facts about a tree for all seasons and reasons.
See our entire collection of Japanese maples here. Do you have this tree in your yard? Tell us why you love it in the comments.
Check out the flowers and winged seeds of this Crimson Queen Japanese Maple (above). It's a low-branching, dwarf tree with a delicate, weeping form that's sun-tolerant in cooler regions, and best in a bright dappled shade setting elsewhere. Wonderful for use as a container specimen. FYI–Red Dragon Japanese Maple is reported to be more heat tolerant, but is a slower grower.
THOUSANDS TO CHOOSE FROM BUT...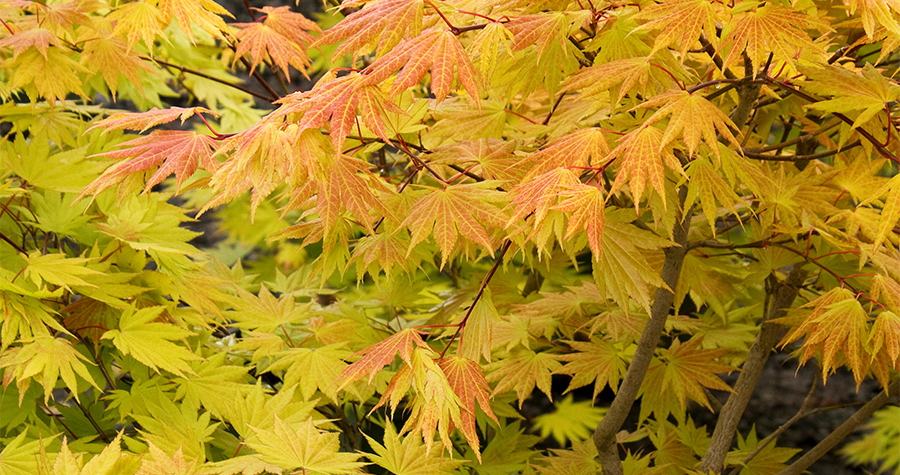 There are lots of Acers but only three species are commonly called Japanese maples, and only two of those are very commonly grown: Acer japonicum which hails from Japan, Korea and Manchuria and Acer palmatum which hails from Japan and eastern China. Some also come from eastern Mongolia, and southeast Russia. (Bonus when you use this in conversation–the third is Acer shirasawanum –-also native to Japan. This is Autumn Moon Fullmoon Maple, a variety of this kind of Japanese maple.)
THERE'S ONE FOR JUST ABOUT EVERY GARDEN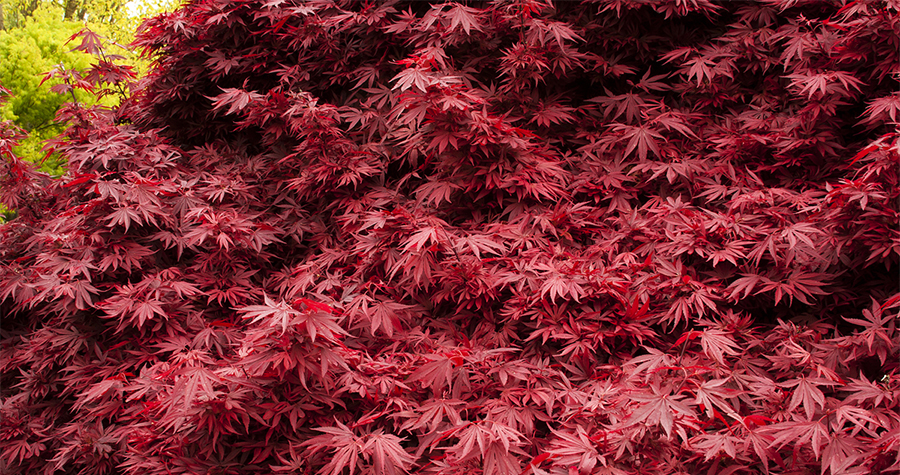 GOOD THINGS COME TO THOSE WHO WAIT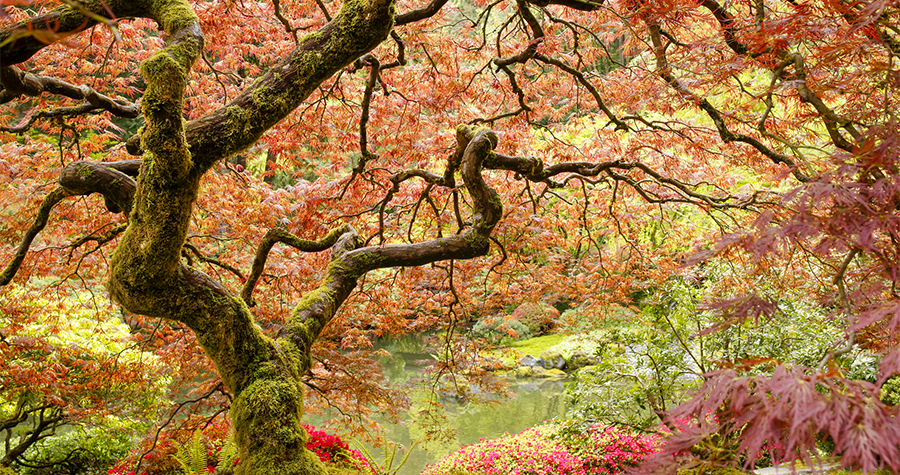 Japanese maples typically grow just one to two feet per year (which is why it might be wise to buy the largest one you can afford). That said, under the right conditions, they can live to be over one hundred years old. So, it's a trade-off!
HERE'S A NICE IDEA TO STEAL!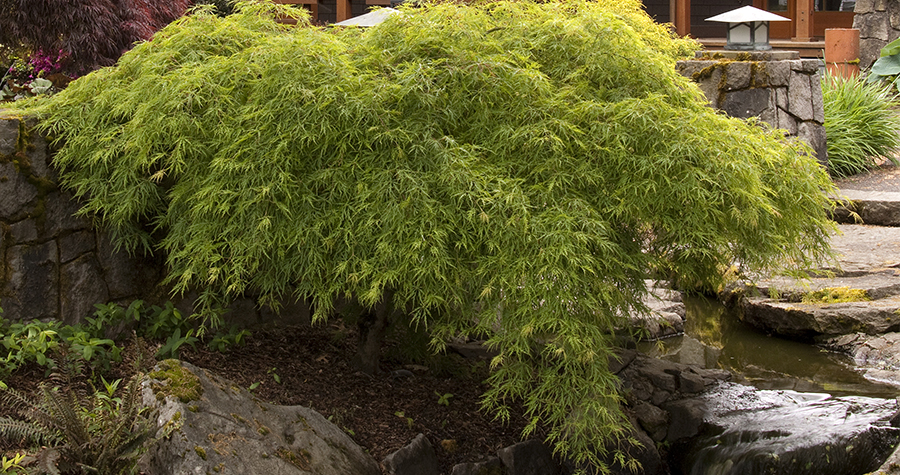 In Japan the maple is called the "autumn welcoming tree" and it is planted in the western portion of gardens (the direction from which fall comes). This is Waterfall Japanese Maple.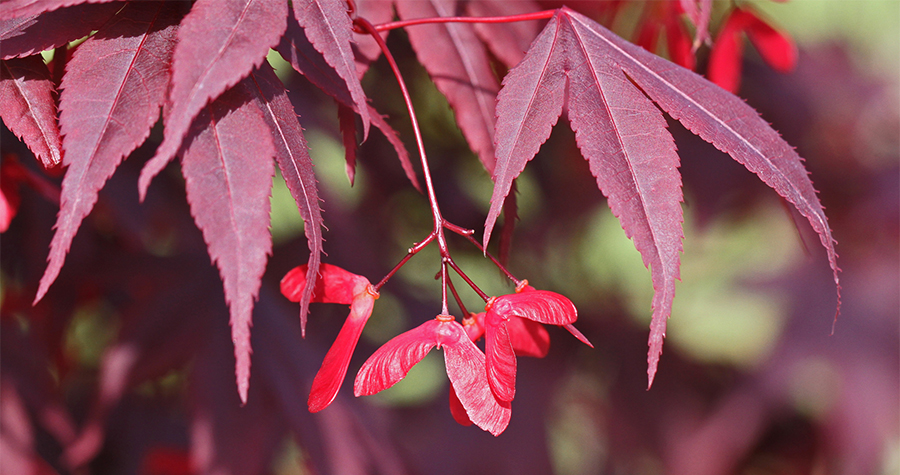 Inconspicuous flowers are followed by fruits called samaras which are nutlets enclosed in a papery, fibrous tissue that's in the shape of wings. They are shaped to spin as they fall and to carry the seeds a considerable distance on the wind. Nature thinks of everything!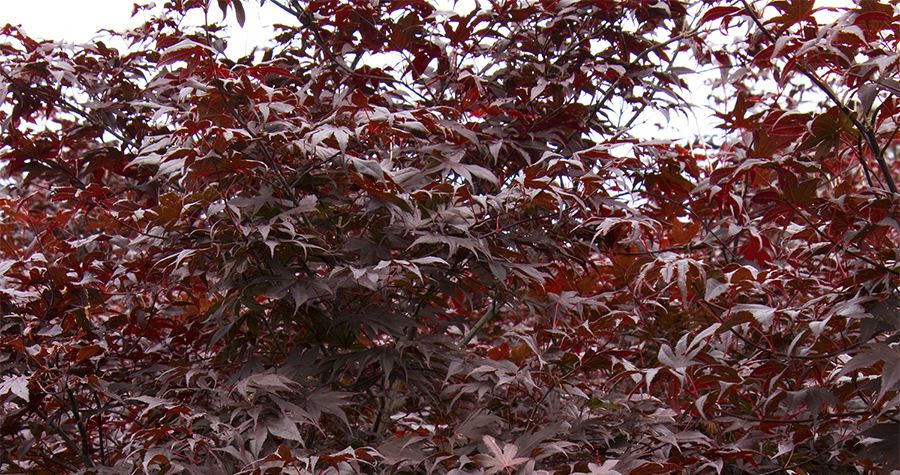 Seeds can be collected from Japanese maple trees, but the seedlings are not guaranteed to be exact clones of the parent plant. While these trees can be grown from cuttings, most are slow growing, weak, and difficult to overwinter. Most of the Japanese maple trees you see in garden centers are the result of grafting, wherein the select variety is joined with a seedling grown rootstock so they can continue to grow together. Grafting works well because you are starting with a rootstock that is vigorous and already a year old. (This is Bloodgood Japanese Maple)
THEY'VE TRAVELED FAR TO GET TO YOU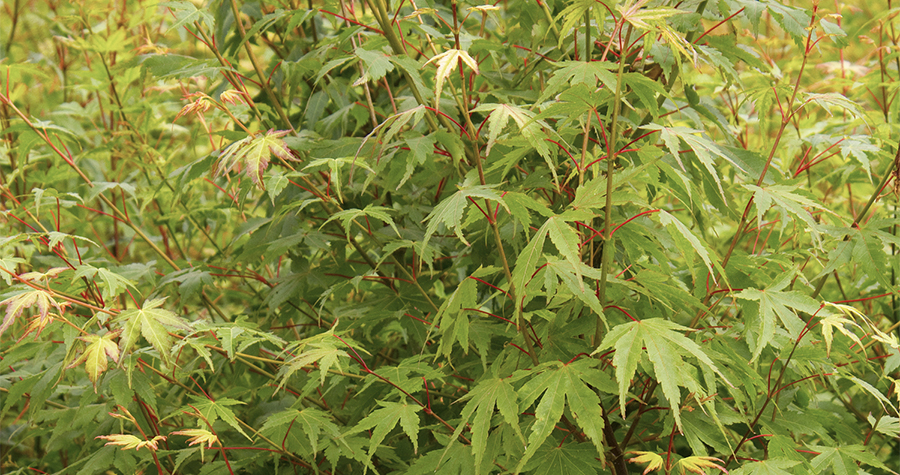 Development of Japanese maple cultivars started in Japan in the 1700, but were only first seen in the west in 1820 when they were introduced in England. It was likely the straight species, A. palmatum (above).
THEY ATTRACT ALL KINDS OF LIFE TO THE GARDEN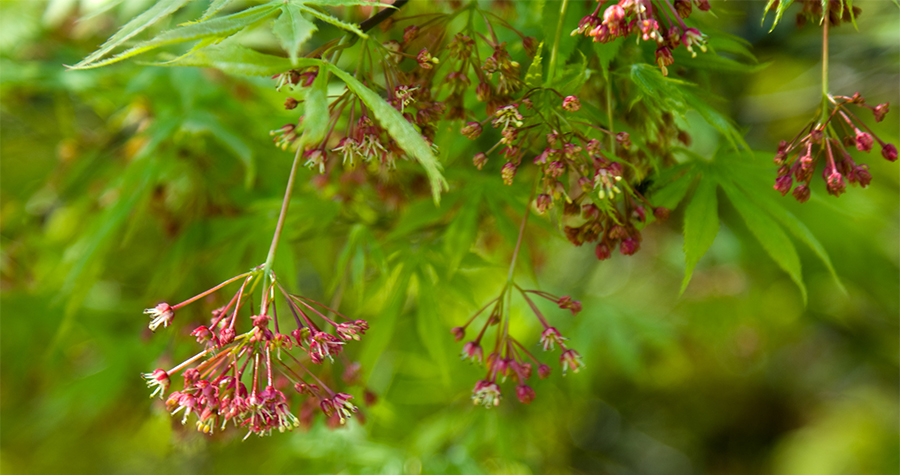 Japanese maples are monoecious meaning they have both male and female flowers on the same plant. These flowers are inconspicuous and small, and though they do not attract insects, grouse, quail, and many songbirds adore them. Now the seeds on other hand are on the menu for squirrels, chipmunks and other small mammals.
Japanese maples grow best in zones 5 – 8 but can be grown in containers in colder and warmer zones if you can provide appropriate care. In colder zones, allow plant to go fully dormant outside and then bring into an unheated garage or other sheltered, cool area. In warmer zones, place (or in this case plant) a Japanese maple in a shaded location and where it can be protected from drying winds. Neither is guaranteed, but it's worth a try if this is a must-have plant!
This? Why this is new for 2019 (you'll have to wait for it till spring)–Velvet Viking™ Japanese Maple is hardy to zone 4 when properly mulched to protect the roots in winter.
LEAVES ARE A DEEP FRIED DELICACY
Fried maple leaves are a very popular snack in Osaka, and apparently have been for at least a thousand years. The city of Minoh, located in the north part of the prefecture, is particularly famous for their fried leaves. The maple leaves are dipped and fried in tempura butter, which give them their unique taste. Chefs in Minoh usually store their leaves in barrels of salt for one year, which makes them particularly tasty.
So that's just a bit of the rich history and diversity of these magical plants. If you have questions or need specific recommendations, please do leave a reply in the comments section below. We're here to help!
Images:  Fried Maple Leaves