Fresh Plant and Color Combos for Fall Container Gardens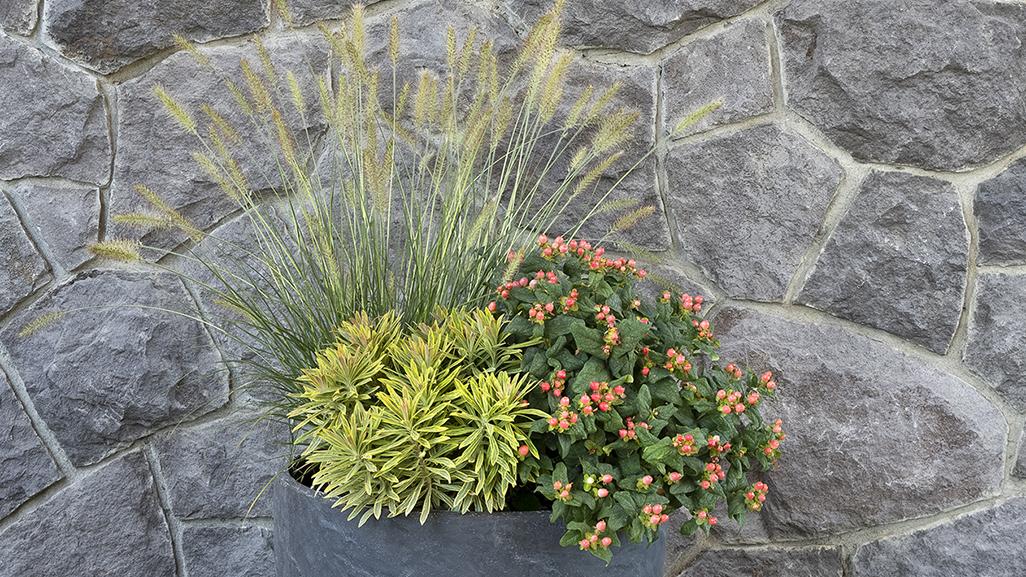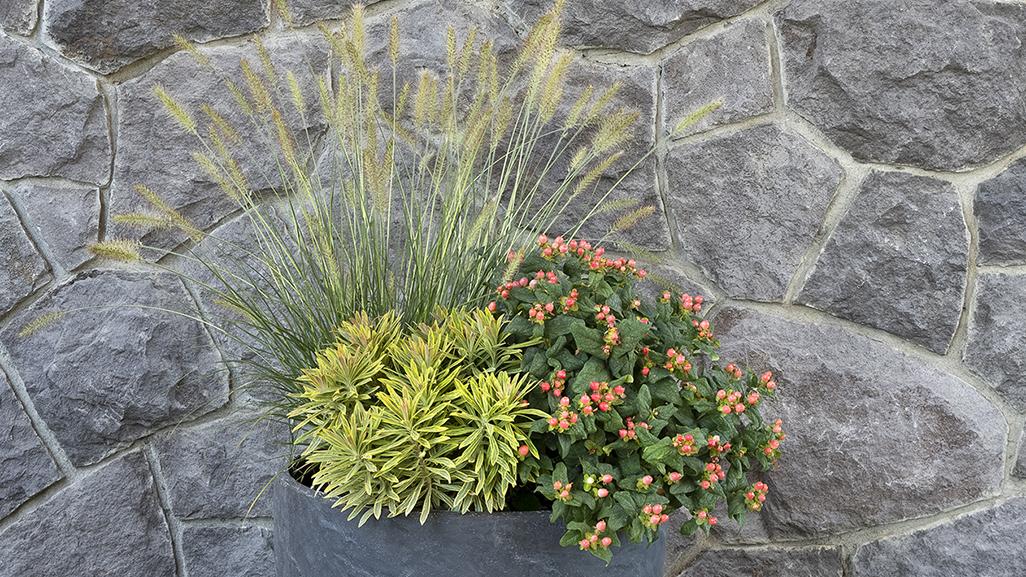 Here's the thing about fall color–while it's a bonfire of intense red/orange/yellow, it's also the season for deep purples, wines, rusts, browns, golds, and many shades of green. Here are a few new ideas for plant and color combinations to consider when designing fall container gardens to take you through the season. Click on the pictures to get an up-close look at each fall container in a video. 
Each of these specific plant combinations will work perfectly in a large (18″ or above) container and, because they're perennials or evergreens, will come back year after year. That said, try not to be too concerned about finding these exact plants, and instead see what your garden center has in similar hues, textures, and structures. The idea is to play with plants to see what thrills your eye.
We'd love to see how you decorate your outdoor spaces for fall. Share your fall container gardens with us on social media @MonroviaPlants.
This two-plant recipe for a fall container is a simple yet stunning alternative to the traditional color palette of mums. Combine Captain Solo Calla Lily with a strappy variegated carex grass like this Ice Dance Japanese Sedge for an unexpected combination that provides color and texture that looks fabulous in the fall. 
5 More Fall Container Plant Palettes to Try
Ready to for more fresh takes on fall container plantings? Take a look at the color palettes and plants below for some inspiration. Many of the color palettes are based on gardening trends we've noticed gaining steam around the country. If you'd like to learn more about these trends, you can get a copy of our "The Future of Gardening" trends webinar here. 
Plus, we've included some ideas about which color palettes go well with specific house colors. Put the color chip trios against your house and see what works.
Mixing textures, displaying unexpected plants, and utilizing ombre shades are all characteristics that fit into a rising gardening trend that we refer to as "dressed-up bohemian." The Dressed-Up Bohemian aesthetic creates an atmosphere that feels comfortable and carefree and allows for the gardener to express their individualism through unique, sculptural plants that contrast with a mixture of textures and soothing ombre tones. 
Combine a mixture of textures and greens in a container that looks vibrant yet relaxed among the warm, changing tones of autumn.
Look for variegated leaves that achieve an ombre effect.
Display a bold, sculptural plant among the soft textures and shades.
For that casual, "not-too-perfect" look, try these combos in a wooden barrel, vintage urn, or eclectic container.
A mix of textures and shades of green looks great against nearly any color of house, but white and light-colored houses will provide a bright backdrop to highlight the unique forms.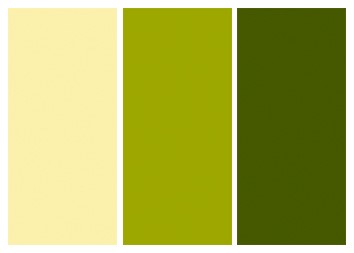 Purples and deep greens bring the exuberant feel of the harvest to a container. This color palette is inspired by the annual timing of the wine grape crush and harvest. These deep, rich colors reflect the celebration of abundance that the end of the growing season brings with its harvests, family gatherings, and hearty meals. Think of this palette as the glass of wine you might enjoy at a great dinner with family and friends.
These rich colors glow against blue, blue-gray, putty, and taupe exteriors. White, too.
You can accomplish this wine-inspired look without grapes, just look for the rich purple tones that remind you of that perfect glass of wine.
We love a rustic farmhouse look with this combo; try planting in a plastic-lined woven basket or flea-market-find wooden crate.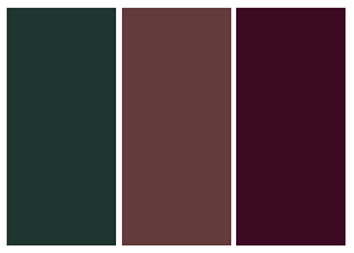 If you like your Halloween more spectral than spooky, a shades of white container of variegated foliage, flowers, and berries speaks to the season. This bright combination looks spectacular with pumpkins on the porch and offers an elegant style that appeals after the holiday has passed. 
This works for all colors of houses, but against brick, stone, or cedar shakes, it really comes alive.
In warmer zones, roses are still blooming; in colder zones now is your moment for pansies!
We love an all-white planting in a gray-hued pot whether cast stone, zinc, polyethylene, or concrete. Nice in black, too!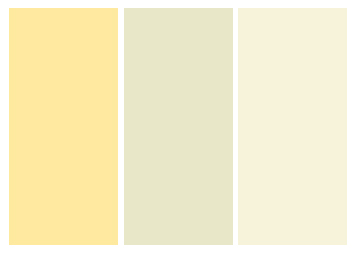 Dark-meets-light is a favorite gardening trend that's gaining steam.
And it's perfect for fall containers, Halloween decorations, and the bright, warm hues of changing foliage. 
The lush look of deep, dark foliage (think purples, burgundy, and black) looks even more dramatic when paired with a bright bloom. 
Choose plants with dark foliage and bright blooms, or add a bright-flowering plant in your combination of dark-foliage plants. 
This eye-catching combo looks amazing against a white or light-colored house, as well as dark green and any sort of natural stone. Textures would work well against modern architecture, too.
Amplify the contrast with a white or metallic container, or find a vintage black pedestal urn or dark container with geometric appeal for a modern look.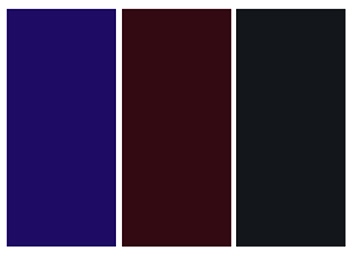 A combination that's in shades of gold will look beautiful right through winter. Cold weather tends to intensify the color of all of these, making them even richer. Gold is a shade that reflects the warm, changing tones of autumn, and these shades look fabulous in a fall container garden nestled on the porch or patio. 
Try evergreen plants that maintain their color and look great year-round. 
Most colors of houses will pair well with this color palette, but especially shades of blue. Formal exterior materials such as stone, brick, and wide lap siding work really well with these colors, too.
The textures of these evergreens look right at home in a very simple, low and wide container, or a long trough (metal or stone).
What could be easier than a large container filled with fuss-free evergreens? Just add some twinkle lights to glam up fall nights.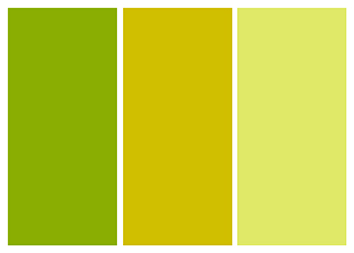 Those are just a few ideas for color combinations (and options other than mums and cabbages–we love them, but fall offers so many amazing plants) for you to play with. Get to a garden center, grab a cart, and start mixing and matching. We're certain you will leave with a grouping that you love!